Colin Meloy owed me an apology. He blurted it out right away after ringing me up a few minutes late for our phone interview last month. Cell reception is terrible, he explained, on the farm south of Portland, Oregon, to which he and his wife recently moved.
I couldn't resist. "How very Portland."
"Is it?" he said, as if blissfully unaware that living on a farm just outside of Portland is even more "Portland" than living in the city these days. "I don't know what Portland is anymore."
Except Meloy certainly does know what Portland is anymore. He has lived here since before it became a destination not just for musicians and artists but also for people who pretend they are musicians and artists, and he's well versed in IFC's sketch-comedy series Portlandia's caricature of the city, among others.
Still, without much irony, he tells me about his farm. "We got it primarily because we needed to move closer to my son's school, and it's an area with mostly crazy suburban mansions. I found this place on the historical registry—it's an 1850s farmstead, what once was a 2,000-acre farm, and it has all these 19th- and early 20th-century farm buildings in it. There's an amazing barn, with a chicken coop. We only have eight chickens in this coop that once housed 500."
Oh, and "there are two llamas that the seller's agent was boarding here. They asked if we wanted to keep them, and we said sure. They just kind of do their own thing; they're pretty low-maintenance animals. We could use them for pack animals, if we ever wanted to go on a hiking expedition."
And there it is. Colin Meloy, whose band is known primarily for two things—being from Portland and infusing arcane historical and literary references into indie rock songs—has moved to a farm on the historic register, where he tends a flock of not just eight chickens but two llamas. How very Portland.
This was an easy segue to the conversation I wanted to have with him—not about the Decemberists' seventh album (which dropped in January) but about the city he helped put on the map, whose residents now live under the microscope of the New York Times features desk, which assiduously follows every trend here (coffee roasting, microbrewing, bike riding) and reports on it with anthropological detail and devotion.
Meloy lives in a markedly different Portland from the one to which he migrated from Montana in 2000, thanks partly to the same gentrification that has reshaped Brooklyn and San Francisco in the past decade but also because this city in particular became a mecca for cool kids. For much of the past 10 years, it and Atlanta were the two metropolitan areas to which more Americans in their 20s moved—with or without jobs—which is why Portlandia spoofed it as "the city young people go to retire."
Everyone in the City of Roses has a predictable range of opinions about this phenomenon: It's either delightful that someone finally figured out there's life outside Manhattan and Los Angeles or it's terrible that we have to wait in line two hours for brunch at the Screen Door. But I was particularly interested in Meloy's perspective because he's not just another Portland resident lamenting a problem. He's part of the problem.
It's geek-chic guys like Meloy who spawned this generation of mustachioed intellectuals we mock (or secretly envy). Meloy is the real McCoy, the bona fide starving artist who squatted illegally when he first got to Portland, who played shows with only a bartender as audience, and for whom commercial success was such a distant hope that he decided to do weird shit like lace antiquated references to the Civil War into his songs.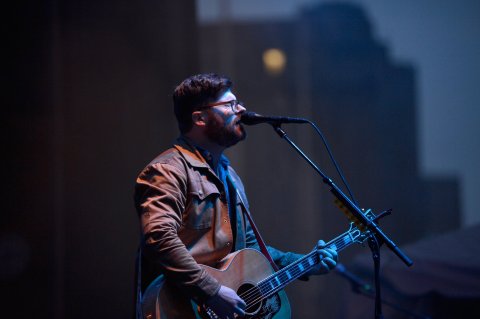 The Decemberists "made it" in 2005, signing with major label Capitol Records and performing onLate Night With Conan O'Brien to introduce the band's first big-time album, The Crane Wife, voted by NPR listeners as their favorite of 2006. Their story was about this funky smart band from a little city in the Pacific Northwest called Portland. As David Greenwald put it in The Oregonian last month, the "Portland of the '90s was a rock town," before rattling off a bunch of bands you've never heard of, when along came this band "with their bookish sensibilities and penchant for elaborate wardrobes, facial hair and acoustic instruments," the styles Portlandia so often spoofs.
Meloy doesn't just have the beard and black glasses and coveralls and work boots and plaid shirt—he spent much of the band's three-year hiatus between 2011 and last year writing children's books, for Chrissakes. The city declared January 20 the Decemberists Day in honor of the band, replete with a proclamation from the mayor lauding the group for embodying "the Portland values of passion, engagement and communitarianism with the Portland aesthetic of homegrown, forthright, slightly hippie and often bespectacled glory."
I asked Meloy what he meant when he said he didn't know what Portland is anymore, partly because it seemed like an obligatory, bullshit nostalgia thing to say, like, "Man, Portland sucks now, right? I miss the good old days." But that's not his perspective. What's confusing, he explained, about the transformation Portland has undergone is that an identity fairly characterized by a genuine affection for flannel and craft beer and DIY has become consumed and magnified by the stereotyping of that affection.
"Once outside interests started looking in on it," he says, "it became this perpetual thing."
Then he brought up Tom Waits. (You are not allowed to be a hipster in America unless you pledge allegiance to Tom Waits.) "It's like Tom Waits's career," he said. "Tom Waits has this thing that's perhaps brilliant about him, but then there's such a concrete definition of what Tom Waits is that it's almost that he becomes that definition. He becomes a portrait of himself, built on things that have been ascribed to him, rather than something that comes natively."
The Times pieces and Portlandia created a definition of the city, "and then Portland started believing that, consuming that, regurgitating it. It's almost become an over-sweet version of itself," he says. "I don't know if it's a good or a bad thing. It's very caricature-like, but there's quality in a well-done caricature."
You could have the same discussion about music, and maybe even his band. After 15 years, the Decemberists, like most long-running bands, have a shtick: Theirs includes playing quirky instruments (a Wurlitzer organ, an upright bass) and reenacting ancient sea battles via crowd participation during live shows. Meloy, like any artist, has to maneuver his evolution gracefully. Stick to what works for too long and it starts to feel stale. Shake things up too dramatically and he alienates the fans who made him successful.
"There's only so much singing about whales and things that one can do," he says. "To be honest, so much of that stuff—writing about Dickensian characters, pulling people out of Dylan Thomas stories and putting them into songs—it was because it was funny initially, and it felt kind of at odds with the expectations of what writing indie pop was at the time. Maybe now I'm not so interested in it."
The latest album, What a Terrible World, What a Beautiful World, confronts this conundrum with the first track, "The Singer Addresses His Audience":
We know, we know, we belong to ya
We know you built your life around us
Would we change, we had to change some
We know, we know, we belong to ya
We know you grew your arms around us
And the hopes we wouldn't change
But we had to change some
You know, to belong to you
The song is a half-apology to the band's fans, but also a story about someone else, Meloy told me, "about the lead singer of a boy band who has only ever known celebrity and is struggling with his own identity and self-ownership, in a world where he has never quite belonged to himself, only to his fans and shareholders. My own experience informs that, I guess."
If there's a guiding principle for his band, Meloy says, it's making sure "we're doing these things on our own terms." When recording Her Majesty the Decemberists in 2003, for instance, he decided to open the album with a blood-curdling scream, over the objections of those who worried it would put people off. To Meloy, "that was a statement of intent. This is who we are, and we're doing things on our own terms. Hopefully, every Decemberists record has set out to do that."
Despite the suggestion on the new album's first song that "we had to change some," the record doesn't depart wildly from the sound the Decemberists have become known for. "I'm aware of my limitations as a songwriter and arranger," says Meloy, "and I'm aware of the band's limitations. There's kind of a mold we fit in.... We don't want to transform so much as to be unrecognizable."
So the band, like its city, evolves as seamlessly as possible, endeavoring to stay true to the sound for which it's known without falling into a rut. This album accomplishes that, I think; the eighth track, "Carolina Low," sounds like no Decemberists song I've heard before. And even though "The Singer Addresses His Audience"—my favorite—is about variation, the sound remains familiar. Reassuring, ironically enough, if you're one of those fans who doesn't want your favorite band, or your favorite city, to change.