Portland's Democratic Mayor Says Violent Protesters Should Be Held Accountable
Protesters in Portland, Oregon, who engage in violence should be held accountable, according to the city's mayor.
Mayor Ted Wheeler, a Democrat, spoke Tuesday to news station KPTV, reflecting on the more than 70 consecutive days of demonstrations in his city since the May 25 death of George Floyd in Minneapolis police custody, which led to protests against racial injustice and police brutality nationally and around the world.
Wheeler said he understood that many of his city's residents will "continue to push for the kinds of broad change that we've seen people push for all across the country." But he added that people engaging in "some violence" were doing so alongside of or in conjunction with those who were demonstrating nonviolently.
"I think we have to acknowledge, throughout the city of Portland, that we have to isolate those individuals where we can do so safely," Wheeler told KPTV. "We need to arrest them, and we need to hold them accountable."
Wheeler's city made headlines throughout July after President Donald Trump decided to deploy federal agents from the Department of Homeland Security (DHS) to protect federal property that protesters were threatening to destroy. Agents involved with the controversial intervention arrived over the July Fourth weekend and did not leave until the last week of the month.
The federal agents repeatedly clashed with protesters and are now facing several lawsuits resulting from their alleged actions, which include arresting and detaining people without probable cause or a warrant and forcing protesters into unmarked vans without explaining or identifying themselves.
Officers with the Portland Police Bureau (PPB) have also been active throughout the civil unrest. As of Tuesday, they had arrested around 479 citizens, according to KPTV. But many of these people were quickly released, which allowed them to go back to the streets.
Multnomah County District Attorney Mike Schmidt announced Tuesday that his office would not be prosecuting certain low-level charges resulting from the protests. He said that decision was made to "promote a safe community and reduce the negative and lasting impacts a person can experience once involved in the criminal justice system following an arrest resulting from a peaceful protest or mass demonstration."
But some PPB officers disagreed with Schmidt's decision, arguing that being able to hand out charges are "the very tools that allow us to bring violence to an end," KPTV reported. Wheeler responded by saying he wasn't willing to comment yet on Schmidt's decision but added later that "this is not the time for us as Americans or Portlanders to panic or get emotional."
Newsweek contacted Schmidt's office for comment but did not hear back in time for publication.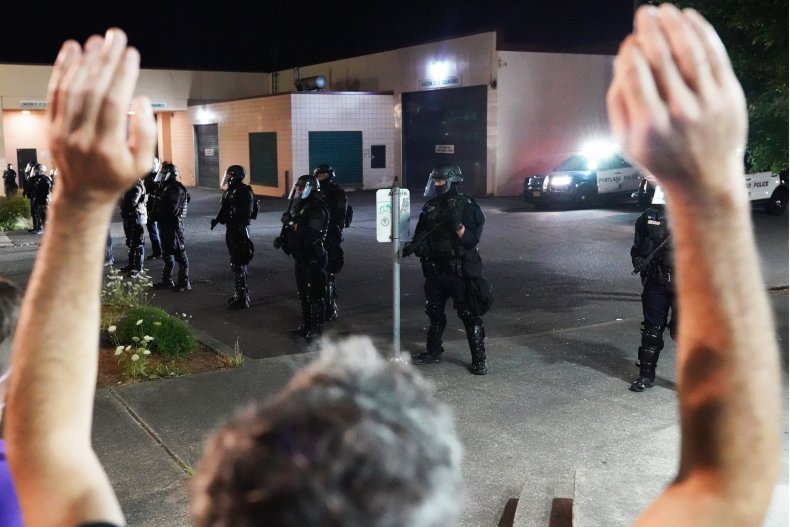 While Portland has had hundreds of nonviolent demonstrators on its streets in the more than 70 nights of protests, the PPB has spoken about "dangerous objects" being thrown at them. Also, DHS officers have claimed they were "assaulted with, among other weapons, mortar-style commercial grade fireworks, accelerants, IEDs, sledgehammers, concrete, and slingshots."
A Monday night protest beginning at Alberta Park and continuing toward the PPB's North Precinct grew increasingly violent as protesters threw eggs, water bottles, rocks, golf balls and potatoes at PPB officers and Oregon State Police troopers, according to a PPB press release.
Police officers declared the event an unlawful assembly and advised the protesters to go home, warning that they could be arrested if they failed to leave. According to the release, nine arrests were made during the protest, with charges including interfering with a peace officer, assaulting a public safety officer, disorderly conduct, assault and resisting arrest.