Portman Says Proposal to Strengthen IRS Enforcement Dropped From Bipartisan Infrastructure Plan
Senator Rob Portman, a lead Republican negotiator for a bipartisan infrastructure plan, said Sunday that a proposal to strengthen Internal Revenue Service (IRS) enforcement as a way to fund the measure has been removed.
The Ohio lawmaker, one of the group of 22 bipartisan senators negotiating a framework for the bill with the White House, revealed that Democrats will likely include the provision to toughen enforcement of IRS tax collections in their budget reconciliation package instead.
"Well, one reason it's not part of the proposal is that we did have pushback," Portman told CNN host Dana Bash on State of the Union. "Another reason is that we found out that the Democrats were going to put a proposal into the reconciliation package which was not just similar to the one we had, but with a lot more IRS enforcement. So, that created quite a problem, because the general agreement is that this is the bipartisan negotiated infrastructure package, and that we will stick with that."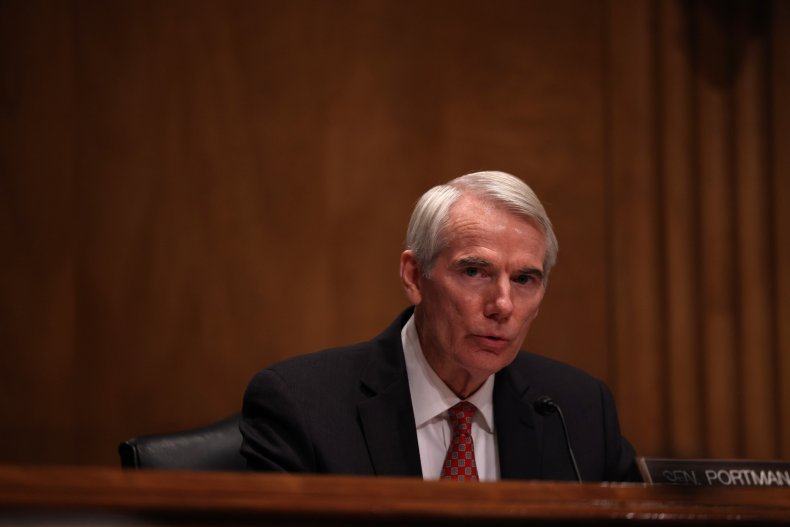 He added: "That created quite a problem because the general agreement is that this is the bipartisan-negotiated infrastructure package and that we will stick with that."
In 2019, the IRS estimated that the average tax gap—difference between actual tax liability and amount that's paid on time—was $441 billion per year, based on tax data from 2011, 2012 and 2013. With late enforcement accounted for, that figure dropped to an estimated $381 billion.
After years of IRS budget cuts, the latest version of the proposal provided $40 billion in new funding to the department, which would have enabled its enforcement division to beef up enforcement of unpaid taxes. The proposal suggested that it could allow the IRS to collect about $100 billion more in revenue over the next decade as a way to pay for the $1.2 trillion bipartisan infrastructure bill.
But the proposal was dropped after firm opposition from Senate Republicans. Outside groups also criticized the proposal, saying it would allow the IRS too much involvement in people's personal finances.
"Rather than giving tens of billions of dollars to the IRS to harass and persecute American taxpayers, I think we should abolish the IRS and instead adopt a simple flat tax," Senator Ted Cruz said Thursday, according to The Hill, after calling the IRS funding a "foolish and dangerous idea."
The group of 22 negotiators, who have struggled to agree on ways to pay for the infrastructure package, will meet Sunday to discuss a replacement for the proposal, Portman said.
Senate Majority Leader Chuck Schumer on Thursday said he intends to hold the first procedural vote on the bipartisan bill Wednesday.
Newsweek reached out to Schumer's office for comment.