The Portuguese government announced Thursday that citizens infected with COVID-19 were allowed to break their quarantine and self-isolation on January 30 in order to vote in the upcoming election.
The government is calling it an "exceptional measure" and officials believe as many as 600,000 people are eligible voters who will show up to vote. However, Justice and Interior Minister Francisca Van Dunem recommended the infected voters wait to vote until around 6 p.m. to 7 p.m., which is the least busy time at polling stations.
She also said it is not operationally practical to establish separate corridors and booths in the polling stations for infected people. She "trusts in the historically exemplary behavior" of the Portuguese to ensure voting goes safely and smoothly.
"This solution of having a dedicated time period for these people to vote...will prevent, not totally, but will minimize the risk of contagion," said Graca Freitas, head of health authority DGS.
The National Association of Public Health Doctors expressed concern for the measures, saying it represented "a failure of planning" for the election, which was predicted two months ago. Officials are working to secure the right to vote with a duty to protect public health.
In a statement, the association said the government decision sets "an avoidable precedent" by permitting infected people to leave confinement and will make it harder for health authorities to persuade infected people to stay at home. It also advised that doctors refuse any medical liability due to the new measure.
Mask mandates are still in place in indoor public places, and it is recommended infected people going to the polls wear either surgical masks or FFP2 masks instead of cloth ones in the polling stations. It is also recommended infected voters arrive on foot or in their own car, rather than through public transportation to ease the spread of the virus even more.
"We need a social pact that allowed everyone to vote in safety," said Van Dunem.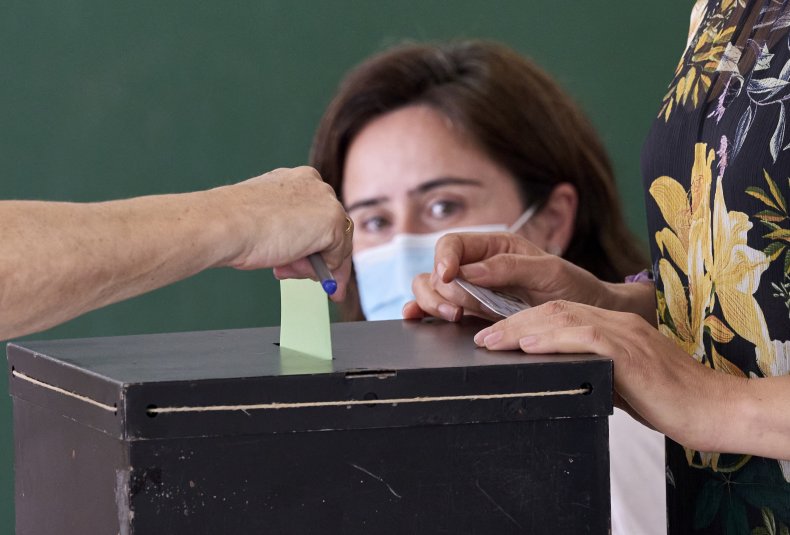 Staff at polling stations will be given protective equipment and the social distancing of six feet is still in place. Infected voters are only allowed to leave their home in order to vote and must return home afterward to continue the quarantine and isolation.
Daily, Portugal reported more than 56,000 new cases, a new record amid the Omicron variant surge. As of Wednesday, just over 2,000 people are in hospitalization and 152 are in intensive care. In the population of 10 million, almost 90 percent have been fully vaccinated.
Uncommon Knowledge
Newsweek is committed to challenging conventional wisdom and finding connections in the search for common ground.
Newsweek is committed to challenging conventional wisdom and finding connections in the search for common ground.