Poland vs Portugal: Cristiano Ronaldo Prevails In Penalty Shootout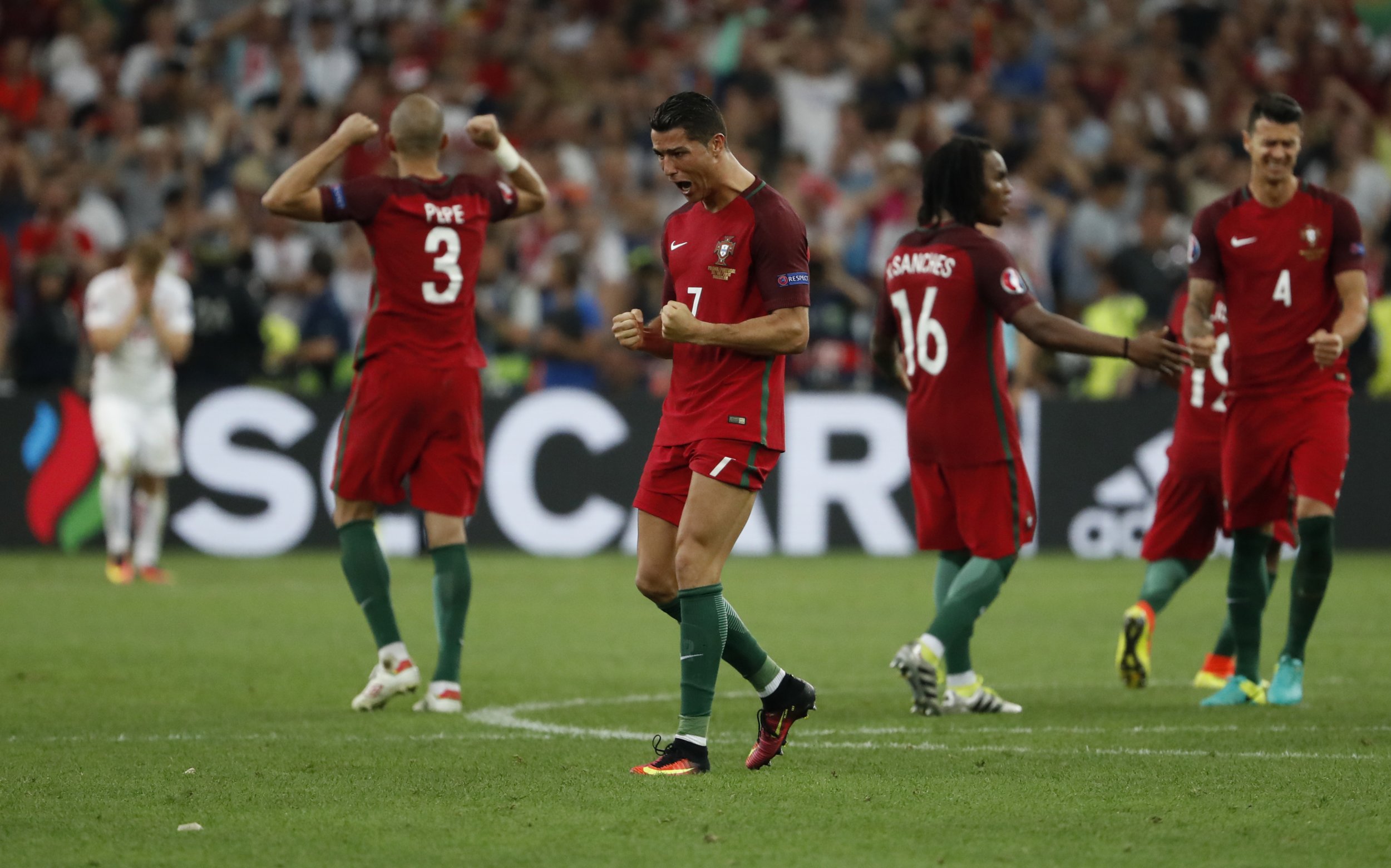 Portugal is in the UEFA Euro 2016 semifinals following a penalty shootout victory against Poland at the Stade Velodrome in Marseille.
A tense 130 minutes failed to separate the teams, as Cristiano Ronaldo, Portugal's star player, missed several chances.
Portugal showed greater nous, though, and will now meet the winner of Wales and Belgium for a place in the final. But what else did we learn from an absorbing, if occasionally ugly encounter?
Lewandowski comes alive
This had been billed as the clash of two superstars—Poland's misfiring striker Robert Lewandowski against Ronaldo.
Lewandowski had not scored in the tournament; that changed emphatically within two minutes of the start of the game.
A Cedric Soares mistake let Kamil Grosicki in; his cross found Lewandowski at the near post. Bang. Goal, immediate advantage Poland and no surprise as to the identity of the scorer.
Perhaps the shock is that it took Lewandowski this long in the competition to spring into the player that scored for fun at Bayern Munich last season.
Step forward, wonderkid Sanches
Renato Sanches is, at 18, a bull in a boy's clothing. It was he, not Portugal captain Ronaldo, who did most to haul his team back into the game.
It isn't just Bayern Munich recruit Sanches' strength and technique that catches the eye. His calmness in difficult, high-pressure situations is the characteristic that marks him out for potential greatness.
His goal, though, was immediately stunning. Sanches played a one-two with Luis Nani on the edge of the Poland area, received the ball back and then lashed home a shot past Lukasz Fabianski, with the aid of a deflection.
Fernando Santos, the Portugal coach, did what England's former manager Roy Hodgson proved unable to do on Monday—placing his trust in an 18-year-old from the start.
Marcus Rashford was able to show only glimpses of what he could do against Iceland. Sanches ran the show.
Portuguese nous is its own kind of beauty
No one could ever accuse Portugal of approaching aesthetic orthodoxy, let alone any kind of prettiness.
They are muscular, more than occasionally cynical, frequently frustrating. And yet there is a strange kind of elegance to the way they eke out results against more technically adept teams.
Perhaps it is that old adage—Portugal is a team "for the purists." Certainly, it does not lack in perhaps the most important characteristic in international football—a cast-iron spirit.
Profligate stars cost their teams
It came, on 85 minutes—the golden chance you knew must come for Ronaldo, who has made a career, and a legend, out of goals in big moments. A delicious ball over the top from Joao Moutinho, and Ronaldo just needed a touch.
He hit air, and that was the last opportunity before the game went to extra-time.
This has been a strange tournament for Ronaldo, at times brilliant, as against Hungary, more often fretful, as here, and against Iceland, and Austria.
He was not the only big-name culprit, as Arkadiusz Milik, the hyped Ajax striker and Lewandowski's partner, also struggled, missing a succession of chances. In a febrile atmosphere, only Lewandowski of the forward players retained sang-froid .
These sides know how to take penalties
Unlike England, especially against Portugal in previous tournaments, there was remarkable ice on show.
Ronaldo took his first, coolly; Sanches was even braver. The misfiring Milik made no mistake. Not until 4-3 to Portugal, and Jakub Błaszczykowski, was there an error in the shootout. Poland did little wrong; there was, though, always the sense that Portugal's will would prevail.