Portugal's COVID-19 Strategy to Treat Immigrants Like Citizens is Working
The deadly coronavirus swept through a hostel in Portugal's capital, Lisbon, where 175 men who had arrived in the country alone to seek asylum were waiting to have their cases heard. Many had traveled hundreds of miles from countries across West Africa, hoping to find refuge in Portugal in the midst of a growing global public health crisis. Others had already had their cases denied and were waiting for the chance to appeal them.
The hostel was ripe for becoming a COVID-19 hotspot, serving as a virus incubator and spreading disease to other people in the city, much as nursing homes may have contributed to a runaway outbreak in New York and elsewhere in the U.S. But Portugal's relatively inclusive approach to asylum seekers and migrants, may have forestalled such an outcome.
When one asylum seeker noticed symptoms of COVID-19, he turned to the Portuguese Refugee Council, the group overseeing the care of refugees and asylum seekers, for help. Officials took him to hospital, where he was tested and cared for, and evacuated the hostel. Dozens of the men tested positive for the virus. Some had been experiencing coughs and fever but weren't sure if it was COVID-19. Others were shocked to learn that they were asymptomatic carriers of the virus.
All told, 138 of the 175 asylum seekers tested were infected with the coronavirus. Not a single one died and everyone, the Portuguese Refugee Council told Newsweek is now either fully recovered or on the mend.
That the asylum seekers felt safe enough to approach officials is a point of pride for António Sales, Portugal's secretary of state for health. It is an example of how the country's approach to immigration has fostered trust between immigrant communities and the government—and how such trust confers benefits not only on the members of vulnerable groups but on the larger society as well.
In many countries, migrants and asylum seekers feared approaching doctors and hospitals out of concern for being deported or facing discrimination. In a report in March, Refugees International, an independent humanitarian organization advocating for stronger support for displaced people, said this reluctance held true not only in the United States, where the Trump administration's hostility toward immigrants has created a chilling effect in public health. It also holds in many other European countries that have national health services but have not been as open to immigrants.
"By law, foreigners in Italy have access to healthcare," the report said. "In practice, many asylum seekers fear going to hospitals if undocumented, or face discrimination or language barriers. All this will make it harder to detect the virus in a highly vulnerable population."
In Greece, the report warned, humanitarian groups aiding migrants and asylum seekers at island camps have struggled to provide access to sanitation, as well as medical care, with groups like Doctors Without Borders seeking to provide care for asylum seekers on the ground.
The United States banned new immigrants for 60 days and explicitly excluded asylum seekers from entering the country during the COVID-19 crisis. And by invoking the public-charge rule, which makes it more difficult for immigrants to get visas or green cards if they're likely to use public benefits, the Trump administration may have discouraged immigrants from seeking medical help.
"There's no question that these [measures] can undermine public health goals," says Natalia Banulescu-Bogdan, the associate director of the Migration Policy Institute's International Program. "People have to get tested and receive care when they are sick. If you can't achieve those things because one part of the population is trying to go under the radar, then that is absolutely going to undermine public health goals."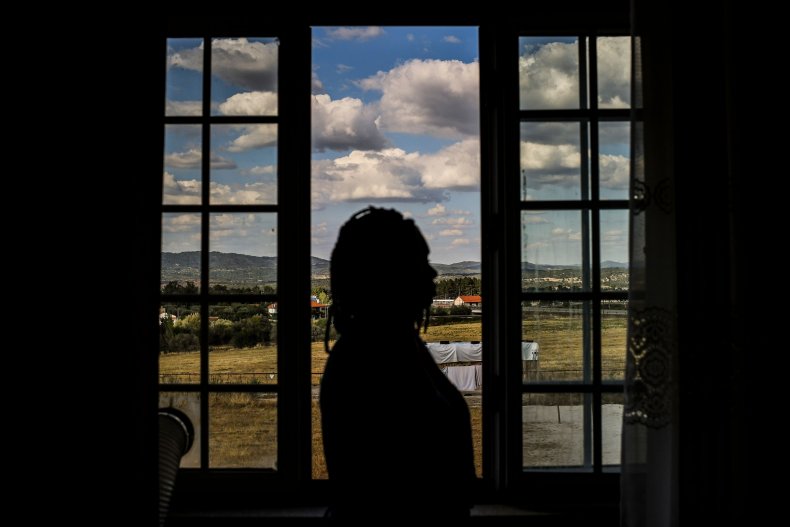 Portugal took the opposite approach. It took action early in the coronavirus pandemic to put asylum seekers and migrants at ease. In March, it temporarily extended full citizenship rights to migrants and asylum seekers in the country in response to the coronavirus pandemic. "They were treated as any other Portugal-born citizen would have been treated. It was exactly the same," Inês Fronteira, a professor of public health at the institute of hygiene and tropical medicine (IMHT) at NOVA University Lisbon, told Newsweek. "There is no distinction between being an asylum seeker, a migrant or a Portugal-born citizen," she said.
Portugal has not extended citizenship rights to undocumented migrants, however. They still have access to the National Health Service but may be subjected to fees. The NHS does not refuse care, says Sales.
It's difficult to know what impact the move has had on coronavirus outbreaks in Portugal. The country has so far avoided the fate of neighboring Spain, which was hard hit by the pandemic—as of June 17, it had at least 244,683 cases and 27,136 deaths. Portugal logged 37,672 confirmed coronavirus cases and 1,523 deaths related to COVID-19, according to an online tracker maintained by Johns Hopkins University.
Other factors are likely to have played a role in Portugal's suppression of the outbreak. It closed schools on March 12 and then soon afterwards partially sealed its borders and declared a state of emergency. Residents were instructed to stay home except for essential activities and public gatherings were banned. The country also prioritized testing for those most vulnerable to suffering serious health impacts if they were to contract COVID-19, including the elderly and people with pre-existing conditions.
Sales insists that the cooperation and "deep civic behavior" of the public in obeying lockdown restrictions was essential. Extending citizenship rights to immigrants, he said, was part of fostering that trust among all people in Portugal, regardless of where they were born. New legislation recently extended the country's offer of citizenship rights to asylum seekers and migrants, which had been set to expire on July 1, through until at least October 31.
Although Sales believes the measures have improved public health overall, humanitarian considerations were also a motivation behind the policy. "We strongly believe that health is a human right and that all should be able to access quality health care."