Forget Positano: 12 Undiscovered, Romantic Small Towns in Italy Locals Love
The author of "Under the Tuscan Sun" tells us the 12 most wonderful towns to tour in Italy.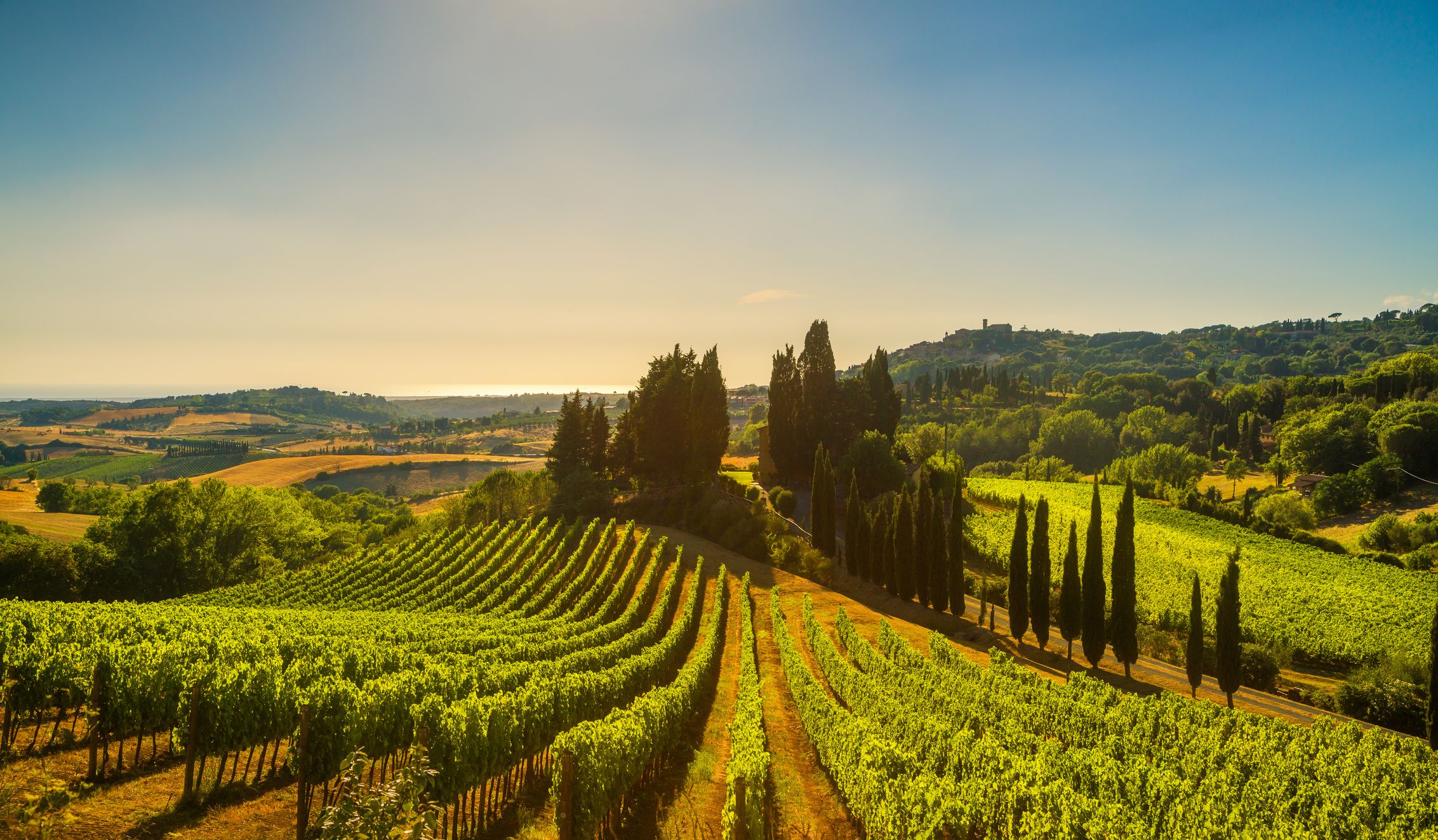 Frances Mayes has spent years traveling through Italy and writing about it in her best-selling books like Under the Tuscan Sun. Her latest book, See You in the Piazza: New Places to Discover is a travelogue about all the undiscovered and overlooked gems in Italy, which she reveals to us here.
Writing See You in the Piazza: New Places to Discover in Italy kept me traveling for eighteen months. My husband and I packed up our white Alfa Romeo and took to the road. How did I decide what places to write about? I chose a base and set out from there—exploring the dirt roads through the olive groves of Puglia, the twisting ones through the mind-bending Dolomite mountains, the stone-walled tracks through vineyards of Sicilia. And everywhere in between. The places were so exhilarating that I wanted more, then more, because what I learned over and over is that Italy is endless. You need ten lifetimes and even then, you can't ever say I know Italy. But my advice: try. Here are a few favorites, and why I think you should go there.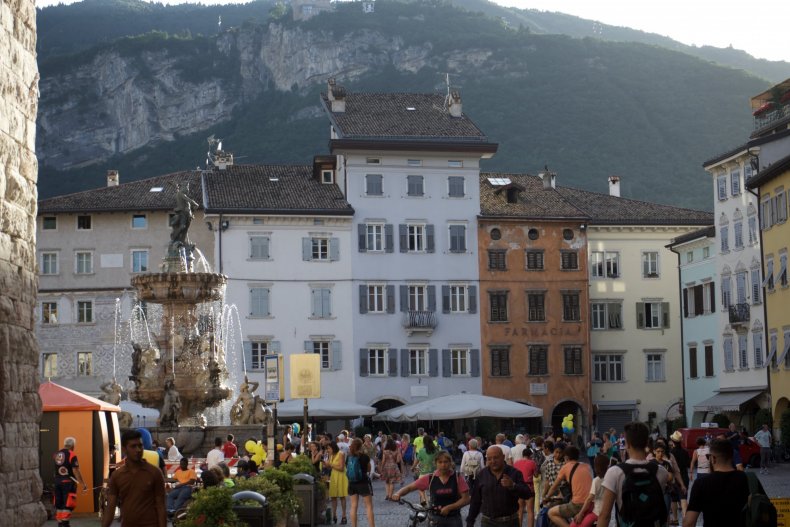 Trento, Trentino Alto Adige
Piazza Duomo—this is one of the liveliest piazza scenes in Italy, presided over by a joyous Neptune fountain, surrounded by frescoed palazzi, a daunting cathedral, and a protective ring of mountains. You remember Trento from history classes, right? The Council of Trent, where the church fathers tried to stem the influences of rising Protestantism. Trento is regularly selected (along with nearby Bolzano) as a top place to live in Italy. The science museum, Muse delle Scienze, designed by Renzo Piano is reason enough to visit but there's much more—castle, medieval towers, the mineral, almond blossom white wines of the region, delectable cheeses, the proximity to the pastel-chalk colored mountains with superb hikes, winter sports and thermal springs, and—the main attraction—the vibrant people lucky enough to live here.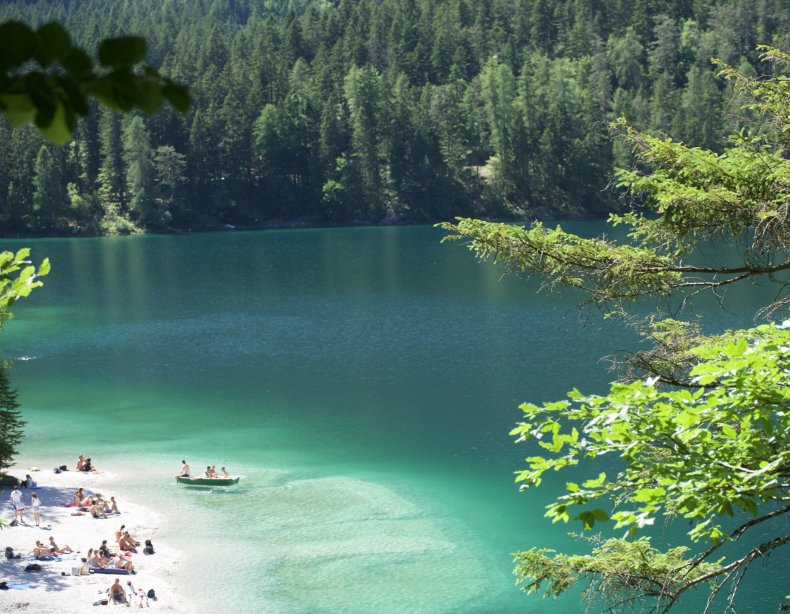 Lago di Tovel, Trentino Alto Adige
Green and clear, the water, but as the sun travels and you hike around the lake, it turns sapphire, turquoise, indigo, as though someone is manipulating the color intensity. In the distance, the Brenta Dolomites loom, their white rock sides lustrous as snow. This is one of many Trentino Alto Adige lakes where such waters delight the eye. The air is deeply fresh: gulp it like spring water. From here, you're near Merano, Bolzano, Trento, Rovereto, and the start of one of the world's great rides, the great Dolomite trail from Bolzano to Cortina d'Apezzo: The mighty crags, waterfalls, upland meadows—all seen from a road so well engineered that you never gasp. How ancient these mysterious mountains, 230 million years. Hikers still find fossils from when Europe and Africa were still joined and this was a sea. Don't miss Lago di Braies, another transparent emerald lake, just for the mountain reflections in the water.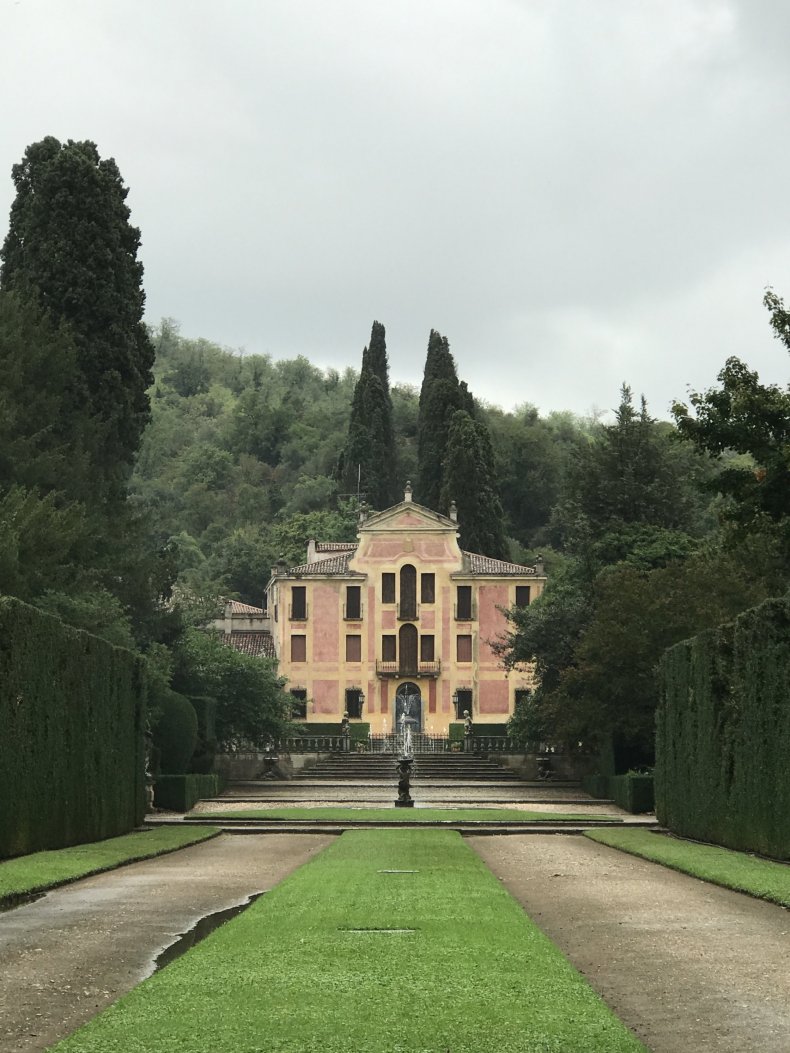 Villa Barbarigo, Valsanzibio, Veneto
The Veneto is famous for villas designed by Andrea Palladio, especially Villa La Malcontenta and Villa Barbaro. Two or three leisurely days along the Brenta River is a grand pleasure and Mira makes a primo base, as you also can catch a boat into Venice near there. Many non-Palladian villas dot the countryside, too. Villa Pisani, 114 rooms, looks like a steel engraving of itself, with Tiepolo paintings of the Pisani children, all of whom look as though they existed on white polenta. The Villa Barbarigo, coral and cream, sets you to imagine that under better circumstances, you could live here. Black swans cruise ascending pools of gray-blue water. The garden was designed with "water jokes;" cross an invisible line and you get sprayed. Lines from poems carved into step risers say that you will laugh, not cry, that here Saturn does not eat his own children. Get lost in the boxwood maze, dream that someone soon will be calling you in for lunch.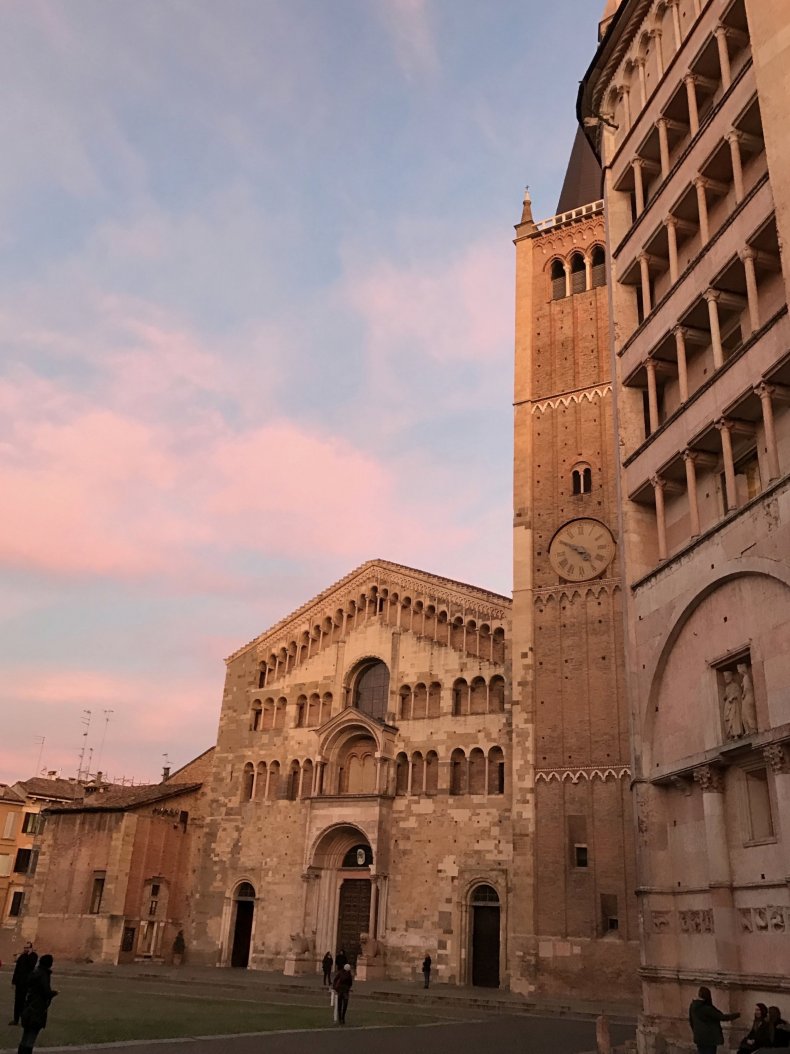 Parma, Emilia Romagna
Si mangia bene in Emilia Romagna, home of parmigianoreggiano, prosciutto, and many lusty dishes from the traditional cuisine. Parma is a snow-globe town—shake and it dazzles—a place of street music and opera (Verdi's haunt), an old university town of cool places for an aperitivo, artisan pizza, and elevated fine dining with awareness everywhere of sources and organic status. Native son Correggio left magnificent religious paintings in San Giovanni Evangelista and in the Cattedrale di Santa Maria Assunta, but it's San Paolo Monastery where you see the secular side of the artist. The head nun wanted nary a saint and her chamber shows fanciful antics of nude young boys in a leafy pergola. The Baptistry on the piazza with the Romanesque cathedral is one of the top ten most most beautiful buildings I've seen. The rosy pearl marble tower gleams in all lights. Built for baptisms, it looks like something from a fairy tale. It can't be real but it is.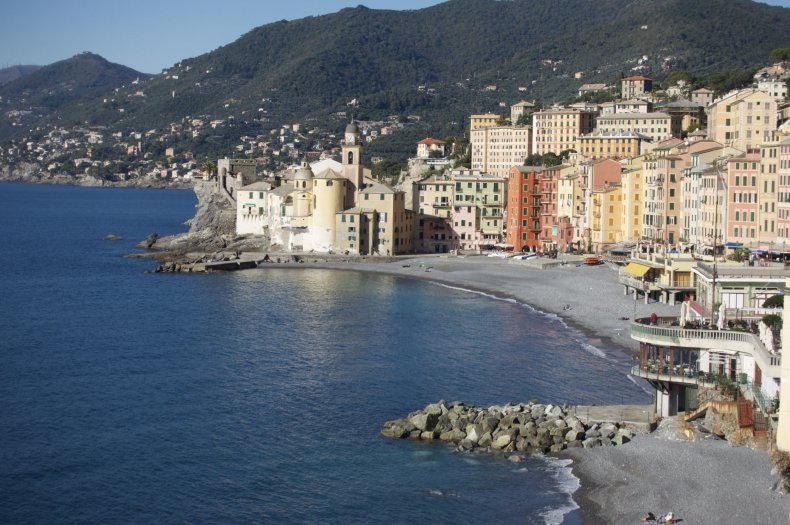 Camogli, Liguria
The name probably comes from Ca'Moglie, houses of wives left at home when anchovy fishermen set off for the forty-day hunt. Gelato and pasty shops line the crescent beach promenade and behind that astonishingly tall building rise. Did they choose bright colors so home could be recognized by the men returning from sea? Why all the trompe l'oeil flourishes, fake windows, and caryatids? A strong element of fantasy ran through the fishermen families. Even in November, have lunch outside facing the sea. Check out the ex voto collection at Santuario di Nostra Signora del Boschetto, mentioned in no guide book. Skilled itinerant painters recorded on tin or wood the thanks of those who escaped drowning, shipwreck, and falls from those tall houses. You're a quick boat ride from Portofino. Hike the trail to Sant' Fruttuoso's cove and hop on a boat back. A quick train takes you to Genova. But why not just relax in Camogli?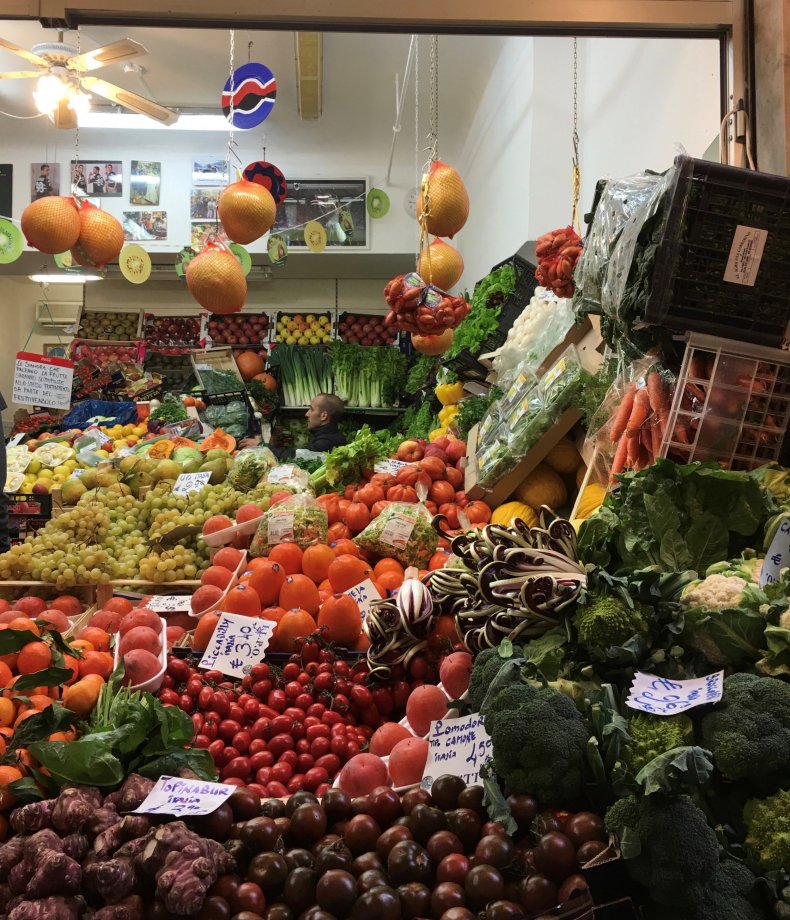 Genova, Liguria
Everyone knows Genova—Christopher Columbus and all that—but few visit this culturally rich and complex city. That's a mystery. The photo hints at the abundant local table. Look again: a man's head appears amid the produce near his sign saying Women who palpate the fruit will be subjected to the same treatment on the part of the fruit seller. (One of those funny guys.) In thecentro, largest medieval center in Europe, enter a maze of old-world cafés, galleries, hawkers outside minute shops stuffed with cheap plastic goods, tinny electronics, and bins of clothing. Overwhelming, the grand churches, and opulent palazzi of the seafaring gentry. Three palaces are now major museums filled with artistic booty from all over Europe. They lived like kings and queens, those merchants of the seas. 150 palazzi remain. Local architect Renzo Piano has transformed the anticoporto, with world class aquarium, science museum, and other projects. The great street food is irresistible—especially focaccia, baked with all kinds of toppings and vegetable fillings. And down this caruggo (tiny lane) or that, the scent offarinata lures, huge golden moon of chickpea batter crisped in a hot bread oven. Take it and go out exploring this raucous and magnificent city of contrasts.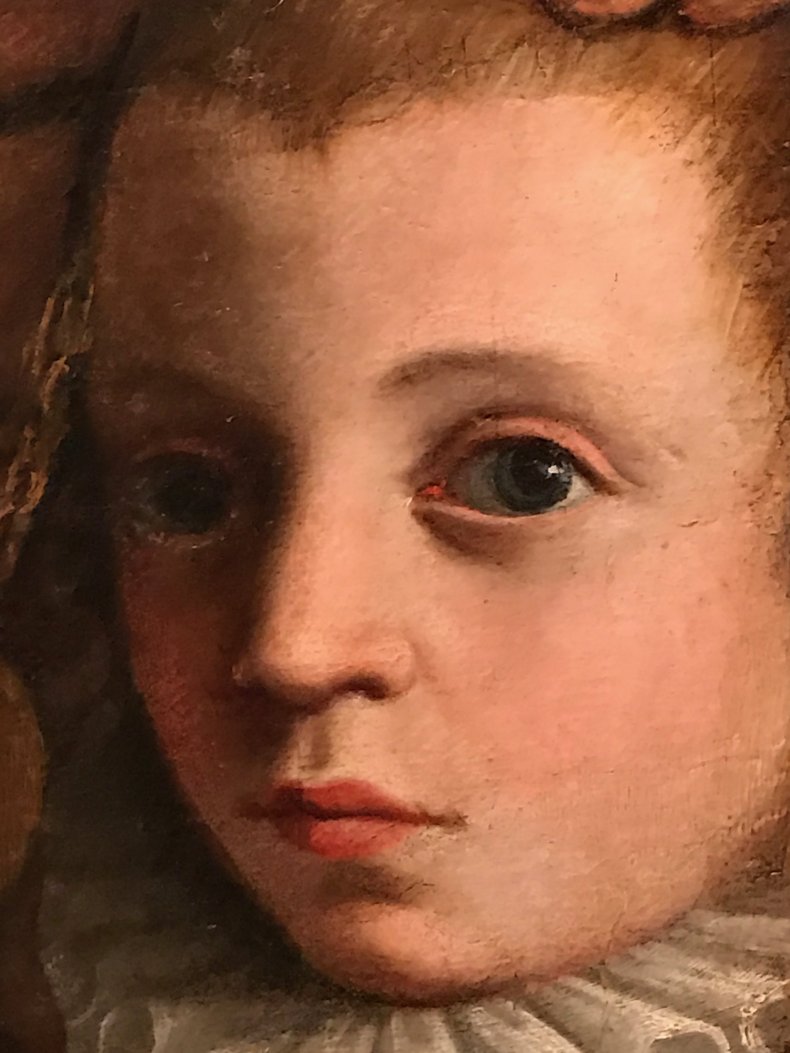 Sant'Angelo in Vado, Le Marche
Let me count the ways I love Le Marche. So many jewel-box towns—Fermo, Recanati, Ascoli Piceno, Sirolo above the sea—small, ancient, waiting to surprise you. In the most bucolic countryside and perched on the pretty Metauro River, Sant'Angelo in Vado hosts a truffle festival on late October and early November weekends. Buy them at the vast outdoor market or feast on truffle menus in all the town's restaurants. I'd never heard of the two local artists of the 1500s, Federico and Taddeo Zuccari. How did these boys know how to paint in their early teens, when they struck out for Rome and both became famous? (I should have heard of them.) This work is Federico's. Could the sweet-faced boy be his brother?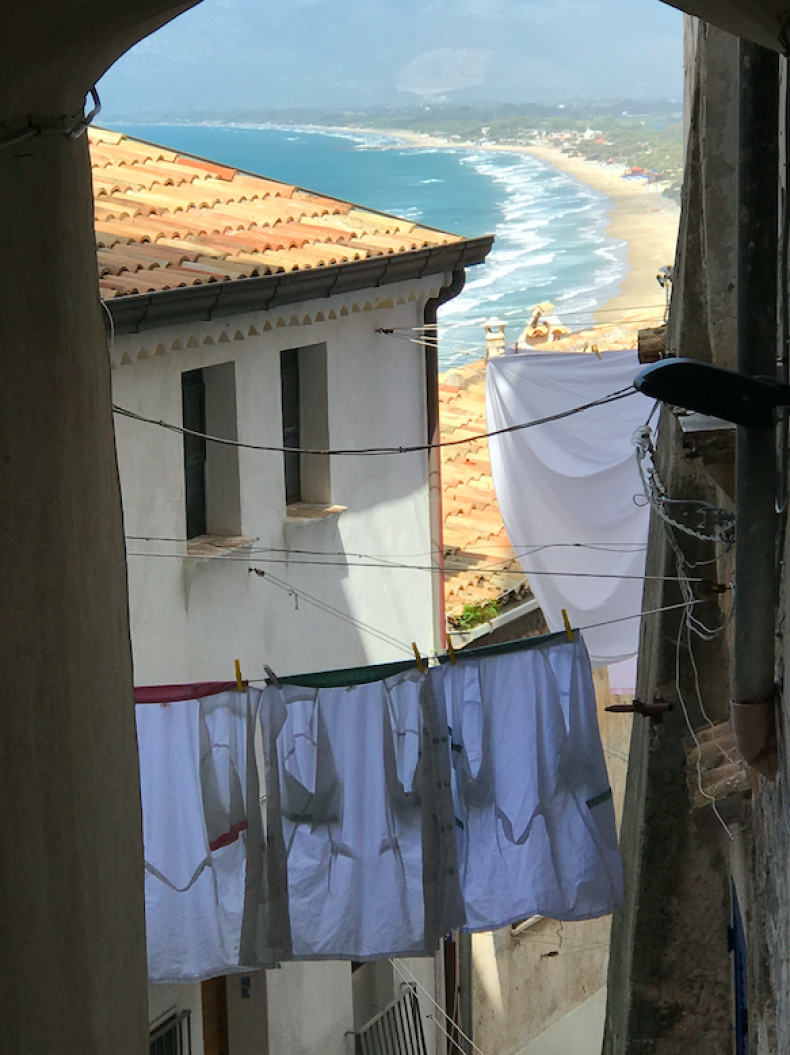 Sperlonga, Lazio
The whole town seems like a movie set. Could be Greece, all twisty streets, sugar-cube houses with blue doors, cats posed under magenta bougainvillea. Below stretch long beaches, crowded with Roman families in summer but idyllic at other times of the year. The Emperor Tiberius vacationed here. When the remains of his villa were discovered only in 1957 during road work, how smart the citizens were to block the transport of these treasures when the government tried to move the trove to Rome. Don't miss the museum. The extravagant beauty of Sperlonga will never leave you. Such a place lies at the heart of the Mediterranean fantasy: Here is my place in the sun.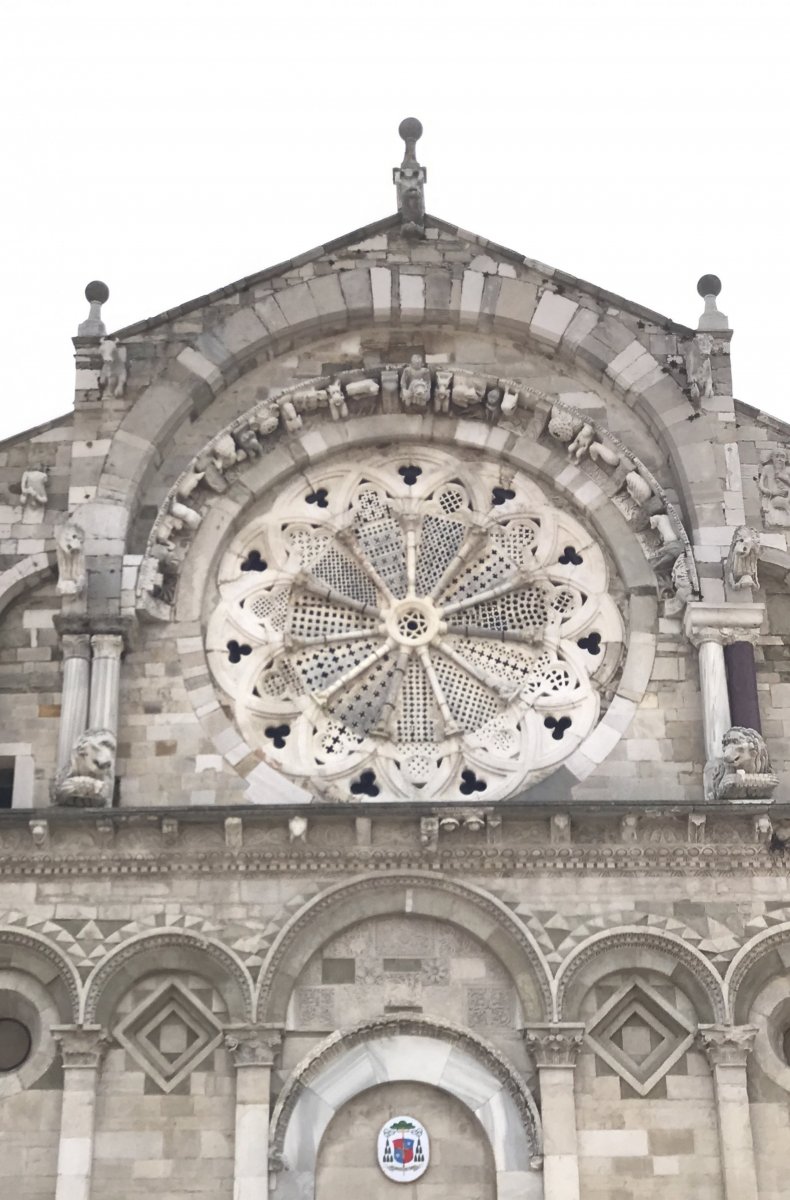 Troia, Puglia
You could come down to the spur and heel of the boot for the bread alone—round ten-pound loaves, dense but cakey—the best bread in Italy. Most come for the beaches, miles of them from Molise way down to the Salento where you'll find a cove of your own. And there's Lecce, Baroque queen of the south, an intact fantasia of over-the-top, drip-castle architecture. I came for those, too, but became more enchanted by the Puglian Romanesque churches, many with influences from the Normans, Spanish, Arab, Byzantine and other various conquerors. I photographed them in many intriguing towns: Trani, Ruvo, Ostuni, Bitonto—all stupendous—but I never will forget Troia's 1039 Church of Our Lady of the Assumption. The glory, the jaw-dropping, fall-to-you-knees glory is the façade's stone rose window, more delicate than any lace doily my great-grandmother ever crocheted. Isn't this why we travel? To be lifted? To be seduced and refreshed?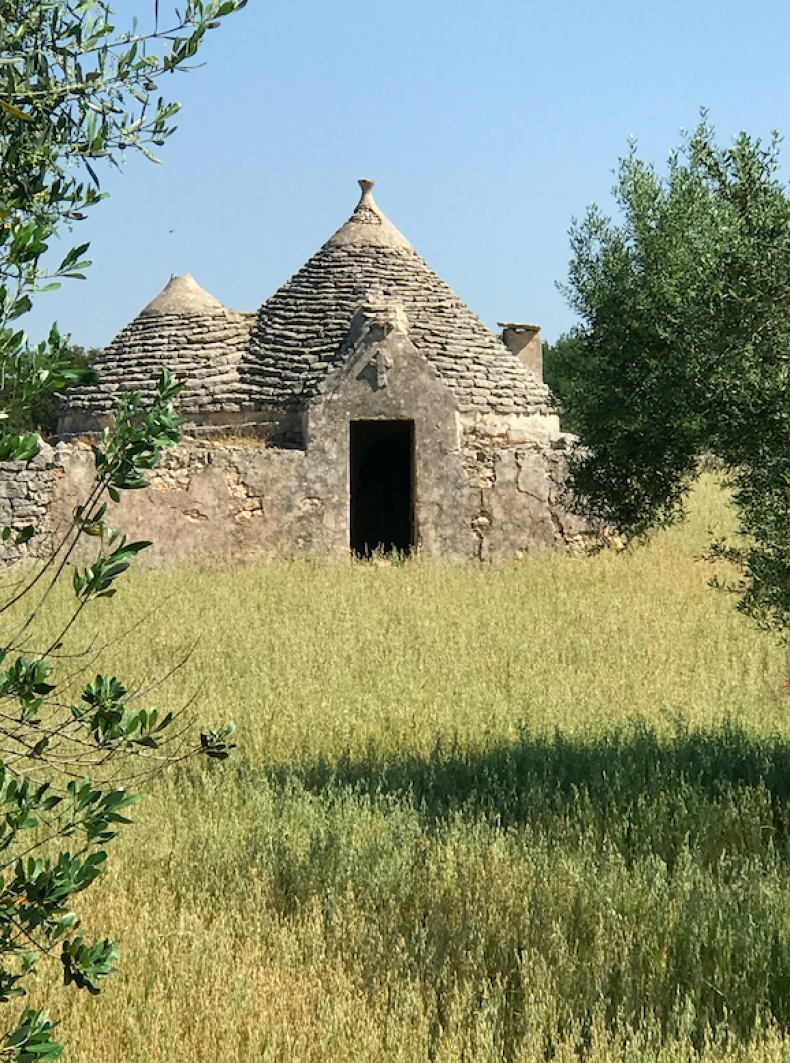 Putignano, Puglia
Marvelous as the Puglian towns are, the countryside is bliss. Nothing rivals the sight of gnarled, twisted olive trees in a grassy field of yellow and white wildflowers. They've been doing this spring thing for over a thousand years. Nearby, blooming fields of plum, cherry, peach and almond orchards. The olive trees aren't the only reminders of ancient times. Square and low dolmen endure, standing stone slabs and slab top. Thought to be funerary, no one really knows the purpose. Menhirs, are stacked stone structures going back to Neolithic times. Miraculous that you glimpse them as you drive the back roads. Most common are trulli, conical houses made of flat stones without mortar. The shape comes from the dimness of time, but many were built in the 1600s. Alberobello is a fairytale village of them but most startling is to happen upon one in the fields.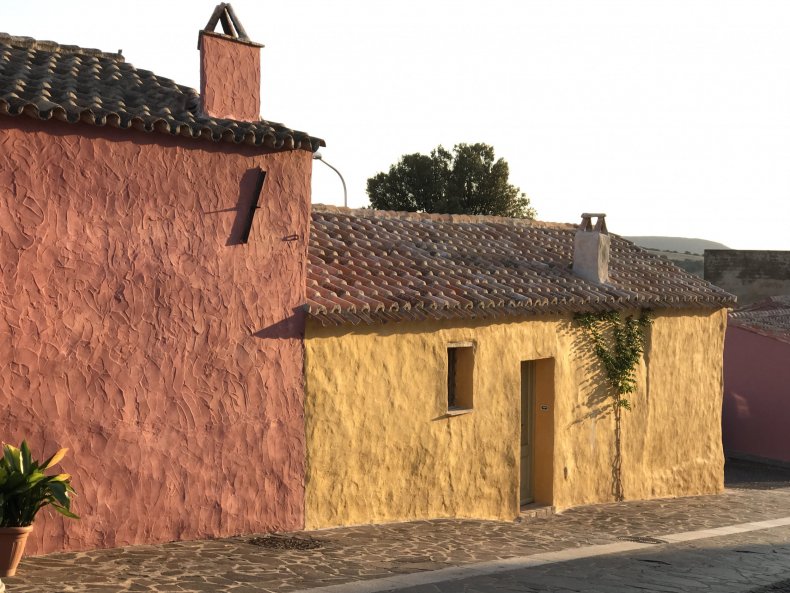 Santadi, Sardegna
Led to the inland town of Santadi for its wines and an agriturismo (farm stay inn) with Paola, a fierce chef in the kitchen, I caught this shot in the village where no one is afraid of color. The squash-gold and rose-putty house looks as if light surges from within. I would love to see inside. The back roads of Sardegna remind me of Mexico, West Texas. You come to mining towns (silver, copper, zinc, etc.) such as Iglesias, isolated but elegant, then to the astounding high dunes at Piscinas. The long sandy beach is the same glowing color of the plaster on the Santadi house. Sardegna surprises.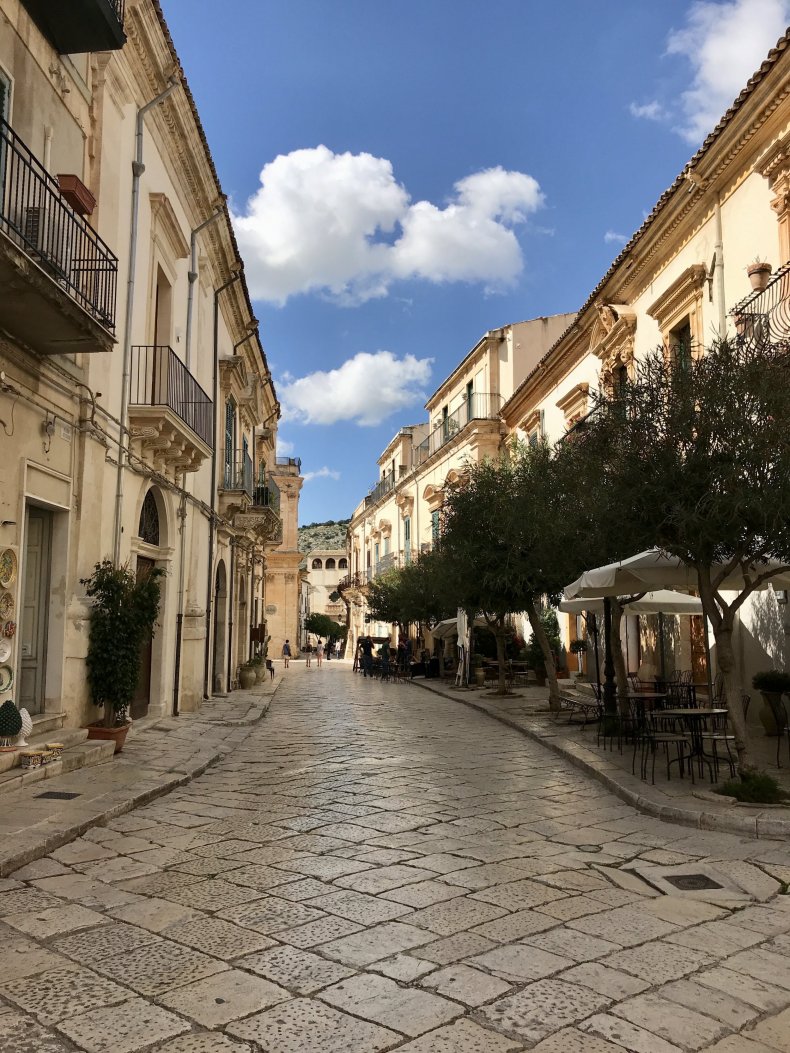 Scicli, Sicilia
Why the burst of Baroque in the south of Sicilia? Especially the great towns of Noto, Modica, and Ragusa? In 1693 an earthquake tore the region apart. They rebuilt in the current style, leaving the medieval in ruins. Scicli is the least known of the new cities. Is via Mormino Penna the prettiest street in Sicilia? The buildings are soft, monochromatic buttercream, sand, ivory, limestone white. The travertine pavement gleams like wet soap. Pink oleander trees and human-scaled palazzi line the streets, their balconies bowed out to accommodate voluminous skirts. Scicli gives itself to you immediately. I count sixteen majors churches. Forget church-blur—all of these are interesting. Then there's a time to contemplate with a cold drink—mint, barley water, mandarin, wild cherry, chinotto (with sour oranges), lemon, tamarind, almond milk, lemon salt soda—under an umbrella to shield you from the tyrannous sun. I'd like to come back in July when it really rages.