No Child Left Behind: Positive Teacher-Student Relationship Crucial for At-Risk Kids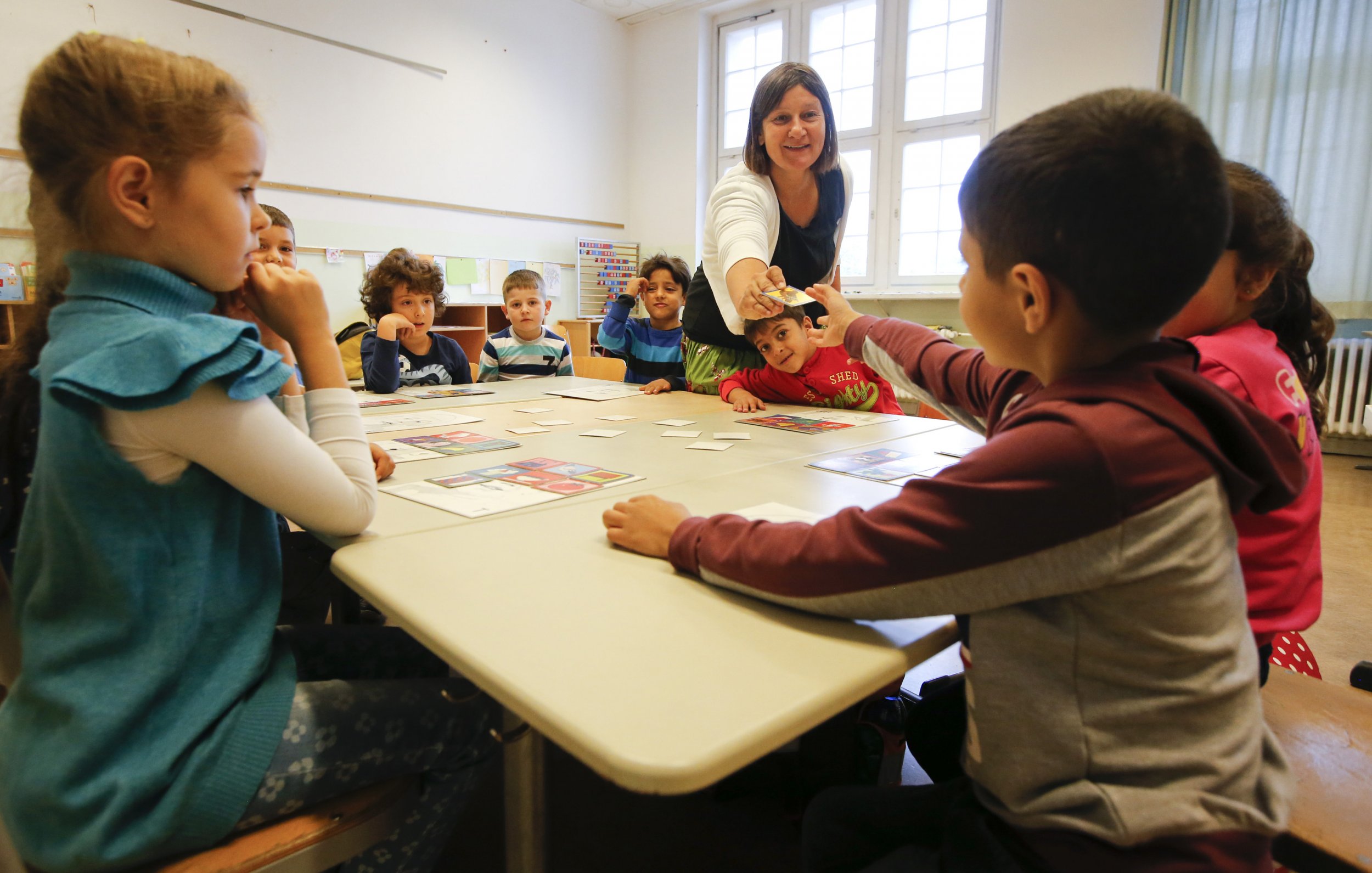 In a perfect world, no child is ever left behind because every child receives equable early learning opportunities; thus, every child enters kindergarten with similar skill sets…in a perfect world. But let's examine the real world where six in 10 of America's children enter kindergarten unprepared.
While still lobbying and promoting a coordinated early childhood program with the public school, what can be done now to help America's youngest and most vulnerable students thrive in the real world of harsh educational realities? There are two areas of concern: young children entering school without background knowledge, experience and enrichment, and young children entering school traumatized, abused, starved, homeless, neglected.
The best approach when discussing education reform is to begin with objective facts. Those six in 10 children entering kindergarten unprepared have high ACE (Adverse Childhood Experiences) scores due to tragic childhood experiences. Additionally, one in 5 children, either currently or at some point during their life, have had a seriously debilitating mental disorder.
Before a child can learn academically, a child's emotional wounds need to be recognized.
"Breakthroughs in neurobiology demonstrate that fear-based childhoods disrupt neurodevelopment, and can actually alter normal brain structure and function. Fear during infancy and early childhood has a cumulative impact on childhood development. Results of the ACE Study link the exploding rates in America's physical, mental, and social pathologies," according to the American Angel Campaign.
"One in every four students currently sitting in American classrooms have experienced a traumatic event, and the number is even greater for those living in impoverished communities. Young children exposed to more than five adverse experiences in the first three years of life face a 75 percent likelihood of having one or more delays in language, emotional, or brain development," according to the Atlantic.
There is one profound factor that can benefit children with high ACE scores now. That factor is a positive relationship between the student and teacher. A hurting child, or any child, thrives on the stability, reliability, predictability of a caring teacher. However, the reality of large class sizes, high-stakes testing, and limited resources prohibit the most committed teacher from providing the necessary emotional support.
In spite of the challenges, or perhaps because of them, teachers, schools, communities are still finding paths to healing. The Cedars-Sinai Psychological Trauma Center funds and provides art-based group counseling through a program called Share and Care. Therapists visit the schools on site twice a week for small group counseling sessions.
Using a multi-tiered system of supports, teachers in our school proactively encourage students to accept personal responsibility while making smart choices. Certified Classroom, 100% Club, Silver Spoon, and the Supportive Circle provide recognition when students accomplish social goals. Individuals in our school donate additional time and talent promoting a positive climate for children. On September 10, at 9:56 pm, our principal sent the following email to his staff:
"A special thanks to the PBIS team and staff members who came out to support the community movie event on the back lot and to Christ Lutheran Church who will be doing some grounds beautification this upcoming Sunday for a 9/11 service project. We are showing how truly important a neighborhood school can be to this neighborhood."
Last Friday temperatures reached 95 degrees. Parts of our school are air conditioned, but classrooms are not. After a day of intense heat, the PBIS team and staff hosted movie night in our school yard. During the time in between school dismissal and movie start time, the same teachers met in the school's library to finish painting and beautifying the area. This particular day, many school personnel worked 13 hours…including the principal.
Eating lunch together in a small, informal, relaxed environment provides opportunities for positive sharing and conversation. Our school social worker eats with small groups of children every day. She affectionately refers to the children as her "Lunch Bunch." Many of our staff offers "Lunch with the Teacher" or "Lunch with the Principal." Again, these special small group lunches encourage children to engage in meaningful dialogue with a caring adult.
All of our classrooms have a "Calming Corner." Here students can individually take a break to practice deep therapeutic breathing and reflect on making good choices.
Our school recognizes students during monthly themed assemblies. Themes include: building positive relationships, communication, collaboration, responsibility, respect, leadership, hard work, perseverance, safety and courage.
Healing a school community one child at a time seems daunting. But until large scale proactive measures can take effect (i.e.: early-childhood education, programs similar to Cedars-Sinai Psychological Trauma Center's Share and Care), social programs dedicated to healing traumatized children and building relationships with all children is a start. In response to those who might claim, " We can never save all of them," I will end with the starfish story:
"A man saw a boy throwing starfish into the ocean. He asked the boy why he was doing this and the boy said, 'The sun is up and the tide is going out. If I don't throw them in, they'll die.' The man looked at the miles and miles of beach and saw starfish everywhere. 'You just saved one starfish. You can never save all of them. What difference will it make?' The boy smiled and said, 'It made a difference to that one.'"
Maryanne J. Kane, Ph.D, received her doctorate in Music Education from Temple University and has 30-plus-years experience teaching in various elementary settings: parochial, private, and public in the Philadelphia and Delaware County areas.