After Russian President Vladimir Putin called for his country's nuclear forces to be placed into "combat readiness" this weekend, the possibility of a nuclear strike has become an uncomfortable possibility, though experts disagree about its likelihood.
U.S. President Joe Biden has said that Americans shouldn't worry about the possibility of a nuclear war with Russia. Both the U.S. and the North Atlantic Treaty Organization (NATO) have said there is no need to change their own nuclear alert levels, despite Putin's command.
Their reasoning may have to do with the vagueness of Putin's command. "Combat readiness" could refer to something threatening, like activating nuclear missiles for rapid deployment, or to something less so, like simply designating more workers to staff for nuclear weapon silos, NPR reported.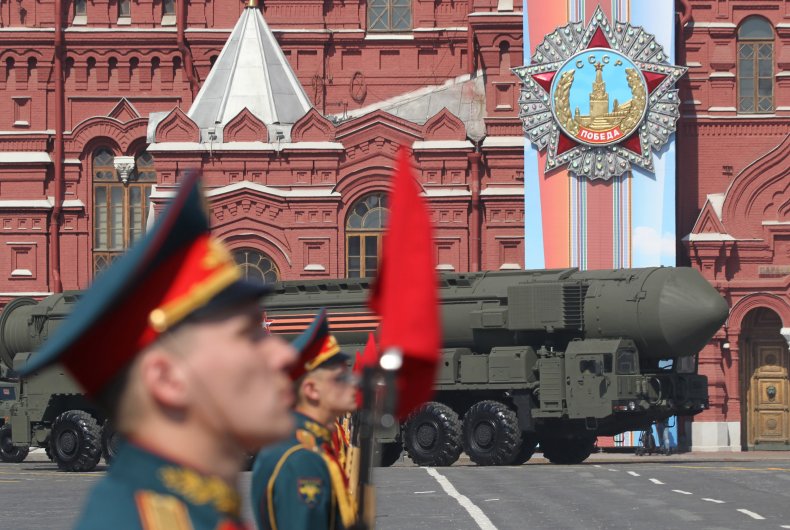 Nevertheless, either one could sound alarms considering that Russia has the largest nuclear stockpile in the world, with 4,477 weapons, according to the Associated Press. The U.S. has the second largest, with 3,708.
Russia's are stored aboard its submarines, bombers and intercontinental ballistic missiles as well as in over 200 silos across the country. The United States has 100 nuclear weapons stored across Europe.
There's no indication that Russia has taken any of its nuclear weapons out of storage, NPR reported.
In 2018, the Pentagon warned in its nuclear posture review that Russia could use a battlefield nuclear weapon to "'de-escalate' a conflict on terms favorable to Russia." That is, it could feasibly use a small-range nuclear weapon to get its enemy to stop fighting back.
However, Olga Oliker—the European program director for the International Crisis Group, a think tank on global crises—believes that Russia would only use a nuclear weapon if it found itself in a direct war with NATO forces. Oliker said it was "unlikely" that Russia would use one against Ukraine.
Other experts have doubted that Putin would deploy nuclear weapons because of their toxic effect on the region.
Alan Robock, an environmental sciences professor at Rutgers University, told Vox that if nuclear weapons hit big cities, the resulting black smoke from burning cities could kill "almost everybody on the planet."
Leaving radiation could sicken people and poison the area for years after the attack, according to AtomicArchive.org, a project on atomic war funded by a grant from the National Science Foundation.
If Putin hopes to install a puppet government in Ukraine and use the country's resources for Russia's benefit, as many intelligence sources suspect, then sickening the citizenry and poisoning its lands could work against Putin's larger goal.
Nevertheless, Fiona Hill, a former National Security Council staffer who wrote a biography on Putin, has said she believes that Putin's conversations with former U.S. President Donald Trump intimated Russia's willingness to use nuclear weaponry.
"Putin was putting us on notice that if push came to shove in some confrontational environment that the nuclear option would be on the table," Hill said, according to Raw Story.
"So if anybody thinks that Putin wouldn't use something that he's got that is unusual and cruel, think again," Hill continued. "Every time you think, 'No, he wouldn't, would he?' Well, yes, he would, and he wants us to know that, of course."
Hill says that Putin's public statements about the Ukraine invasion have become more emotional and unhinged compared to his previous statements, which were more restrained.
Jeffrey Lewis, a senior scholar at the Middlebury Institute of International Studies at Monterey, said he expects Putin's command might've been a way for Russia to downplay bad news about its military's inability to quickly topple Ukraine. Nevertheless, he told NPR that a false alarm could compel Putin to use nukes in retaliation.
"What would happen if the Russian warning system had a false alarm in the middle of a crisis like this?" Lewis asked. "Would Putin know it was a false alarm? Or would he jump to the wrong conclusion?"
Even the U.S. thinks that Putin's mention of nuclear weapons sets the stage for potential danger.
During a Monday briefing with reporters, White House press secretary Jen Psaki said, "We think provocative rhetoric like this regarding nuclear weapons is dangerous, adds to the risk of miscalculation, should be avoided and we will not indulge in it."
Newsweek contacted the White House for comment.