The World Health Organization (WHO) warned Tuesday that there could be a global shortage of up to 2 billion vaccine syringes used to administer COVID-19 vaccinations and other immunizations in 2022.
Speaking during a United Nations briefing, WHO medicines access expert Lisa Hedman said there have been roughly 6.8 billion coronavirus vaccine doses administered this year—almost doubling the number of typical routine vaccines and requiring nearly 2 billion more syringes than were manufactured last year, Reuters reported.
Hedman added that if manufacturing priorities are not changed to produce more syringes, the world could see a shortage of the injection needles by 1 billion to 2 billion by next year.
"We could have a global shortage of immunization syringes that could in turn lead to serious problems such as slowing down immunization efforts as well as safety concerns," she said on Tuesday. "If we shift capacity from one type of syringe to another or attempt to expand capacity for specialized immunization syringes, it takes time and investment."
Hedman said that a syringe shortage could lead to delays in other vaccinations and health services—particularly for children—and could prompt the unsanitary reusing of syringes and needles in poorer nations, according to Reuters.
To avoid this, the WHO expert said nations should plan their needs in advance to avoid a "hoarding, panic buying and type of situation" that was seen in the early days of the pandemic, when nations were short on items such as masks and personal protective equipment.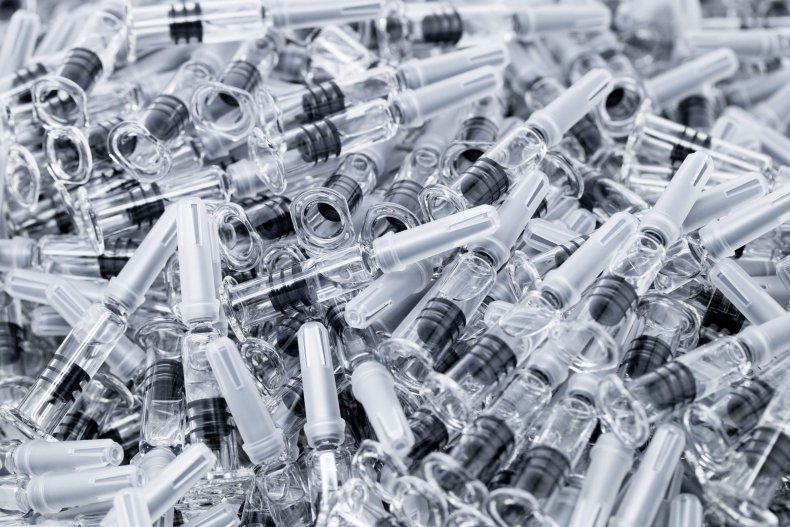 In late October, the WHO issued a similar warning about syringe shortages, but noted that the issue could be particularly bad for African countries that have lagged behind in overall COVID-19 vaccinations.
"Early next year, COVID-19 vaccines will start pouring into Africa, but a scarcity of syringes could paralyze progress" the WHO's regional director for Africa Dr. Matshidiso Moeti said last month, according to The New York Times. "Drastic measures must be taken to boost syringe production, fast. Countless African lives depend on it."
Africa remains the least vaccinated continent in the world, and unless "drastic measures" are taken to accelerate inoculations, the organization said that only five African countries are projected to meet its target of fully vaccinating 40 percent of their populations by the end of the year, according to the Times.
As of Tuesday, data from the Times shows that roughly 52 percent of the world has received at least one dose of the coronavirus vaccine, while at least 41 percent is fully vaccinated.
In the U.S. over 78 percent of the population aged 12 and older has received at least one jab, while more than 68 percent in that same age group is fully vaccinated, the Centers for Disease Control and Prevention reports.