Post-Convention Poll Shows Biden Ahead of Trump By 8 Points, With Better Than 2-to-1 Margin Among Suburban Women
A new post convention poll shows that Democratic presidential candidate Joe Biden continues to lead President Donald Trump by a significant margin nationally, while the former vice president has a better than 2-to-1 margin among suburban women voters.
Last month, prior to the Republican and Democratic National Conventions, Trump wrote on Twitter that "suburban housewives" would rally to him, saying they want "safety." Before the president made those remarks, polls already showed a different story and that appears to have remained unchanged following the conventions.
A new poll published Wednesday by Grinnell College showed that 49 percent of voters nationwide support Biden while just 41 percent back Trump—a lead of 8 points for the former vice president. An additional 3 percent said that they will back a different candidate, while 5 percent were still unsure who they'll support and 1 percent said they will not vote. The poll was carried out from August 26 to 30.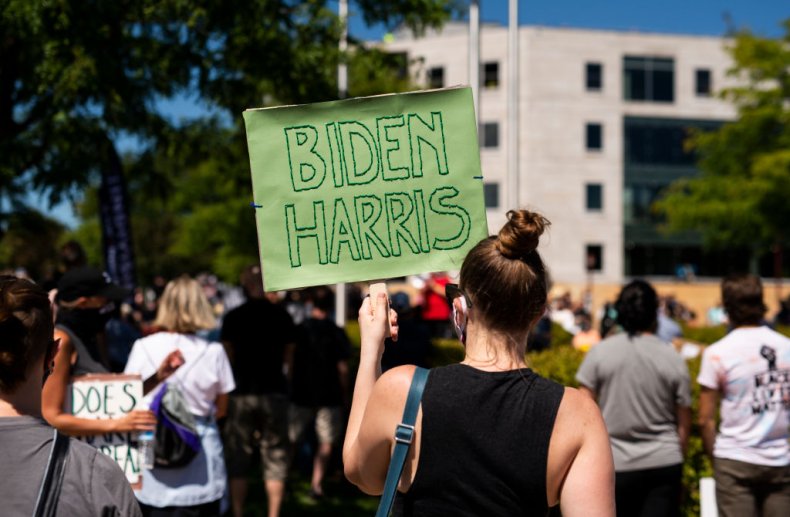 The survey found that 64 percent of suburban women back Biden as opposed to less than a third (31 percent) who back Trump. As the poll release noted, that's a margin of more than 2-to-1 in favor of the Democratic challenger.
"Beyond the overall eight-point advantage, this poll shows some areas of underlying strength for the former vice president," J. Ann Selzer of Selzer & Company, who led the polling, said in the release. "Mr. Biden holds a wide lead with moderates 55-33 percent, who are a plurality of the electorate; he benefits from a 10-point lead among independents who do not lean toward any political party, 44-34 percent."
Peter Hanson, an associate professor of political science and national poll director at Grinnell College, pointed out in the release that Trump "has not expanded his coalition beyond his core base of supporters, who have always been a minority of the electorate."
The polling results among suburban women aligned with an NPR/PBS NewsHour/Marist poll from the end of June. In that previous survey, 66 percent of suburban women said they disapproved of Trump. Of those, 58 percent said they "strongly" disapproved.
Polling conducted by Morning Consult following the RNC and DNC had Biden with a somewhat narrower lead of just 6 percent nationwide among all voters. That survey showed that 50 percent of voters planned to back the Democrat come November while just 44 percent planned to support the incumbent Republican president. Morning Consult's data additionally showed that Biden's lead narrowed following the RNC. Before the GOP event, Biden was 10 points ahead, with 52 percent compared to Trump's 42 percent.
The current Real Clear Politics average of national polls shows Trump down against his Democratic rival by about 6.3 percentage points. Biden is backed on average by about 48.9 percent of voters while Trump is supported by 42.6 percent. Meanwhile, FiveThirtyEight shows Biden with a slightly higher average lead of just over 7 percentage points. The Democrat is backed by an average of 50.3 percent of voters and Trump is supported by 43.2 percent.