After LeBron: Cavs Tickets Selling for $6 on Third-Party Sites
Watching the Cleveland Cavaliers has been an ordeal so far this season, with the 2016 NBA champion losing each of its first five games.
The silver lining to that is that fans wanting to catch a glimpse of the Cavs can do so for as little as $6. Tickets for the Cavs' upcoming home game against the Indiana Pacers on Saturday are being re-sold for $9 on third-party websites, while attending games against the Atlanta Hawks and the Denver Nuggets next week can cost as little as $6.
To put this into context, on the same website parking passes for the three games range from $25 to $31. In other words, parking outside the Quicken Loans Arena is around three time more expensive than watching Kevin Love and Rodney Hood in action.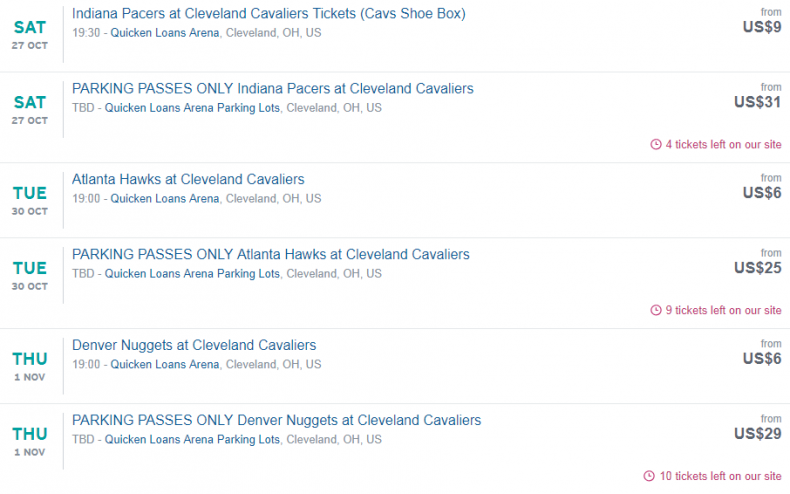 Low as the prices are, they are still way higher than they were for Wednesday's game against the Brooklyn Nets, when third-party websites re-sold tickets for as little as $2, as reported by TMZ.
Of course, these tickets are up in the rafters rather than courtside but the prices are nevertheless a sad indictment of the atmosphere in Cleveland. LeBron James' decision to leave Ohio for a second time was always going to be a watershed moment for the Cavs, but there was mild optimism they would be a good enough team to remain in the playoff picture.
So far, that has not proven to be the case. Cleveland has lost its opening five games, has the second-worst offense of the teams that have played five times so far and have the sixth-worst defensive record in the league after conceding more than 130 points in two occasions.
On Thursday night, the Cavs lost 110-103 in Detroit against the Pistons, a slight improvement after suffering a 102-86 thrashing at the hands of the Nets on home court the previous night. With Love out with a foot injury, Grant Hill and Hood were the only two Cavs starters to reach double-digits, posting 15 and 10 points, respectively.
Cleveland had a big hand from the bench, with Kyle Korver scoring 21 points in 22 minutes, while Jordan Clarkson and Collin Sexton added 18 and 14 points, respectively.
Despite a fifth consecutive defeat, Cavs coach Tyronn Lue was pleased with the effort.
"I thought our fight was there," he told FOX Sports Ohio.
"All the guys competed, they fought hard [but] the room for error is so slim with us right now […] the small things are what we've got to keep getting better at."
After taking the Cavs to four consecutive NBA Finals during LeBron's second spell in Cleveland, Lue's seat is getting increasingly hot. According to data compiled by Bovada earlier this week, he is the joint-sixth favorite to be the first NBA coach to be fired this season with 12-1 odds (+1200 in moneyline terms).
Should the Cavs continue their nightmare start, however, those odds could shorten very quickly.