Post Malone x Crocs 2020 Collaboration Release Date, Price, Where to Buy
Post Malone and Crocs are launching their fifth collaboration today (December 8) at 12 p.m. ET. The limited-edition release is sure to be in high demand with the previous collaborations between the musician and footwear brand selling out almost immediately, then listed for hundreds of dollars on websites like eBay and StockX.
The Post Malone x Crocs Duet Max Clog II comes in two colorways, black and pink, and features an exaggerated chunky outsole, pivotable backstraps with adjustable hook and loop closures, Post Malone-branded rivets and lanyard clips.
As well as the shoes, Post Malone and Crocs are also launching a PostyCo Pink 3 Pack and PostyCo Black 3 Pack of Jibbitz charms, featuring grapes, a heart, a rubber duck and representations of his tattoos.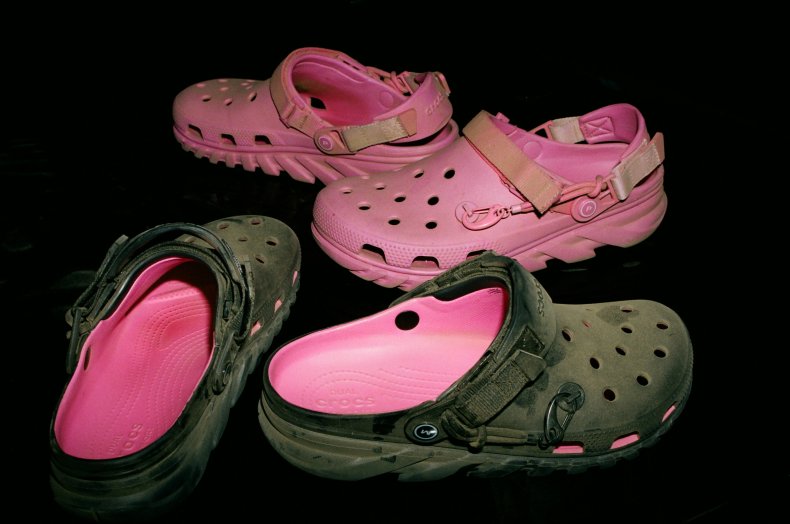 How much do the Post Malone Crocs cost?
The Post Malone Crocs will cost $59.99 and The PostyCo Pink 3 Pack and PostyCo Black 3 Pack of Jibbitz charms will cost $11.99 each. They will be available to purchase separately.
Post Malone and Crocs celebrated the launch by surprising 5,000 fans across New York, Los Angeles, Chicago, Dallas, Austin, Salt Lake City, Toronto, London, Sydney, Tokyo, Paris and Berlin, with the shoes.
In a news release, Post Malone said: "Giving away 5,000 pairs of shoes is how I'm saying 'thank you' to my fans.
"Each time Crocs and I partner, we make something better than before and I'm excited about what we came up with this time around. Drop 5 is going to be one my fans remember."
On December 4, fans were invited to enter the giveaway on Twitter by using the hashtag #pmgiveaway.
Heidi Cooley, head of Global Marketing for Crocs, added: "This is our biggest and most impactful Post Malone x Crocs drop to date, and in more ways than one.
"In addition to surprising some of Post Malone's biggest fans with free shoes, we, for the first time, are offering consumers two styles to choose from, plus special Jibbitz charms.
"We're thrilled by how [the] partnership with Post Malone continues to evolve and look forward to sharing in the excitement that this drop will undoubtedly generate."
The Post Malone x Crocs will be available to purchase at Crocs.com and select partner retail and e-commerce channels from 12 p.m. ET on December 8.
Newsweek has affiliate partnerships. If you make a purchase using our links, we may earn a share of the sale.