Post Malone Pokémon Virtual Concert: Start Time and How to Watch Online
Pokémon Day is almost here and fans are being treated to a special virtual concert featuring Grammy-nominated artist Post Malone.
The virtual concert is in conjunction with The Pokémon Company's P25 collaboration project, which brings world-renowned artists together for a collection of music-themed events.
Post Malone's concert was announced earlier this month and is the second artist named for the P25 initiative, after Katy Perry.
"I've been a Pokémon fan for a long time, so the opportunity to headline the Pokémon Day concert celebrating 25 years is awesome," said Malone in a press release at the time.
The Pokémon Company has teased more information on the music collaboration after the concert, so if you're looking to listen to music on Pokémon Day and find out more about P25, here's everything you need to know about the Post Malone virtual concert.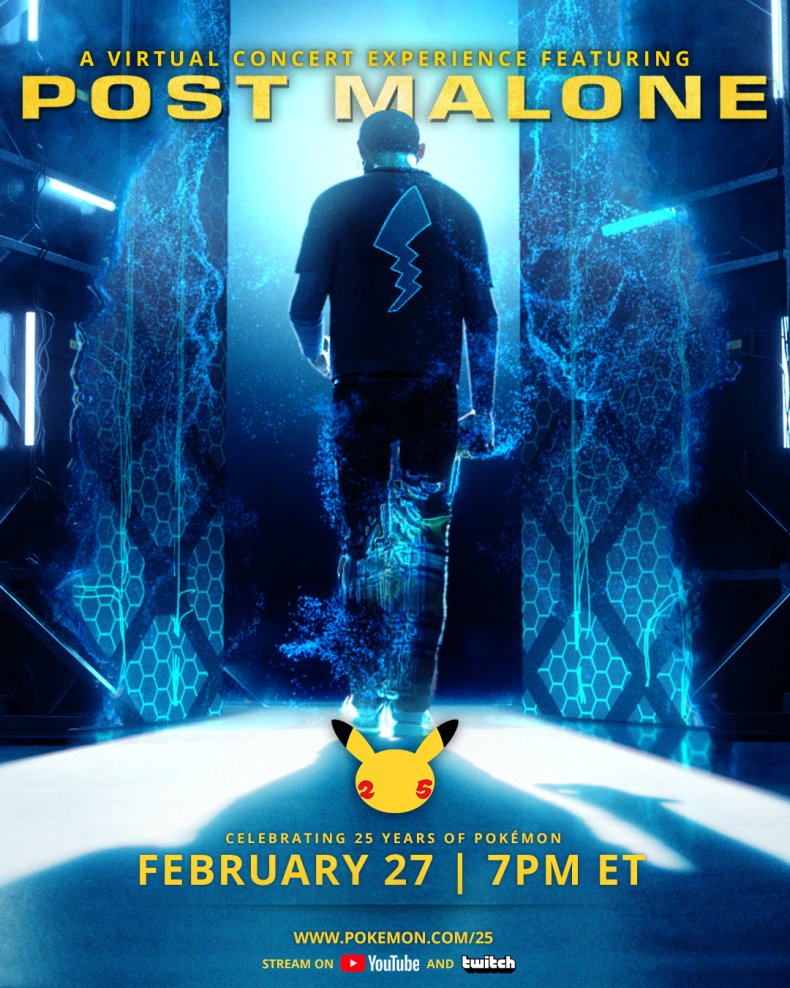 POST MALONE POKEMON VIRTUAL CONCERT START TIME
The Post Malone Pokémon virtual concert begins Saturday, February 27 at 7 p.m. EDT.
HOW TO WATCH POST MALONE POKEMON VIRTUAL CONCERT
The first is through the official Pokémon YouTube channel. Fans can watch it on their laptops or via the YouTube app on their smartphones. Every gaming console, including PS4, PS5 Xbox One, Xbox Series X/S and Nintendo Switch, has a YouTube app that players can watch from.
Twitch is another way to watch the Post Malone Pokémon virtual concert. The Twitch app is also available on smartphones, as well as PS4, PS5, Xbox Series X/S and Xbox One. Unfortunately, Nintendo Switch does not have this app.
Ahead of the virtual concert, The Pokémon Company released a cover of Hootie and the Blowfish's 1995 hit "Only Wanna Be with You" – appropriately dubbed the "Pokémon 25 Version" performed by Post Malone.
We can probably expect more covers of classic songs during the virtual concert along with performances of Post Malone's greatest hits.
The Post Malone concert comes a day after The Pokémon Company announced Diamond and Pearl remakes as well as the first open-world Pokémon game in Pokémon Legends Arceus. Brilliant Diamond and Shining Pearl are scheduled to release later this year with Pokémon Legends Arceus set for an early 2022 release.
Are you excited about the Post Malone virtual concert? Which artist do you want to see Pokémon collaborate with? Let us know in the comments section.