Post Malone Wishes Fan Happy 21st Birthday in Video With Over 4M Views
Music star Post Malone has a reputation of being a very nice guy. There are a number of clip compilations on YouTube titled things like "Post Malone being a good guy for 6 minutes straight," "Top 10 Times Post Malone Was Awesome" and "Post Malone is the NICEST Person EVER." And Malone's latest viral video is just another clip that will eventually show up in the next one of these compilations.
In a TikTok posted by Nicole Schumacher, the rapper happens to meet a 21-year-old fan at an outdoor restaurant in Los Angeles named Matsuhisa. The video has received 4.1 million views, plus another 500,000 likes and 8,600 comments—and that's just on its native platform.
The video was also shared to the popular subreddit r/HumansBeingBros where it got 77,500 upvotes and 419 comments before being locked by the moderators. The video was shared to 12 other subreddits as of this writing.
In the clip, Malone introduces himself to Schumacher and her son, Andrew. She explains that Andrew is trying his first beer, and Malone asks "What kind of beer you got?" joking that "it's a tough choice." Schumacher mentions Andrew has autism and knows all his songs, and Malone thanks him for listening and shakes his hand.
"Have fun! But not too much," the rapper jokes.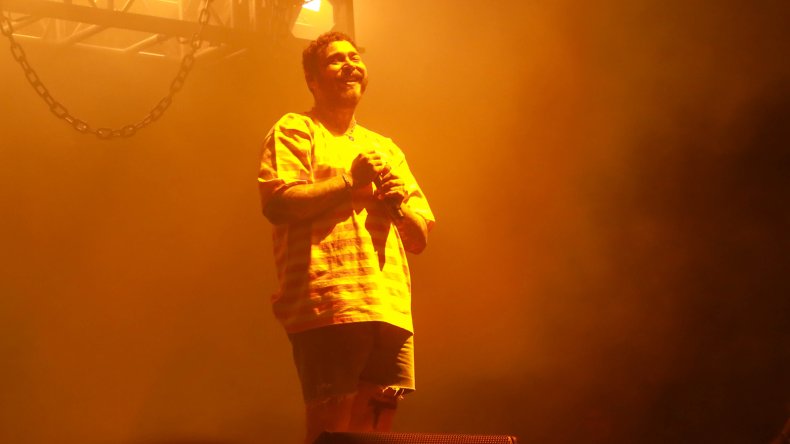 In the caption for the video, Schumacher calls Malone "the kindest superstar ever!" and the comments—both on TikTok and Reddit—are full of love for the singer.
"He's a dude that got famous and rich and never forgot who he was. His music is good too," @crrowleyy wrote on TikTok.
"Never understood why so many women were obsessed with him. I get it now lol," @itsamylynne added.
"Omg what a sweet soul!" Kim Possible star Christy Carlson Romano said, along with a smiling face with three hearts emoji.
Other people chimed in with their own stories of Malone being nice.
"He has always been this kind. Met him in Weho and bought us a drink & invited us to his first album release party. Humble as heck," @ashyizzle wrote.
"My buddy is a waiter at a high-end restaurant in LA and has dealt w/ his share of douchebags. This punk with the face tattoos and his buddies came in one night...and were absolute gentlemen. And left the staff a $10k tip," u/nobbyv wrote on Reddit.
"Few years ago I worked at an event where he was playing. Post came out back and went around thanking everyone. That stuck with me, really seems like a genuine person," u/moose-C wrote.
"Met him for about three minutes in 2018 - he was kind to my kid and asked him what songs he liked and stayed a minute longer than he needed to - 10/10," @longislandtrafficlawyer wrote.
Malone is currently working on a new album, twelve carat toothache, which he says will be released soon, according to a January interview with Billboard magazine. It's expected to be around 45 minutes long—which, if true, will make it Malone's shortest album so far. The new album will be his first since 2019's Hollywood's Bleeding.