Postal Officials Probe Claims of Mail-in Ballots Backlog in Florida County, as Dems Worry of Low Voter Turnout
Investigators with the United States Postal Service (USPS) are probing claims of a backlog of mail at a post office in a Florida county, potentially containing mail-in ballots ahead of the November 3 election. The investigation comes as Democrats in the county are becoming increasingly concerned over low voter turnout.
Florida House Democratic Leader Kionne McGhee tweeted a video on Friday afternoon showing mail piled up in dozens of bins, possibly containing ballots, at the Princeton post office in Homestead, located in Miami-Dade County. A resident in the area told McGhee that some people hadn't received their mail from the post office in five days, he tweeted.
"Raw footage of mailroom in post office here in Miami Dade. Source revealed 'mail in ballots are within these piled up in bins on the floor. Mail has been sitting for over a week!'" McGhee wrote.
McGhee told the Miami Herald that the footage in his tweet was taken Friday and provided to him directly by the person who filmed it, a "concerned postal worker who was disturbed by what they were seeing."
"I call on the Postal Service to correct this and promise the citizens of Miami-Dade that these ballots will be delivered in time," McGhee said in a statement to the Herald. "I call on [Florida Secretary of State] Laurel Lee ... and Governor Ron DeSantis to use their power and influence to guarantee every valid vote in Florida is counted."
McGhee tweeted later on Friday that both the postmaster and postal inspector were aware of the issue at the Princeton post office. He shared another video of postal police arriving at the post office to investigate: "It speaks for itself. This is a different environment!"
Scott Pierce, special agent in charge of the USPS Office of Inspector General's southern area field office, confirmed in an email to Newsweek that special agents received allegations of delayed mail at the Princeton post office on October 30. The allegation contained a link to McGhee's tweet, he wrote.
Although the investigation remains ongoing, special agents confirmed the presence of delayed mail and subsequently located 48 pieces of election mail, Pierce wrote.
"The U.S. Postal Service immediately arranged for the delivery of the election mail. The investigation is ongoing and is being closely coordinated with U.S. Postal Service to ensure all delayed mail has been properly handled and delivered," Pierce said. "In addition, the U.S. Attorney's Office for the Southern District of Florida has been briefed on the initial findings. "
A statement from McGhee's office on Saturday underscored the gravity of the situation. In Florida, a mailed ballot must be received by the county's elections office by 7 p.m. on Election Day, regardless of when it was postmarked.
"A valid vote, mailed in a timely fashion, might not count due solely to a slowed down postal system. In 2020, that could mean thousands of votes," the statement read, alluding to the increased number of Americans who will cast their vote by mail this year because of the coronavirus pandemic.
McGhee announced he would lead a protest at the post office on Saturday to "draw attention to the dangerous slow-down of mail delivery" leading to the potential disenfranchisement of Miami-Dade voters.
Other Florida politicians became aware of the apparent backlog on Friday, pledging to investigate and address the issue. Representative Debbie Mucarsel-Powell, a Democrat who represents the western part of Miami-Dade County including Homestead, tweeted that she was aware of the "concerning situation" regarding backed-up mail at the Princeton post office.
"I have requested an immediate briefing from the Postmaster General," she said in a statement. "I am working to ensure that mail delays do not impact participation in this election."
Suzy Trutie, the deputy supervisor of the Miami-Dade County Department of Elections, also released a statement: "We are aware of the footage and immediately reported this to our contact at the USPS. They are looking into the matter and have assured us that all ballots will be delivered timely."
Miami-Dade State Attorney Katherine Fernandez-Rundle called the possible postal delay "troubling," as time runs out before the November 3 election.
"I have requested that all postal distribution centers be audited and any and all ballots that may remain in these centers be immediately transported to the Department of Elections," she said in a statement Friday. "I further understand that administrative action was taken by the Office of the Inspector General regarding the employee's negligence at the Princeton distribution center."
Mark Travers, South Florida president for the National Association of Letter Carriers, told the Herald that he first became aware of the backup on October 21. He alerted other Florida mail officials to the issue on October 23, who told him they would address the issue, Travers said.
But as shown in the footage shared by McGhee, it appeared on Friday that the backlog remained. Travers has since been told that additional resources, including more mail trucks, would be sent to the area, and that carriers would be asked to work to their "contractual maximum" to get the mail out, he told the Herald.
Travers confirmed to the Herald that the footage showed the Princeton post office, but said he could not identify any ballots.
Still, he said, "It shouldn't look like that — it shouldn't be that backed up. No one person could clear that out in one day. It should not be that backed up. It needs to be moving out quicker."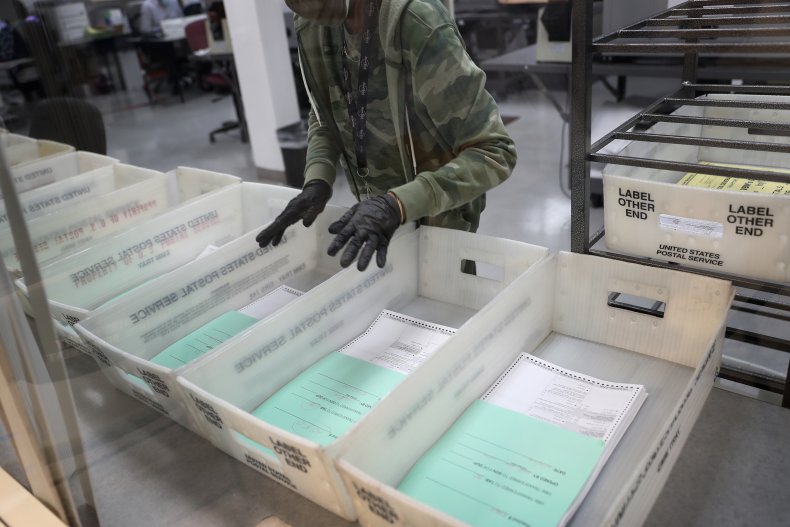 News of the backlog comes amid mounting worry among Democrats that Miami-Dade, Florida's biggest county, will receive weak voter turnout rates, Politico reported.
Democrats are turning out at lower rates than Republicans and at lower rates than at this point in 2016. The county is one of the most diverse pockets of the state and is a crucial part of Democratic nominee Joe Biden's plan to win Florida.
To date, Republicans have turned out 59 percent of their voters in Miami-Dade and Democrats have turned out 53 percent, a 6-point margin, according to Politico. Still, there are far more registered Democratic voters in the county than Republicans. As of Thursday morning, 337,000 Democrats had already cast early and absentee ballots in Miami-Dade, nearly 80,000 more than the 253,000 Republicans.
Pundits have named the Sunshine State as the single-most important state for Trump in the election. Without Florida's 29 electoral votes, President Donald Trump's path to the White House shrinks significantly.
If Biden were to win the state, as some polls are indicating is a real possibility, an Electoral College victory would be near-certain. Senator Kamala Harris of California, Biden's running mate, campaigned in Miami on Saturday as part of her push to convince remaining voters to back her ticket.
She gave a 22-minute speech at a drive-in rally near Florida International University, where at least 100 cars assembled, according to the South Florida Sun Sentinel.