#MailedIt: Celebrities Show Support for U.S. Postal Service
Celebrities have thrown their weight behind a Twitter campaign urging people to show their support for the U.S. Postal Service (USPS) as it calls for emergency funding to stay afloat.
Congress's coronavirus package the CARES Act allocated $25 billion in March for the postal service, but the funding was blocked by President Donald Trump's administration which offered instead $10 billion in the form of loans—with criteria for reforms attached.
In April, the USPS told Congress it needed $75 billion in funding and that it faced the prospect of running out of money by September. Adding to the uncertainty were Trump's comments that he would not approve the $10 billion loan unless it significantly raised the prices for big shippers like Amazon.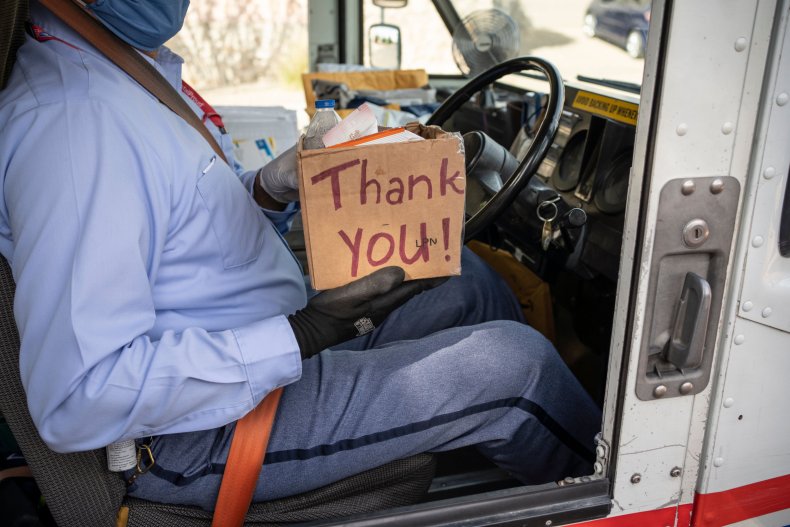 "The Postal Service is a joke because they're handing out packages for Amazon and other internet companies and every time they bring a package, they lose money on it," Trump said on April 24. "If they don't raise the price, I'm not signing anything."
Ahead of National Postal Worker Day on July 1, television host Samantha Bee invoked how central the USPS was in delivering essentials to Americans during the coronavirus pandemic.
She called on people to use Twitter to appeal to Trump and Treasury Secretary, Steven Mnuchin and tweet their appreciation of the service. For every person who used #MailedIt on Wednesday, the TBS show Full Frontal with Samantha Bee would purchase a stamp from the USPS, up to a total of 100,000.
"The United States Postal Service doesn't cost taxpayers anything for operating expenses. It is funded entirely through the sale of it's services and products. Help us help them by tweeting with #MailedIt! We'll buy a stamp for every tweet with that hashtag!" she tweeted.
Among the celebrities supporting her call was Ava DuVernay, who tweeted to her 2.6 million followers the important role it played in democracy ahead of postal voting in the U.S. election.
"Dear @stevenmnuchin1, give this esteemed organization adequate funding to support a proper election. Much respect to the postal service and it's dedicated employees," she wrote.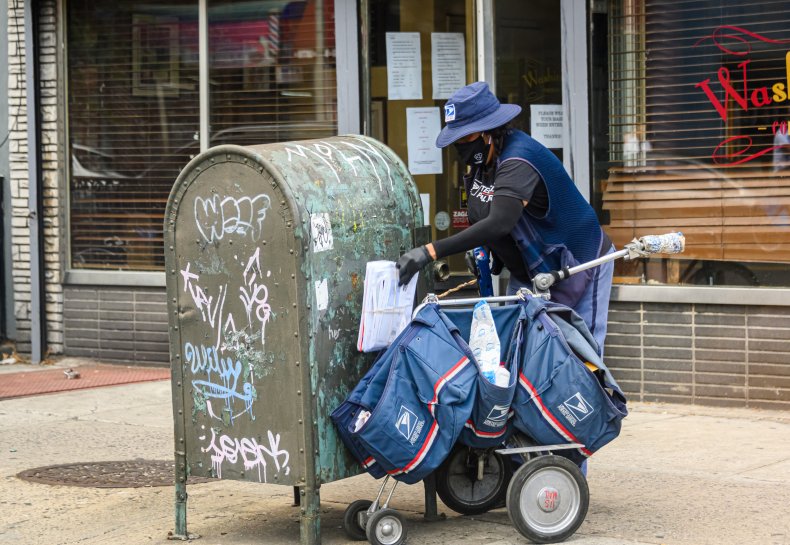 Reality star Khloe Kardashian tweeted: "Let's save the US Postal Service by tweeting @stevenmnuchin1 and telling him we need mail-in ballots." Bette Midler tweeted: "Put those fingers to work and save the USPS!"
Jessica Pimentel tweeted: "Do the right thing and help us save the US Postal Service. We need mail-in ballots!"
The celebrity endorsements follow a groundswell of backing for the postal service in the time of the coronavirus. Of its 630,000 employees, 3,400 had tested positive as of June.
A poll commissioned by the National Association of Letter Carriers found that 95 percent of Democrats and 92 percent of Republicans said the USPS is important to them and their families. It also found that 92 percent of voters backed emergency intervention with the vast majority believing it should come from federal government funds and not from higher prices.
Rep. Gerry Connolly (D-VA), who is chairman of the House's government operations subcommittee that oversees the postal service, said that the USPS is "in crisis, and one person is standing in the way of its salvation: President Donald J. Trump."
"Rural and urban, Democrat, Republican or Independent, every one of us has come to rely on the Postal Service," he wrote in an op-ed for CNN.
Figures from the second quarter of 2020 said that $10 billion from the U.S. Treasury would give the USPS enough liquidity to keep it going at least until May 2021—however, there is uncertainty over what will happen after that.
It is calling for a $25 billion grant to cover COVID losses over the next two years, $25 billion to modernize infrastructure, $14.4 billion worth of debt forgiveness and the authority for unrestricted borrowing of up to $25 billion.
USPS spokesman Dave Partenheimer told Newsweek that COVID-19 had caused mail volume to decline but not as much as initially predicted from the first three weeks of the pandemic.
There had also been a boost to the packaging segment of its business but its "financial problems continue to be serious."
"The recent trends indicate that our 2020 financial performance will be better than our early scenarios predicted, but the pandemic will nevertheless have an extremely detrimental impact on the financial condition of the Postal Service," he said in a statement. Newsweek has contacted the White House for comment.