Postal Service Photographs Every Piece of Mail in the U.S., Shares With Agencies That Request It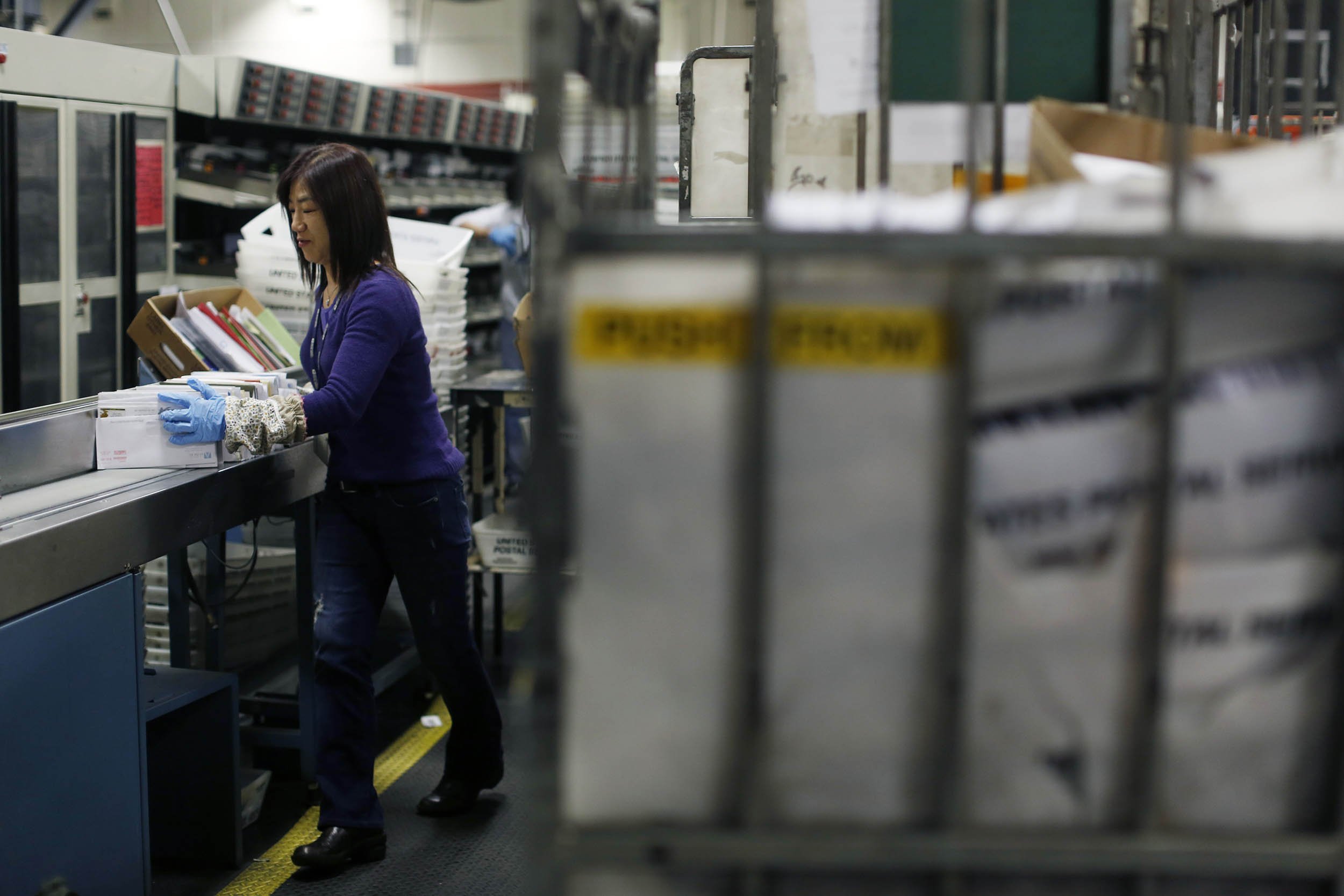 Tucked away in a seemingly innocuous annual audit of the United States Postal Service's (USPS) century-old "mail covers" surveillance program were some surprising revelations: It has not only grown exponentially but it suffers from a lack of oversight, making it vulnerable to abuse.
The 2014 audit, which was posted on a postal service website without announcement in May, exposes the fact that the USPS approved nearly 50,000 requests last year, both internally and from state or federal law enforcement agencies at all levels, to monitor Americans' mail.
According to information obtained via Freedom of Information Act request by The New York Times, 50,000 far exceeds the number of requests made in previous years. Between 2001 and 2012, the USPS received more than 100,000 requests from state and federal law enforcement—an average of 8,000 a year—to monitor Americans. This number does not include requests made from the service's law enforcement arm or from national security investigations.
The USPS uses a program called Mail Imaging, which takes a photograph of the outside of every piece of mail sent in the U.S. While the primary purpose of taking the pictures is to process the mail, law enforcement agencies are able to request images of mail sent and received by a target they are investigating.
Another system used by the USPS is called the Mail Isolation Control and Tracking Program, which was created and put in place after anthrax attacks claimed five lives in 2001. It tracks and investigates mail suspected of containing bio-hazardous material, and was first made public in 2013 during an investigation into ricin-laced letters sent to President Obama and then New York City Mayor Bloomberg.
Though it appears old-fashioned—providing law enforcement with only names and addresses—agencies insist the program yields an abundance of information. Postal officials boast their methods of surveillance are far less intrusive than the broad data collection by the National Security Agency.
Defense lawyers say that because the program is shrouded in secrecy, it is hard to track surveillance abuses. But the audit, in addition to materials obtained by the Times, shows that monitoring was often done without adequate reason or authorization.
In 2011, Mary Rose Wilcox, a Maricopa County Arizona supervisor and a critic of the controversial Sheriff Joe Arpaio, discovered that the county sheriff's office was monitoring her mail. Using information gathered through surveilling her mail, Arpaio and his lawyer were able to obtain warrants for the banking information of two restaurants Wilcox and her husband owned. His office also raided a company that hired Wilcox to provide concessions at a local airport, causing her to lose the business.
"I don't blame the postal service," Wilcox said in an interview with the Times, but you shouldn't be able to just use these mail covers to go on a fishing expedition. There needs to be more control."
And that is just one example that we know of. Since tracking does not have to be reported to anyone, abuse has the potential to run rampant.
"A program like this, which can reveal sensitive correspondence, must have proper oversight, authority and justification," Harley Geiger, senior counsel for the Washington, D.C.–based Center for Democracy & Technology told the Chicago Tribune, "and it appears that privacy controls were developed, but not followed."
"You can't just get a mail cover to go on a fishing expedition," said Paul J. Krenn, a spokesman for the Postal Inspection Service to the Times. "There has to be a legitimate law enforcement reason, and the mail cover can't be the sole tool."
The newly revealed method of surveillance, mixed with the erosion of protections of Americans from unreasonable searches and seizures, has made our information "up for grabs by the government without the need for any judge's approval," Mark Brodin, a professor at Boston College Law School, also told the Tribune.
At a time when awareness and anger about government surveillance is at an all-time high, this is not something Americans want to hear.
Update: The United States Postal Service gave Newsweek the following response:
The term "mail cover" refers to the process of recording information appearing on the outside of a mailpiece. The process, used by law enforcement agencies for decades, is authorized only under limited circumstances by the U.S. Postal Inspection Service in support of law enforcement investigations.

The mail imaging process is used by the Postal Service to place barcodes on mailpieces that could not be read by mail processing equipment. This technique, in use since the early 1990s, helps the Postal Service move the mail more quickly and saves money. The images are not used to monitor the mailing behavior of any person.

The imaging capability has allowed the Postal Service to better identify and locate potentially hazardous mailpieces; to identify the facilities, mail equipment and postal vehicles through which the mailpieces were processed and transported so appropriate safety measures can be taken, and to assist the Postal Inspection Service, and other law enforcement agencies, with their investigations.

The U.S. Postal Service will continue to ensure the sanctity and privacy of the U.S. Mail and protect the safety of its employees and customers.