Postal Service Warns Several States of Risk Mail in Ballots Won't Be Returned in Time to Be Counted
The United States Postal Service (USPS) has warned several states that mail-in ballots may not be delivered in time to be counted for the 2020 Presidential election.
In a letter addressed to North Carolina Secretary of State Elaine Marshall, USPS said that the state's "deadlines for requesting and casting mail-in ballots are incongruous with the Postal Service's delivery standards."
"This mismatch creates a risk that ballots requested near the deadline under the state law will not be returned by mail in time to be counted under your laws as we understand them, " USPS' general counsel and executive vice president Thomas Marshall wrote in a letter dated Thursday.
He said that the USPS is not suggesting for the state to change their respective election laws, but noted that the same can be said for USPS' expected delivery. "The Postal Service cannot adjust its delivery standards to accommodate the requirements of state election law," Marshall wrote.
California Secretary of State Alex Padilla received a similar letter warning of a "significant risk" that ballots "will not be returned by mail in time to be counted," according to CBS News.
Other states that have been confirmed by CBS News to have received warning letters include Pennsylvania, Nevada and Michigan—three key swing states.
This comes with less than three months until Election Day.
In a statement sent to Newsweek, USPS said the letters are part of the service's educational efforts that ask "election officials and voters to realistically consider how the mail works, and to be mindful of our delivery standards, in order to provide voters ample time to cast their votes through the mail."
"The purpose of the letters was to assist states in educating their voters on when to request their ballots and to return their completed ballots in accordance with the Postal Service's mailing standards," USPS spokesperson Marti Johnson said.
Johnson said many states adjusted their 2020 primary elections in response to the coronavirus pandemic. As a result, some states are seeing election mail volumes that are 10 times higher than any previous year.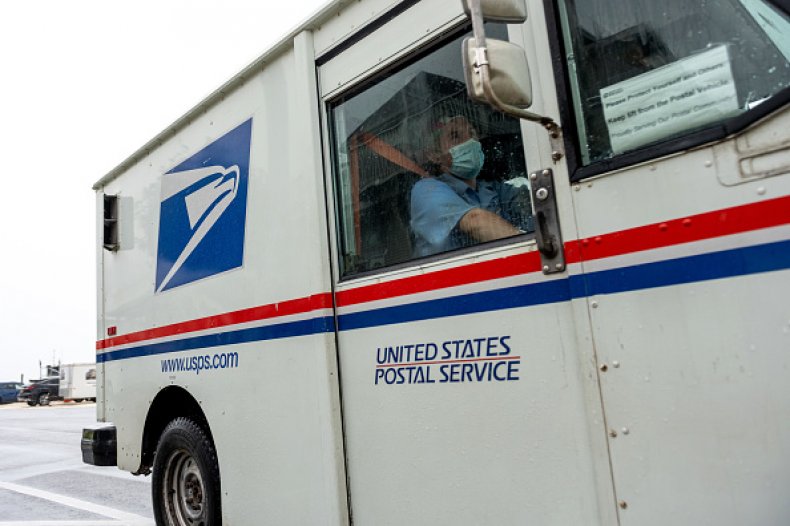 On Friday, the National Association of Letter Carriers, which boasts 300,000 active and retired postal workers, endorsed Democratic nominee Joe Biden for the 2020 presidential election.
"Vice President Biden is, was and will continue to be a fierce ally and defender of the United States Postal Service (USPS), letter carriers, and our fellow postal brothers and sisters," National Association of Letter Carriers president Fredric Rolando said in a statement.
On Thursday, President Donald Trump publicly denounced the Democrat's push for USPS funding that would make mail-in voting more accessible during the ongoing public health crisis.
"This pandemic threatens the very survival of USPS," Rolando said. "Yet, while postal employees are on the front lines providing essential services to the public every day, the current administration refuses to provide the necessary financial relief that would strengthen the agency during this pandemic."