Postal Worker Removed from Duty After Accusations of Throwing Away Mail-In Ballot Request
A postal worker in Pittsburgh, Pennsylvania, was removed from duty without pay after allegedly throwing away pieces of mail, including at least one mail-in ballot request.
The mail was supposed to be delivered to residents in the Bloomfield neighborhood, according to U.S. Postal Service Office of Inspector General (USPS OIG) Special Agent Scott Balfour. The USPS OIG received a tip on October 8 from employees at the Persad Center, a mental health clinic in the Lawrenceville neighborhood, after an individual there found the mail in a garbage can, according to WPXI-TV.
"USPS OIG Special Agents recovered several different classes of mail, including one ballot request and about two dozen political advertisements," Balfour told Newsweek. The mail was then taken back to the USPS and delivered to the intended recipients, Balfour said.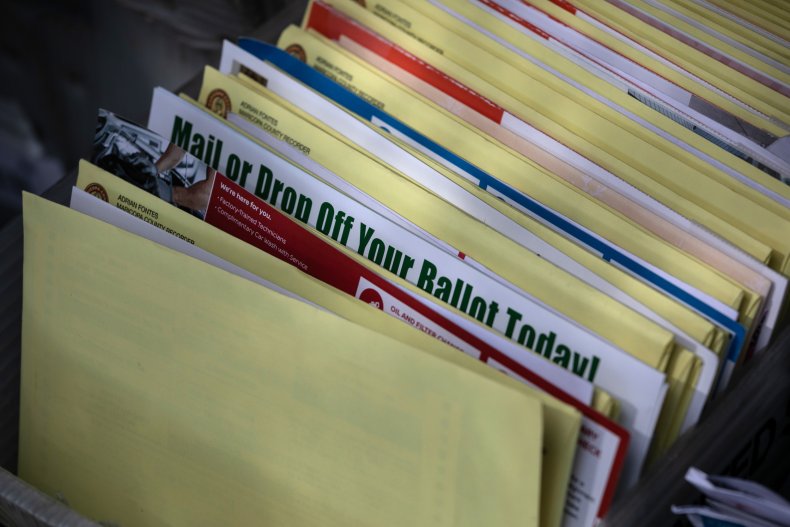 Carlos Torres, the Persad Center's interim executive director, told WPXI that security camera footage appeared to show the postal worker first delivering mail to the center before returning to their vehicle, removing other pieces of mail and throwing them in a garbage can. The security footage showed the postal worker throwing out mail "over a number of days," Torres told the station.
Torres told Newsweek that he looked at the discarded mail to make sure none of it was meant for delivery at the center but did not review the content further.
The unnamed postal worker accused of throwing out the mail is now on a non-duty and non-pay status, Balfour said. "Once USPS OIG Special Agents conclude their investigation, the case will be presented for federal prosecution to the U.S. Attorney's Office," he said.
Balfour encouraged anyone who suspects that a postal worker has committed a crime to report the incident to 888-USPS-OIG or uspsoig.gov. "I will point out that the vast majority of the Postal Service's 630,000 employees are hard-working, trustworthy individuals [who] work around the clock to deliver the nation's mail, and incidents of this nature are exceedingly rare when put into that context," he said.
The accusations against the postal worker in Pittsburgh came less than a month before Election Day as Americans across the country were expected to submit mail-in ballots in unprecedented numbers due to ongoing threats posed by the coronavirus pandemic. Voting in Pennsylvania has attracted special attention in the media due to the state's potential to sway the outcome of the presidential election. President Donald Trump carried Pennsylvania in 2016 with 48.2 percent of the vote, but Allegheny County—which includes Pittsburgh—went to Democrat Hillary Clinton, who won 55.9 percent of the county's voters, according to The New York Times.