Postmaster General Louis DeJoy Says 'Get Used to Me' Amid Calls for His Ouster
Postmaster General Louis DeJoy said to a House committee on Wednesday that he was planning to stay in his role at the helm of the United States Postal Service (USPS) "a long time," despite public calls for his removal.
DeJoy testified before the House Oversight and Reform Committee on Wednesday, answering lawmakers' questions about lagging mail delivery and services.
When Representative Jim Cooper (D-TN) referred to DeJoy as a "political appointee," the postmaster general rebuked: "That's incorrect."
"I'm not a political appointee," DeJoy added. "I was selected by a bipartisan Board of Governors, and I would really appreciate if you would get that straight."
When Cooper asked how long DeJoy would stay in his role, the postmaster general responded: "A long time. Get used to me."
The response gets at the key difficulty facing calls by lawmakers for DeJoy's ouster, as it's not a matter of him just being fired. In order for President Joe Biden to remove DeJoy, he would first need to secure a Democratic majority on the Postal Service's nine-member governing board, which requires Senate approval.
Former President Donald Trump filled six of the nine seats on the board, reported The Washington Post, meaning that Biden has the opportunity to fill out the last three seats and gain a majority. On the board currently are two Democrats and four Republicans.
"To save the postal service, Biden must fill those vacancies and send DeJoy packing," former Labor Secretary Robert Reich said in a tweet on Wednesday.
Once Democrats hold the board, they can oust DeJoy and select a new postmaster general.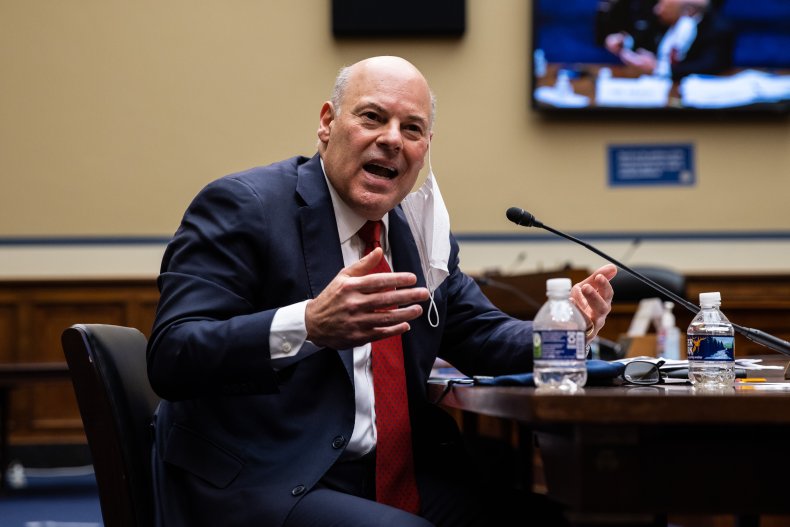 DeJoy's testimony comes on the heels of a number of Democratic lawmakers calling for him to be removed as postmaster general, citing disarray in the agency.
"DeJoy continues to compromise the people's ability to receive everything from paychecks to life-saving medication, with new delay tactics and higher postage rates," Representative Ayanna Pressley (D-MA) wrote in a letter to Biden last week pushing for DeJoy's removal. "The current Board of Governors has been complicit in the systematic deterioration of the USPS, a blatant dereliction of duty that requires swift removal and replacement."
Representative Mary Gay Scanlon (D-PA) accused DeJoy of gutting the agency as the pandemic continues.
Congresswoman Katie Porter (D-CA) also reacted to DeJoy in a tweet Wednesday: " The Postal Service provides life-saving medication to Americans, delivers Social Security checks to seniors, and connects communities. Yet, Postmaster General DeJoy laughed when I asked him what work he values most.Let's educate him. How does your family depend on @USPS?"
Congressman Jamaal Bowman (D-NY) wrote on Twitter last week: "Louis DeJoy should be removed immediately. In his place, President@JoeBiden should appoint someone who understands that American life depends on the vitality and strength of a functional and well-funded Postal Service."
In a statement to Newsweek, USPS said: "The Postal Service will welcome all qualified members to the Board of Governors—a decision reserved for the President and the Senate, who are tasked with nominating and confirming board members. The Postmaster General is selected by our Governors, who are the principal officers of the Postal Service and by law must be bipartisan."
Later Wednesday, the White House announced three nominees for the open seats on the governing board: Ron Stroman, Anton Hajjar and Amber McReynolds.
"We have a President who gets what's at stake and is acting with urgency." Representative Bill Pascrell (D-NJ) said in a tweet Wednesday. "This is an impressive group of diverse nominees well-suited to the work of saving our Post Office."