Potent Opioid Used to Tranquilize Large Animals Sold on Streets in Seattle
Washington state's crime lab has detected carfentanil, a synthetic opioid often resembling cocaine powder, according to a report by ABC News.
The drug is 10,000 times more potent than morphine and 100 times stronger than fentanyl, according to the Drug Enforcement Administration (DEA). That's largely why it's not approved for human use in any form but is used instead to tranquilize large animals, such as elephants.
The illicit drug market has become more sophisticated in recent years, with the swift emergence of fentanyl driving most overdoses since 2017, according to data compiled by research institute RTI International. Fentanyl takes mere milligrams to kill an average-sized adult male, making it that much harder to detect by law enforcement. But carfentanil, one its many subtypes, is even deadlier.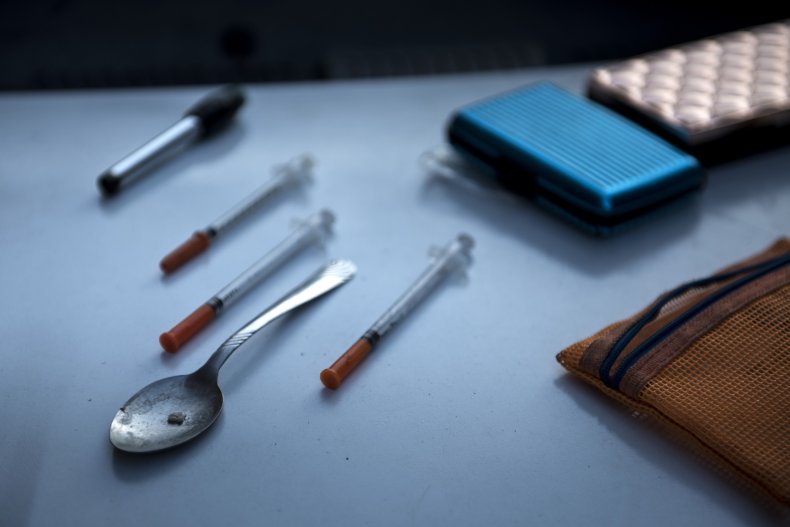 Seattle authorities first detected the drug in March from a syringe found at a homeless camp, where multiple overdoses took place last January, according to a statement by Public Health – Seattle & King County. Though carfentanil has been found on only "very rare occasions," authorities didn't mince words about the drug's potential threats.
"Carfentanil is a powerful form of fentanyl that has been linked to a significant number of overdose deaths nationwide," the public health unit wrote. "In fact, the drug is so powerful that when veterinarians handle carfentanil, they use protective gear [so] they don't breathe it in."
Many researchers suspect fentanyl and its deadly counterparts are laced with other drugs largely by accident, thanks to unclean packaging procedures. Yet fentanyl testing strips are classified as illegal "paraphernalia" in many states, leaving unwary consumers left to guess when they're taking it and in what quantities.
Caleb Banta-Green, a researcher and scientist at the University of Washington's Alcohol and Drug Abuse Institute, said his biggest worry was that users don't know what they're getting into. But, he added, the drug's potency makes it profitable to make and distribute, even in small quantities.
"I was like, 'Oh crap!'" Banta-Green told ABC when he heard that carfentanil was detected in the area.
Since state and local law enforcement agencies mostly post their drug seizure data on an annual basis, rather than in real time, the exact popularity of carfentanil is unknown. Still, the Centers for Disease Control and Prevention (CDC) said the drug was involved in at least 1,236 fatal overdoses between July 2016 and June 2017, increasing in the second half of that window.
Ohio reported the largest numbers and most substantial increases in deaths with any detected fentanyl subtype, including carfentanil, according to the CDC. Florida reported more than 500 such deaths for all of 2016.