Potential Candidate for Texas Gov Matthew McConaughey Says Anti-Maskers Aren't 'Really Scared'
Actor Matthew McConaughey has questioned the true motivations of anti-maskers while teasing his potential bid for governor of Texas.
During an interview on the OZY's The Carlos Watson Show, McConaughey suggested that people who vehemently oppose wearing masks amid the COVID-19 pandemic were being disingenuous about their reasoning for doing so.
McConaughey argued that the issue had become too politicized and advocated for masks as small sacrifices that would eventually pay dividends.
"We've got to make some sacrifices for larger rewards tomorrow," said McConaughey in a preview clip posted Thursday of the unaired interview. "I think the best example for my money this last year is the damn dispute over the masks that got politicized."
"I'm like, come on man, I'm not believing you're really scared of this little cotton thing," he continued. "And I'm not believing you really feel that takes away your identity and your freedom. This is a short-term inconvenience for long-term freedom."
McConaughey went on to say that there was "no data" to indicate that masks are in any way harmful or "not a good thing," urging the mask-resistant to "take one for the team" for the greater good.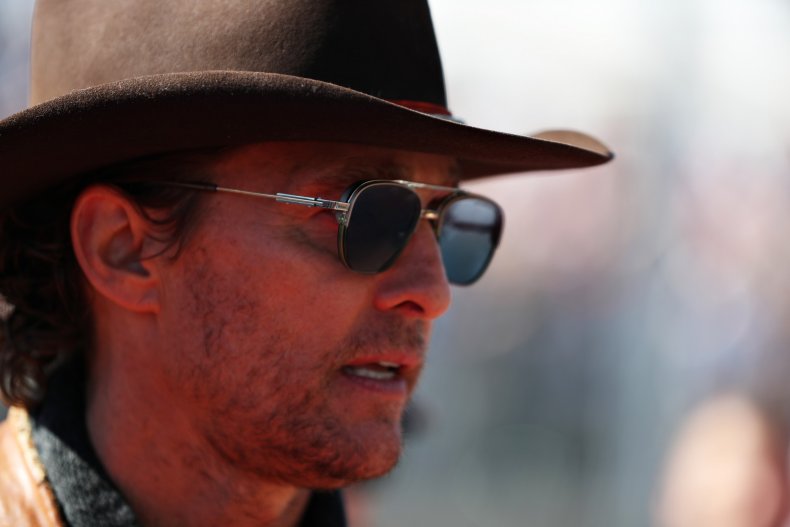 Watson brought up rumors that McConaughey is considering a run for Texas governor and asked the actor whether the prospect of entering the world of politics would give him a "buzz" or be "challenging."
"Challenging it definitely would be, but I don't know if that's the buzz," McConaughey said. "I'm not interested in going and putting a bunch of Band-Aids on that are gonna be ripped off as soon as I'm out. I'm interested in building something that can last."
McConaughey said that he had not yet come to a decision but was "measuring" a potential future outside of acting, while remaining unsure of whether or not that would take place in the political arena.
The actor also said that politicians are often unfairly judged only by their short-term successes, without getting credit for policies that they initiated but only come to fruition after they leave office.
When asked whether he would have the "constitution" for being at the center of difficult political discussions, McConaughey indicated that he believed he would.
"I trust my core beliefs enough and my values enough to feel comfortable listening to an opposing [belief]," he said.
Polling has indicated that McConaughey could have what it takes to defeat incumbent GOP Texas Governor Greg Abbott in 2022. A poll released last month by The Dallas Morning Tribune and The University of Texas at Tyler found that Texas voters prefer McConaughey to Abbott by 45 percent to 33 percent.
A national poll released by Piplsay during the same month found that 41 percent of all Americans were in favor of McConaughey launching a gubernatorial bid, including 29 percent who supported his potential run alongside a presidential campaign by actor and former professional wrestler Dwayne "the Rock" Johnson.
Newsweek reached out to McConaughey's representative for comment.