With a Potential Iran-China Deal, Time for Israel to Reassess Its Policy | Opinion
A recent emerging agreement between China and Iran promises the embattled Islamic Republic a potentially regime-saving economic and security partnership. The Chinese reportedly will invest $400 billion over 25 years in the Iranian economy in exchange for heavily discounted Iranian oil, thereby undercutting U.S. efforts to sanction and isolate Tehran. For Israel, this deal between an economic partner and a mortal enemy should be an alarming wake-up call: Beijing is not a friend, and is certainly no substitute for American support.
Iranian President Hassan Rouhani initiated the Sino-Iranian agreement in 2016 in the wake of the 2015 Iran nuclear deal, or Joint Comprehensive Plan of Action, which lifted American economic sanctions against the Islamic Republic. Approved by the Iranian cabinet last June, the agreement promises an expansion of the Chinese presence in banking and telecommunications as well as in railways, ports and other infrastructure projects in Iran. The agreement includes deeper Sino-Iranian military, cyber, intelligence and technology cooperation.
The reaction inside Iran has been caustic. Rouhani's critics, from former Iranian President Mahmoud Ahmadinejad to regime opponents, have denounced the agreement. They understand that a weakened and isolated Iran will end up on the losing end of any deal with the Chinese Communist Party. They have seen how China traps countries with massive debt, which ultimately gives China leverage to assume control of their critical infrastructure and resources. This is all part of the strategy behind Beijing's Belt and Road Initiative—a trillion-dollar global land, sea and communications program spanning more than 100 countries. The Iranian regime, however, seeks to lean on China for its high-tech, authoritarian surveillance state model. Chinese tools can enable greater regime repression and increase the likelihood that the mullahs will remain in power.
The Sino-Iranian agreement is still not sealed. Both sides may wait until America's November elections, hoping that Joe Biden will abandon President Donald Trump's "maximum pressure" campaign against the mullahs. Should Biden repeal the powerful secondary sanctions that have deterred Chinese banks and energy companies from significant business in Iran, Beijing and Tehran will have great opportunities.
For Israel, this is a clear sign that it is time to pivot from Beijing. Iran is Israel's most dangerous enemy; its leaders repeatedly vow to destroy the Jewish state and are developing nuclear and missiles programs to that end. Tehran funds and arms Hezbollah, which has amassed 150,000 missiles on Israel's northern border and is acquiring Iranian precision-guided munition capabilities that could devastate Israeli critical military installations, key infrastructure and civilian centers.
The Chinese Communist Party (CCP) is also the most dangerous adversary of the United States—Israel's most valuable ally. The Chinese Communists are serial proliferators of nuclear and missile technology to rogue regimes like Iran, North Korea and Pakistan. They threaten Hong Kong and Taiwan. They are militarizing the South China Sea, weaponizing data, stealing intellectual property on a massive scale and committing shocking human rights abuses, including forcing more than one million Uyghur Muslims into concentration camps. The CCP also lied about the COVID-19 virus, suppressing vital information that could have contained a devastating global human and economic disaster.
But for Israel, decoupling won't be simple. China is one of Israel's largest trading partners and sources of foreign investment, alongside the United States and Europe. Sino-Israeli trade stood at $15.3 billion in 2018, an almost 4,400 percent increase in real dollar terms since 1995. Beijing sees Israeli critical infrastructure as part of its Belt and Road Initiative. This includes the Haifa port (where the U.S. Sixth Fleet docks), the port of Ashdod, underground tunnels and control systems in the northern Carmel mountains, and Tel Aviv's subway system. The strategic importance of this infrastructure is clear, given that some of it runs alongside key military installations, major businesses, food suppliers and other essential Israeli military and civilian services.
In Israeli high-tech, China has recognized the "Start-up Nation" as an essential source of technology to build next-generation weapons. Israeli startups raised $325 million from Chinese investors in the first three quarters of 2018, up from $76 million in 2013. The numbers are increasing, though China remains far behind the U.S. in venture capital investments. Still, Beijing's smaller investments are strategic and designed to leverage Israel's prominence in artificial intelligence, edge computing, autonomous vehicles, robotics and big data. These are all technologies recognized by the U.S. Department of Defense as essential to its own military modernization efforts, even if they are officially civilian in their current application. Israel must therefore reassess these ties, as it is a core strategic interest for Israel to ensure that American military leadership does not erode.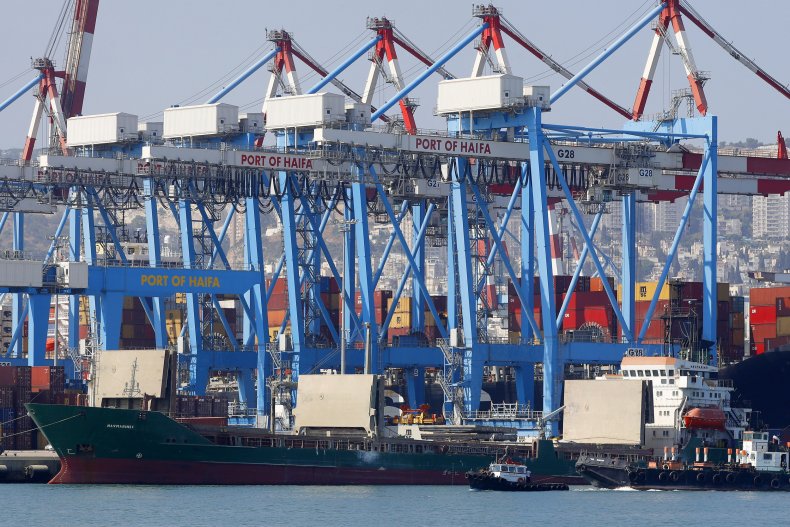 Israeli strategic planners may be tempted by the idea that China-Israel economic ties could offset Beijing's growing partnership with Tehran. That is a delusion. The CCP will acquire everything it can from both Israel and Iran without fear or favor. And, if forced to choose, it will choose the Islamic Republic. Iran provides critical energy supplies to China that Israel cannot match. Its population is eight times larger. Its land mass is 75 times greater. It occupies a much more strategic territory for Belt and Road. And the Islamic Republic is an American enemy, which Beijing can leverage in its global contest with the U.S.
That puts the United States and Israel on one side in the emerging cold war between Washington and Beijing, with China and Iran on the other. Israelis have no choice but to side with America, and this must be reflected in official policy. Israeli decision-makers do not need to pass laws or regulations that will suffocate the private sector. They simply must ensure that strategic investments cannot be decided upon by bureaucrats with a narrow domestic agenda. This is a security issue. The Israeli government must help the country's high-tech entrepreneurs by leveraging strategic partnerships with India, Japan, Australia, Canada and other Indo-Pacific allies, as well as emerging ties with Gulf countries, to identify alternative capital to displace Chinese investment. These decisions must be handled directly by those who are responsible for the national defense and security aspects of Israel, and who can therefore see the bigger picture.
The U.S. can help, too. Congress should earmark investment funds similar to those that jumpstarted U.S.-Israel high-tech cooperation. The U.S. government also can facilitate the visa process for Israeli entrepreneurs looking to set up their corporate headquarters in America while also maintaining R&D in Israel. That's been a successful business model that should be encouraged, but is currently encumbered by American immigration practices.
In the meantime, continued U.S.-Israel military and intelligence cooperation is needed. Iran's deal with China will indubitably challenge Israeli and American efforts to thwart Iran's nuclear, and broader military, ambitions. A deal with China, especially if Washington fails to respond with secondary sanctions against Chinese banks and companies, would certainly erode the U.S. "maximum pressure" campaign that has constrained those ambitions to date. It also will send a signal of weakness to those observing U.S. restrictions.
As Israel demonstrates to Washington that it is committed to decoupling from China, there will be even greater opportunities for the two countries to cooperate. Technology, military, intelligence and political cooperation will only deepen. American and Israeli free market ingenuity will outpace anything that China's state-run authoritarian model can produce. With the Chinese joining hands with Israel's most dangerous enemies in Iran, Israel has no choice other than to draw closer to its best friend and to keep a distance from its best friend's biggest rival.
Brigadier General (res.) Jacob Nagel is a visiting professor at the Technion aerospace faculty and a senior visiting fellow at Foundation for Defense of Democracies (FDD). He previously served as Prime Minister Benjamin Netanyahu's acting national security advisor and head of the National Security Council. Mark Dubowitz is a former venture capitalist and high-tech executive and currently serves as FDD's chief executive, where he focuses on Iran and China.
The views expressed in this article are the writers' own.