The POW/MIA Flag Isn't 'Racist Hate,' It's Support for Veterans and Their Families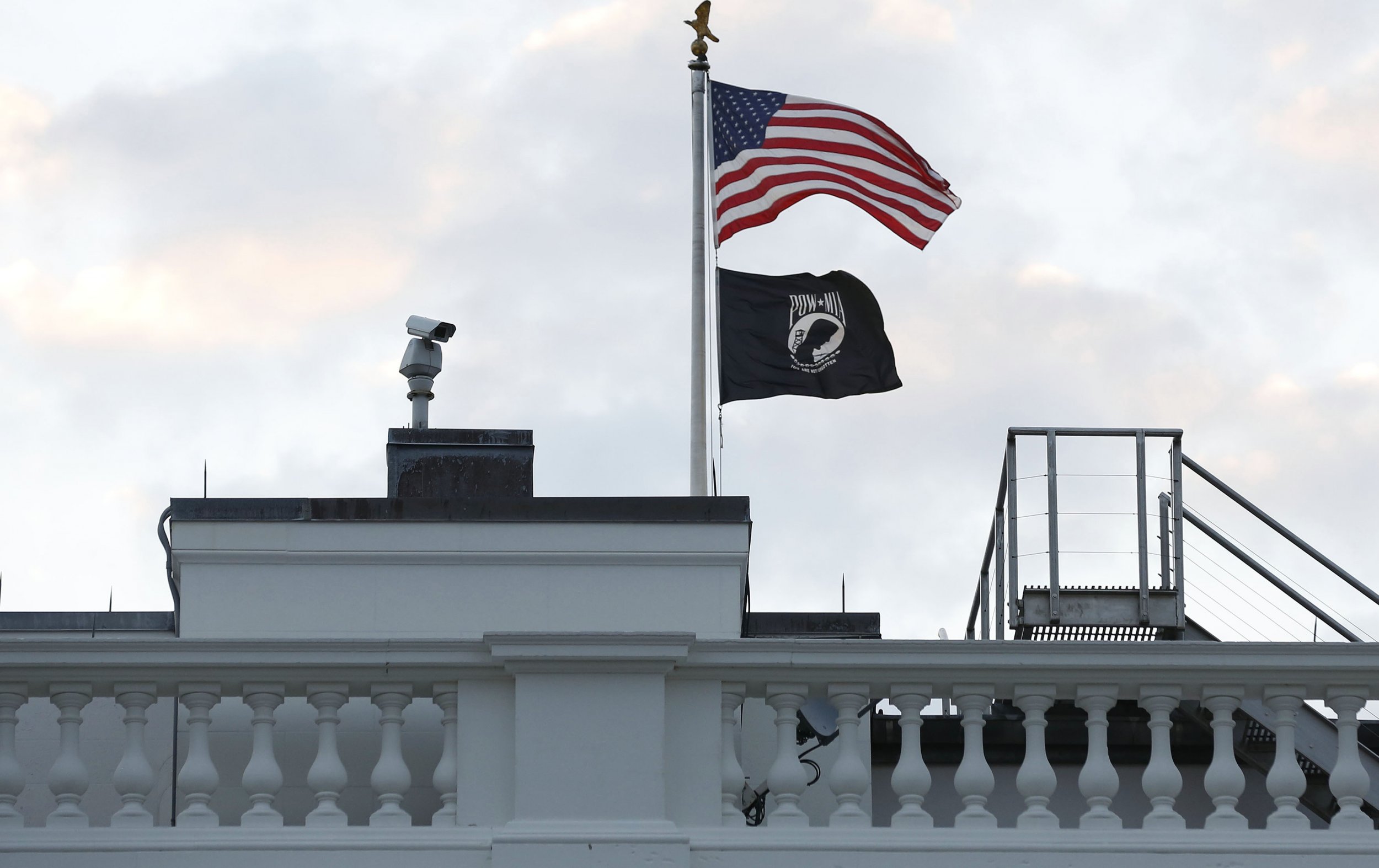 Giving the benefit of doubt as to the origin of the headline for Mr. Pearlstein's article in the Washington Spectator, picked up by Newsweek, the best one can say is that the assertion our POW/MIA flag reflects "racist hate" is unsupported and unsupportable. The purpose appears to be a blatant attempt to generate interest in Mr. Perlstein's latest book focused on trite, outdated political theories, overcome by events that have transpired over the past four decades.
Setting aside the race-baiting headline and its purpose, the "opinions" written to dismiss the Prisoner of War/Missing in Action (POW/MIA) accounting mission as "mythology" seem intended to build on similar unsubstantiated assertions by another political author from the past, peddling similar political opinions, H. Bruce Franklin in his 1992 book, M.I.A., or, Mythmaking in America. Clearly, neither author sought to understand the solid foundation upon which the League's expectations were established.
Those who took the time and made the effort, both in Washington, DC, and in Hanoi, knew the importance. Following relatively feeble US attention post-war, the National League of POW/MIA Families, supported by our Nation's major national Veteran organizations, worked to sustain public interest in and support for the principles most Americans hold dear—standing behind those who serve our country—including making every reasonable effort to return them to their families and our country—alive or dead.
As a result, and after several extremely difficult years, the U.S. set about developing the ability to account for America's POW/MIAs in 1981 by working directly to establish meaningful dialogue with Vietnam. Most importantly the Vietnamese leadership, having long known the value of American POWs, had retrieved and centralized recovered remains and archival documents that could shed light on those not returned in 1973.
Assertions that significant bilateral efforts were based on mythology are rendered moot when you recognize how far Vietnam and the U.S. have come together since the actual end of the war in 1975. From a personal perspective, the 1,019 families of U.S. personnel previously missing are returned for burial with full military honors, meant an end to their many years of uncertainty.
Recognized first by Vietnam as their "bridge to normalization of relations" with the U.S., the humanitarian nature of accounting for former combatants is both honorable and served as a sustainable and defensible path for policy level dialogue between former enemies. Representing the National League of POW/MIA Families, I participated in that interagency process from 1978 until 1992; theories are unnecessary in today's environment.
This past July, the U.S. and Vietnam celebrated the 20th anniversary of normalization of bilateral relations. This year also saw the 30th anniversary of the first joint field recovery attempt in northern Vietnam, and the 40th anniversary of the official end of the Vietnam War. Nevertheless, it was little short of astonishing to participate in activities related to the visit to Washington, DC, of His Excellency Nguyen Phu Trong, General Secretary of the Communist Party of Vietnam, a visit that included meeting with President Obama in the Oval Office.
For both countries, the visit was highly symbolic, even unprecedented, though Vietnam's President visited in 2013 and their Prime Minister a few years earlier, and countless visits back and forth by senior U.S. officials. Most importantly, there were pioneers on both sides who had the courage and vision to move forward. For many, the pace seemed far too slow, but restoring relations between former enemies is no simple task.
There are some Americans and Vietnamese who will never understand the importance of what has occurred, much less forgive all that took place in the past. Having dedicated roughly 40 years to ensure that America, as a nation, stands behind those who serve, the League knows there is much more that can and will be done to account for our unreturned Veterans. Very importantly, we are proud to be part of ensuring that those serving today know that should they be captured or listed as missing, our nation will be there for them, to bring them home—alive or dead—persistence and dedication will make it happen.
Mr. Pearlstein appears to have no knowledge of the bipartisan support through successive administrations that now has brought formation of the new Defense POW/MIA Accounting Agency, thanks to former Secretary of Defense Chuck Hagel's unwavering support. The League and our legions of supporters, including our Nation's major national veteran organizations, know the POW/MIA flag symbolizes the principles intended when it first appeared in 1970.
Ann Mills-Griffiths is the Chairman of the Board, National League of POW/MIA Families and MIA sister of CDR James B. Mills, USNR, MIA 9-21-66, North Vietnam.