Pow! Zap! Kerrash! Enter Madiba, Comic Book Hero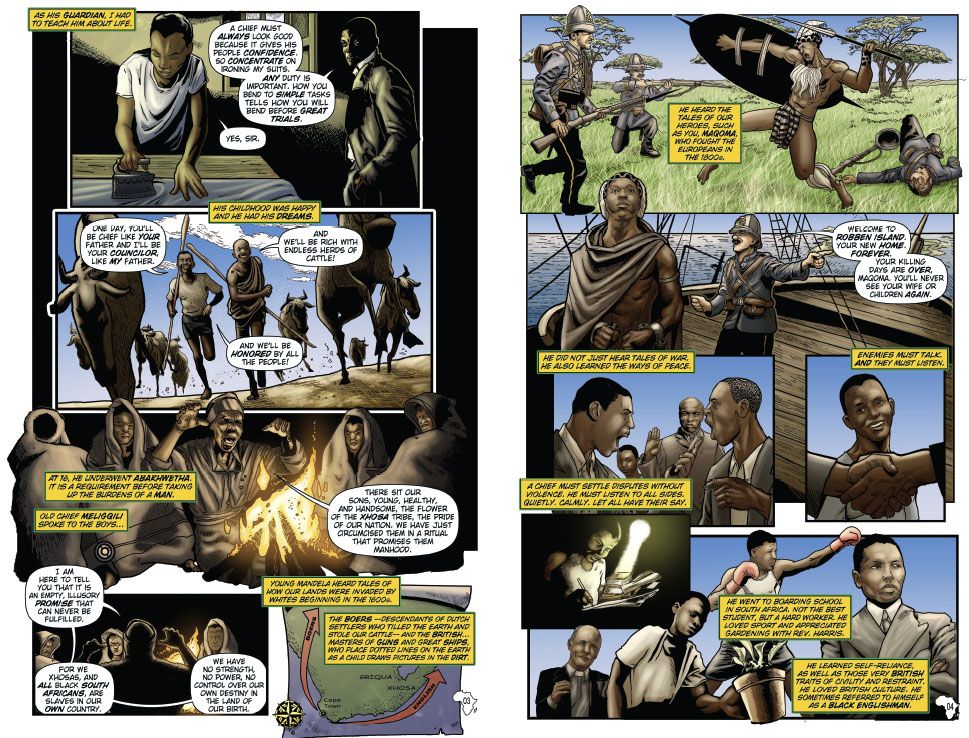 Add comic book hero to Nelson Mandela's long resume.
He is not yet in the ground, but the former president of South Africa and international icon of democratic freedom and liberation from persecution has been immortalized in a comic book tribute.
A graphic novel publishing company in Washington State, Bluewater Productions, is releasing Nelson Mandela: Tribute, a 32-pager that intertwines a narrative of the country's descent into apartheid and the ensuing battle for integration with Mandela's life – a mixture of praise at his accomplishments but also allusions to his sheltered youth, entitled demeanor and near dependence on celebrities to grow into a world figure.
The publishers behind the Mandela comic book tribute are no strangers to taking high-profile celebrities and telling their life stories. Their modern pantheon includes President Ronald Reagan, Ted Kennedy, Margaret Thatcher, Marilyn Monroe, Michael Jackson, Whitney Houston and James Dean.
Mandela's naiveté emerges early on. In one panel, a young Mandela is welcomed to his new position at a law office by a white woman who gives him a green tea cup and asks him to avoid using the others.
"He hoped the formalities of the law demonstrated all men were equal. He was wrong," reads the text.
Shortly after, Mandela is turned away from a neighbor's front lawn after asking for some petrol. "Get away from here, kaffir!" the neighbor calls out after him, using the ethnic slur used to refer to a black person. He eventually gets his neighbor to acquiesce by telling him that it is his boss who is asking for the petrol.
"Tea cups? Ignorant farmers? Those were his trials?" bellows a tribesman in the following panel.
Apartheid followed, and then came the defiance campaign. When two officers knock on the young lawyer's door to arrest him for high treason, Mandela, ever the self-possessed leader, coolly tells the policemen he must first get his coat.
Sentenced to life in prison, Mandela is sent to Robben Island. The white guard greeting new prisoners at the entrance taunts Mandela, telling him he will never see his wife or children again. Ever the "Black Englishman", Mandela, his posture mimicking that of the guards,talks back. "Do not call me Nelson. My name is Mr. Mandela to you."
When apartheid begins to fall apart, the book attributes it, in part, to the "Free Mandela" campaign, spearheaded by rock stars, and depicts a scene from the 1988 Free Nelson Mandela Concert at Wembley Stadium, London.
Michael Jackson, wearing a black and gold-flecked suit, makes an appearance at Mandela's wedding ceremony on his 80th birthday. Panels show Mandela palling around with Queen Elizabeth, Princess Diana, President Bill Clinton and Pope John Paul II.
"Every word was a message -- and every move was an event," reads a title box.
But it wasn't just Mandela's proximity to celebrities that made him one of the most respected global leaders, the book acknowledges toward the end. It wasn't magic, it says.
In a flashback scene, a pubescent Mandela is seen ironing a pair of pants for his clan's chief, ensuring all the creases are flattened out. Then it fast-forwards to an elderly Mandela, walking with the help of a cane and wearing his hallmark gentle grin.
"You have honored your ancestors. And your descendants will honor you. As it should be," reads the text.