Powell Ignoring 'External' Political Pressure as More Interest Hikes Loom
Federal Reserve Chairman Jerome Powell said the central bank will ignore "external" political pressure amid expectations that it will raise interest rates again to address inflation.
"I can also assure you that we never take into consideration external political considerations," Powell said on Thursday at a Cato Institute monetary conference, MarketWatch reported.
Last month, Powell warned that additional interest-rate spikes are expected to address inflation, adding that "restoring price stability will take some time and requires using our tools forcefully to bring demand and supply better into balance.
"While higher interest rates, slower growth and softer labor market conditions will bring down inflation, they will also bring some pain to households and businesses. These are the unfortunate costs of reducing inflation. But a failure to restore price stability would mean far greater pain."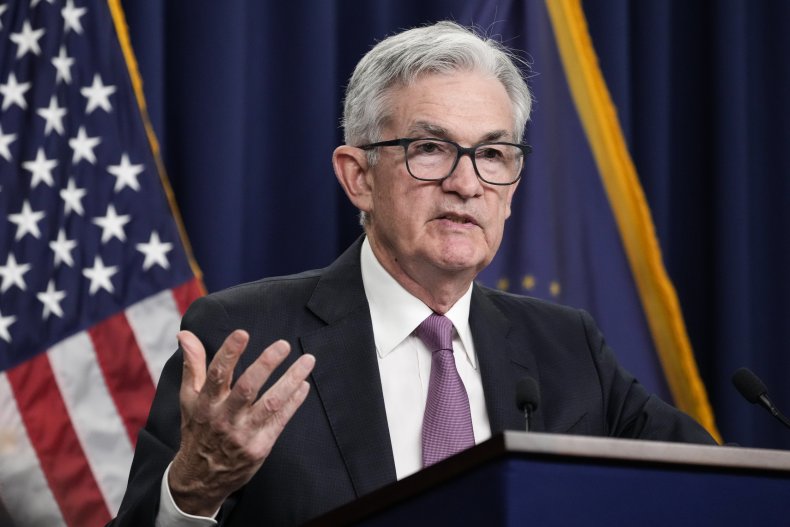 The Federal Reserve increased interest rates by three-quarters of a percentage point in July, making it the fourth time since the first rate spike since 2018 in March.
"We are taking forceful and rapid steps to moderate demand so that it comes into better alignment with supply and to keep inflation expectations anchored," Powell said in August. "We will keep at it until we're confident the job is done."
However, some Democrats, including Senator Elizabeth Warren of Massachusetts, warned that raising interest rates is not the answer to handling inflation, arguing that it will increase unemployment, according to MarketWatch.
"The economy is strong but if Fed Chair [Jerome] Powell continues these unprecedented aggressive rate increases, he could push it straight into recession," Warren said recently, according to The Hill. "I've talked to colleagues. I've also talked with economists who are increasingly speaking out.
"There's a reason the Fed acts independently in our system but it's critical that Jerome Powell think about the implications of knocking millions of people out of work."
Warren also wrote in a Wall Street Journal op-ed in July that with Powell expected to announce another round of aggressive interest-rate hikes, the Fed risks triggering a devastating recession.
Warren also argued that issues related to supply chain fueled inflation more than interest rates and said that the Fed strategy to raise interest rates is "largely ineffective against many of the underlying causes of this inflationary spike."
Vermont Senator Bernie Sanders echoed Warren's concerns, according to The Hill, urging the Federal Reserve not to increase interest rates.
Though Powell argued that the purpose of increasing interest rates is to bring down inflation, recent data has shown that inflation is already slowing. According to the Consumer Price Index, prices didn't increase month over month between June and July.
Newsweek reached out to Economic professor David Fiorenza and former CBO Director Douglas Holtz-Eakin for comment.