Power 5 Coaching Carousel: Which Schools Have Hired New Football Coaches, And What Jobs Are Still Open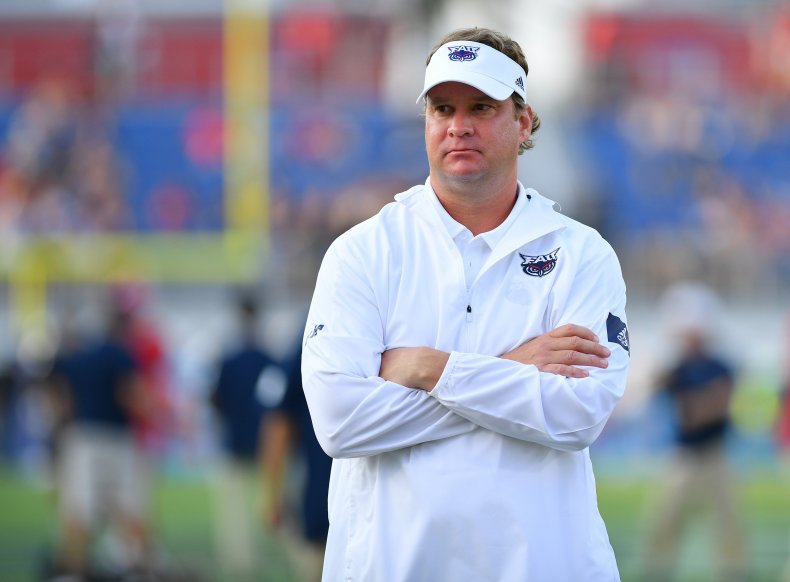 As the college football season comes to an end, many different schools have made changes to their coaching staff. Some schools have already hired new head coaches, while some are still on the hunt. Newsweek has detailed the coaching carousel that has taken over college football while fans wait for the College Football Playoff.
Southeastern Conference
Ole Miss
Ole Miss made one of the biggest coaching changes after firing former head coach Matt Luke on December 1. A week later, the school announced the hiring of Lane Kiffin, former head coach at Florida Atlantic University. Kiffin worked under Nick Saban as the offensive coordinator for Alabama before spending three years at FAU.
"I am excited to get to Oxford and begin the groundwork of building a championship program that Mississippi's flagship university deserves, and I'm thrilled to be back in the greatest athletics' conference in the nation," Kiffin said in a press conference on Monday.
Ole Miss will look to Kiffin to improve on the Rebels' 15-21 record over the past three years. According to AL.com, Kiffin and Ole Miss agreed to a 4-year contract worth $16.2 million.
Arkansas
On November 10, the Arkansas Razorbacks fired head coach Chad Morris after going 4-18 since taking the job in December 2017. About a month later, on December 10, Arkansas hired Sam Pittman as their head coach. Prior to being hired, Pittman worked as the associate head coach and offensive line coach at Georgia. Prior to his stint at Georgia, Pittman worked as the assistant coach, offensive line coach and recruiting coordinator for the Razorbacks from 2013 to 2015.
According to ESPN, Pittman received a 5-year contract worth around $3 million annually, while also having potential for performance bonuses.
Missouri
After spending four seasons as the Mizzou head coach and completing the 2019 season with a 6-6 record, Barry Odom was fired on November 30. About a week later, on December 8, Mizzou announced the hiring of former Appalachian State head coach, Eli Drinkwitz. In his first season as head coach, Drinkwitz led Appalachian state to a 12-1 record and the Sun Belt Conference championship.
Despite his past success, Drinkwitz will have to endure scholarship and recruiting restrictions that were recently placed on Mizzou after the NCAA discovered academic violations.
ACC
Florida State University
On November 3, the Florida State Seminoles fired their head coach Willie Taggart after only 21 games. Taggart had a 9-12 record during his tenure and ended the Seminoles consecutive bowl game appearance, dating back to 1981. On December 7, the Seminoles announced the hiring of Mike Norvell, the former head coach at Memphis. In his most recent season at with the Tigers, Norvell led the team to a 12-1 record and its first American Athletic Conference championship.
According to the Tallahassee Democrat, Norvell signed a six-year deal paying $3.7 million annually.
Boston College
Boston College fired their head coach, Steve Addazio after spending seven seasons with the team. Addazio finished his career with a 44-44 record, but never won more than seven games during a season.
Boston College has named wide receivers coach Rich Gunnell the interim head coach while the search continues for a new head coach.
BIG 10
Rutgers
On September 29, Rutgers fired head coach Chris Ash after a dismal 1-3 start, while totaling an 8-32 record in three seasons as head coach. The tight ends coach, Nunzio Campanile was named interim head coach, until they hired Greg Schiano on December 1. Schiano previously coached Rutgers from 2001 to 2011, before heading to the NFL to coach the Tampa Bay Buccaneers. He then bounced around a few different NFL and college teams until reuniting with the school.
According to ESPN, Schiano and Rutgers agreed to an eight-year $32 million contract.
PAC 12
Washington
On December 2, Washington announced that head coach Chris Petersen would be stepping down from his position after the Huskies' bowl game. The school also announced that he would be replaced by the team's defensive coordinator Jimmy Lake. Petersen's resignation shocked many considering that he led the Huskies to two PAC 12 conference titles and a spot in the 2016 College Football Playoff.
According to the school's announcement, Petersen will not be leaving Washington but instead, moving into a "leadership advisory role" in the athletic department.