'The Power of the Dog' Star Kodi Smit-McPhee is 'Absolutely Humbled' by Awards Buzz
Jane Campion's The Power of the Dog has already been tipped for Oscars glory, well before audiences have been able to watch it on Netflix.
While lead actor Benedict Cumberbatch's menacing turn is a highlight, his younger co-star, Kodi Smit-McPhee, is turning heads with his performance as the seemingly out-of-his-depth cowboy Peter Gordon.
"I'm absolutely humbled, but I'm not looking too much at all of those articles," Smit-McPhee told Newsweek when we pointed out all of the column inches praising his performance in The Power of the Dog. "To hear that talk, it is lovely because it speaks to my whole journey of where I've come from and my roots, this journey with my dad, which is just something so personal and so close to my heart.
"If it happens, that would be absolutely wonderful and it would mean a lot to me."
Newsweek sat down with Smit-McPhee ahead of the movie's UK premiere at the BFI London Film Festival, and he discussed the awards buzz, what it was like shooting closed-set scenes with Cumberbatch, and how The Power of the Dog set him up to star in the upcoming Elvis biopic.
Already an established name in Hollywood thanks to his recurring role as Nightcrawler in the recent X-Men movies, Smit-McPhee has won a number of awards in his native Australia for his work. His previous acting roles actually turned out to be the perfect preparation for The Power of the Dog, a film in which his "cowboy credentials" were really put to the test.
"I can't tie a rope for the life of me," he said of the pivotal task performed by many characters in the movie. "I can ride a horse, but that was only because I'm an actor and we learn half crafts of everything. For this I definitely had to re-educate myself, but if anything, to wake up early in the morning and go horse riding in New Zealand [where the movie was shot] just feels like a holiday to be honest."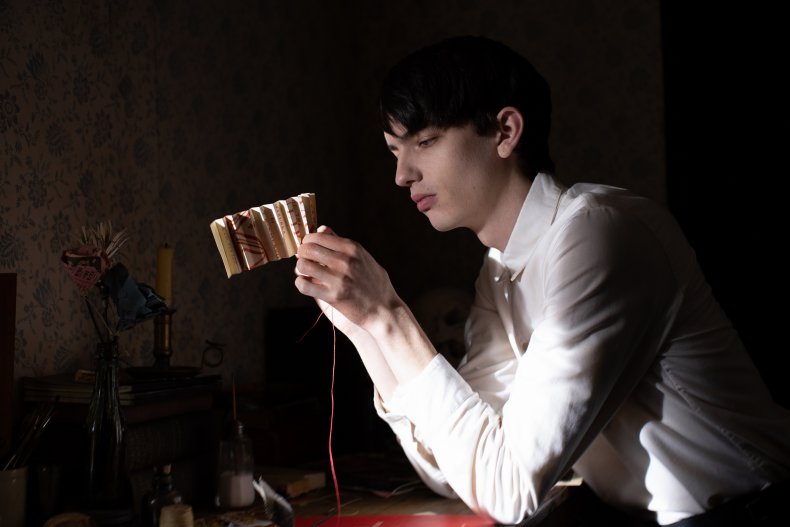 The Power of the Dog is based on Thomas Savage's 1967 novel, with Academy Award-winner Jane Campion writing the screenplay and directing. Set in 1920s Montana, Smit-McPhee plays a young man who doesn't fit in with the hardened grizzled cowboys of the time.
When it comes to defining his character, Smit-McPhee tried to resist putting a label on him. "I've had people ask me certain things about his sexuality, or whether he's on the spectrum, and those are all extremely relevant topics today."
He continued: "But the ambiguity that this film is blanketed in, and it's not just the characters, but it's the whole story itself. It really invites you to put your own labels on things, and then you almost feel like: 'Is that right? Should I be labeling everything?' Should it just remain as what it is, you know, this kind of masterpiece of mystery."
The effeminate and socially out-of-kilter nature of Peter Gordon stands out in the grueling conditions of Montana where, in 1925, there was a less forgiving attitude. Peter's personality traits especially offend the cruel but efficient Phil Burbank, played by Cumberbatch.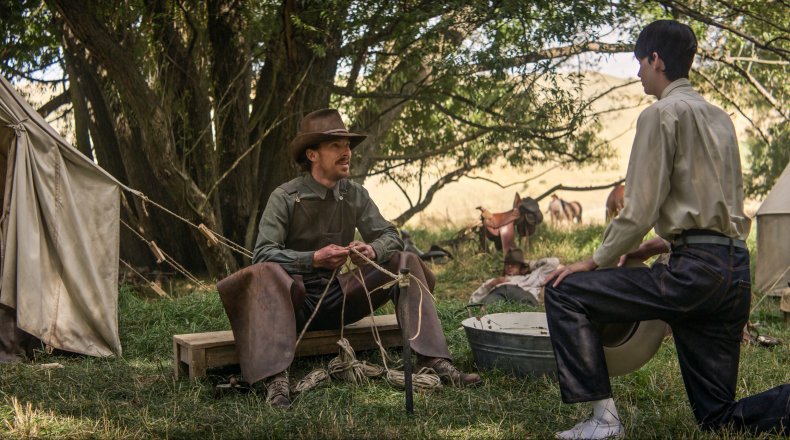 In one confrontation between the two characters, Peter draws a strong reaction from Phil when he interrupts a private moment by a lake. Filming this scene, a naked Cumberbatch had to chase Smit-McPhee into the woods.
"It did feel quite scary actually. For the most part, he was doing a closed set for his shots and then for my shots running he wasn't there but there was one shot where he was chasing me."
He continued, "I don't know if anyone's spoken about this, but that scene was extended originally to have an ending where they kind of interacted and he yelled at me and held me up by the foot, but it might have just given too much. It was probably enough for what it was."
When at odds, Smit-McPhee says he worked extensively with Cumberbatch and Campion to build their characters' tension via "checkpoints" in the script.
"We would work specifically face-to-face with Jane on the foundation of the characters and their specific intentions. It was more of a personal thing in which you could then just kind of let it play out like chemistry on the day."
The Power of the Dog has been on a limited theater release in the United States before dropping on Netflix on December 1. Now Smit-McPhee can look ahead to his next project, which he actually bagged as a result of his time on the set of The Power of the Dog.
On a day off from shooting while in New Zealand, he recalled: "I remember I went to Queenstown like an hour away and I bought a guitar spontaneously. I started teaching myself regularly to play because I did it as a hobby. This kind of fed on then to the next role that I got which was in Baz Luhrmann's Elvis production where I had to play guitar and sing in front of an audience."
Austin Butler plays Elvis Presley in the biopic, which also stars Tom Hanks and Kelvin Harrison Jr. Smit-McPhee will play the "father of country music" Jimmie Rodgers.
When it comes to taking part in the awards season circuit that The Power of the Dog will inevitably be a part of in early 2022, Smit-McPhee says he's not getting ahead of himself. "I have an agent and a team to tell me all of that rational, technical stuff and that's how I like to keep it. I keep my eyes and my heart in the moment."
The Power of the Dog arrives on Netflix on Wednesday, December 1, 2021.