Power Outage Map, Update as Arizona Monsoon Leaves 8k Without Electricity
Thousands of people have been left without power in Arizona, following a monsoon storm this past weekend.
The monsoon caused severe damage to the valley area in Phoenix. State Route 87 in Mesa was closed due to fallen power lines. The closure was expected to last between two and three days.
Northern Mesa was heavily hit, with gusts of wind reaching 80 miles per hour, and an inch and a half of rain being recorded.
Arizona is currently in its active monsoon season, and thousands of people remain without power due to broken and knocked over transmission towers and power lines.
What Parts of Arizona are Without Power?
At time of writing , the county of Pinal remained without power, as the power outage map below shows: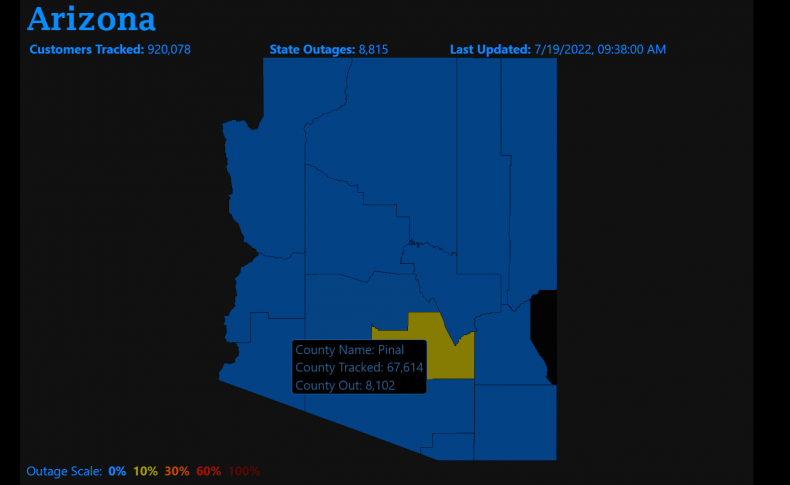 As of Tuesday morning, at time of writing, over 8,000 Arizona Public Service Company and Salt River Project customers did not have power. On Sunday, July 17, after 8 p.m, at least 40,000 people had lost power.
For regular updates of areas of Arizona that don't have power please check here.
What Is a Monsoon?
The NWS (National Weather Service) describes a monsoon as a "large-scale wind shifts that transport moist tropical air to dry desert locations, such as the southwestern United States. A monsoon pattern also affects several other locations around the world including Southeast Asia, Australia, Africa, and South America. The Indian Monsoon is the strongest in the world due to the height of the Tibetan Plateau.
So why do these wind shifts occur? Intense heating of the land over Mexico and the southwestern United States in the early summer months creates the wind shifts in the low levels. Moisture begins to be carried off of the Gulf of California and eastern Pacific Ocean (the two main sources for monsoonal moisture in northern Arizona). These winds transport moisture northward into Mexico and the American Southwest. Additionally, another key component of the monsoon development is in the upper levels of the atmosphere."
The Arizona Department of Health Services warns that: "Flooding is a real danger during the monsoon season. Arizona's dry and rocky soil does not absorb water well, so flood conditions can develop very quickly and without warning after a heavy rain."
Arizona's monsoon season runs from June to September, officially from June 15 to September 30.
Heat related illnesses are also common during monsoon season, especially heatstroke. The symptoms are:
Altered mental state or behavior
Rapid heartbeat
Alteration in sweating
Nausea and vomiting
Flushed skin