As Power Outages Continue in Texas, Portland, Oregon, Struggles With 'Unprecedented' Winter Storm
In addition to the widespread power outages in Texas, Portland, Oregon, is facing a similar situation with nearly 100,000 residents in the city without power due to an extreme snow and ice storm.
While speaking with Newsweek, Elizabeth Lattanner, a spokesperson for Portland General Electric (PGE), explained that electrical crews have been able to restore power to more than 566,000 customers, but "about 98,000 remain without power."
According to Lattanner, Portland General Electric has repaired 32 transmission lines, 27 substations and 226 feeders, but nine transmission lines and 11 feeders still need to be repaired and restored.
"The destruction and damage to kind of every aspect of our system was significant. The storm was unprecedented and came in three waves which created its own set of challenges as we restored power in one area, another area would be impacted and some customers experienced multiple outages because of the multiple waves," Lattanner said, adding that the city has not seen a storm like this in the past 40 years.
Similarly, Dale Goodman, director of utility operations for PGE told KOMO News that "These are the most dangerous conditions we've ever seen in the history of PGE."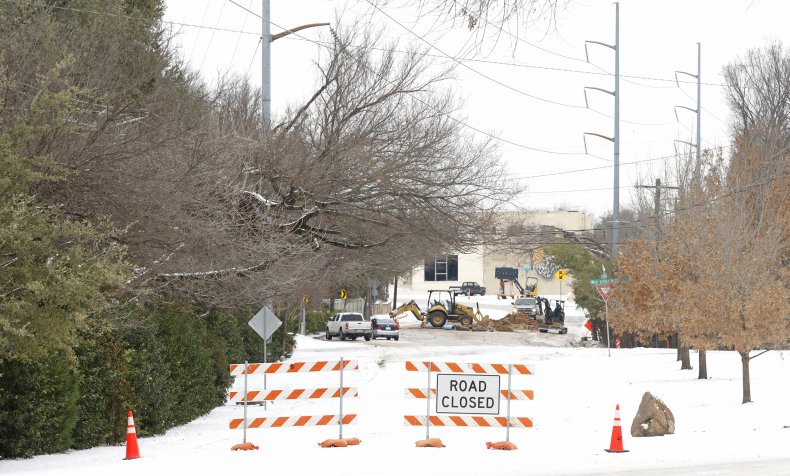 As Lattanner noted, the storm that hit Portland began on Friday and covered the city in snow and ice, which prompted Oregon Governor Kate Brown to declare a state of emergency.
"The state of emergency I declared on Saturday will ensure that all necessary state resources are available on the ground to help Oregonians impacted by this winter storm," Brown said.
Lattanner told Newsweek that as of last night, PGE estimated that they would have around 90 percent of customers without power restored by Friday night "with the remaining 10 percent requiring additional work to fully restore."
Dylan Rivera, a spokesperson for the Portland Bureau of Transportation, told Newsweek that the storms put more than a half-inch of freezing rain across the city, as well as 9 to 10 inches of snow.
"This is one of the largest freezing rain events, one of the most damaging winter storms in decades," Rivera said. "At one point we had almost 50 road closures due to down trees and power lines."
While speaking with Newsweek, Don Hamilton, a spokesperson for the Oregon Department of Transportation made similar comments and said while the storm is gone, the state's DOT is still addressing many problems including "downed trees everywhere."
Hamilton also explained that the state's DOT was forced to close down a number of freeways to help PGE make repairs to the damaged power lines.
A number of photos and videos of the damage caused by the storm were posted across social media.
"Just two of the many reasons we don't have power in my SE Portland neighborhood," Twitter user Morgan Romero of KGW News in Portland wrote with two photos of downed trees and power lines.
Romero, a resident of southeast Portland, told Newsweek that she lost power three separate times over the course of five days due to the storm, and the most recent time, she lost power for roughly 40 hours.
According to Romero, the tree in the picture she posted to Twitter is still down, as well as many other trees in the surrounding area.
"Trees falling on power lines all over the neighborhood, in my area and in everyone else's area in south and east Portland," Romero said. "There are trees on power lines everywhere."
In response to the storm and the work that city employees have done to repair the damage, Portland Mayor Ted Wheeler's spokesperson James Middaugh told Newsweek, "We are proud of all the city employees who worked long hours to keep roads open, help homeless people with shelter, remove downed trees and so many other things that are required during and after large storm events."
"We're also grateful to everyone who chose to stay off the roads during the worst of the storm. Portland is resilient. We're digging our way out and hope to be back to normal soon," the email said.
In addition to Portland, a number of other states, such as Texas are also facing widespread power outages caused by extreme winter weather conditions. According to poweroutage.us, there are roughly 488,262 Texans without power, across 12,477,211 customers tracked.
Correction February 22, 2021, 12:07 p.m. ET: In an earlier version of this story Dylan Rivera's name was misspelled.