Power Outage Map: Thousands in Maine, Massachusetts Still in the Dark After Nor'easter
Nearly 200,000 people are without power across Massachusetts and Maine on Friday following a record-shattering storm.
The strongest October storm ever recorded, a bomb cyclone (or explosive cyclogenesis) swept across the Northeast U.S. on Thursday, affecting thousands of homes and businesses from New York to Maine. As CNN reported, many were still without electricity as of Thursday night. Blackout tracking site PowerOutage.us displayed the counties that were still experiencing continued power shutdowns Friday morning.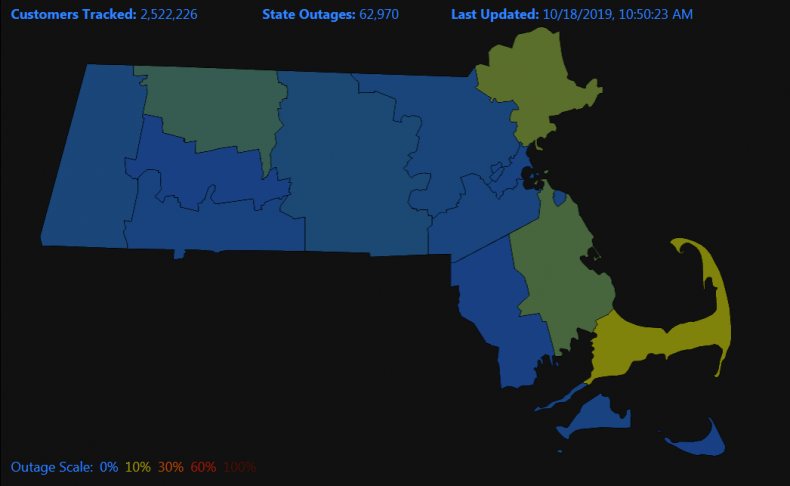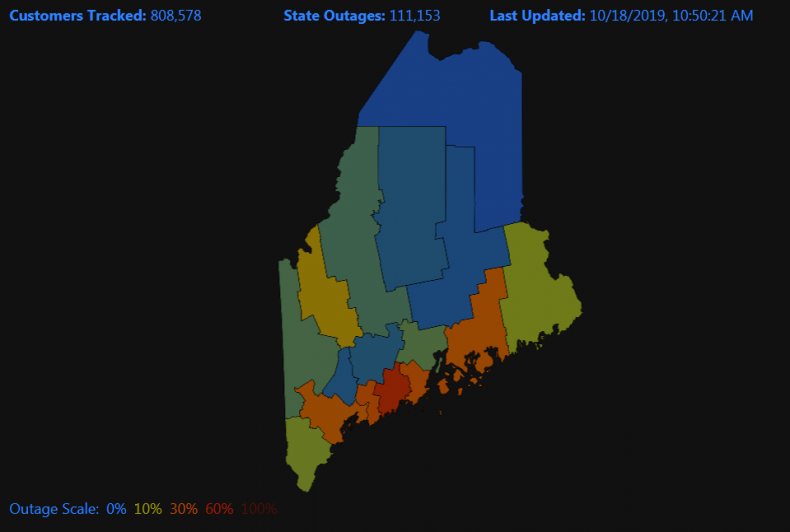 Winds of up to 50 mph battered New England states, while New York City, Boston and Portland, Maine felt winds of at least 39 mph, CNN also noted. More than 500,000 people were without power as New England, upstate New York and mid-Atlantic regions were hit with up to four inches of rain.
Power outages across Massachusetts began to pick up drastically around 2:30 a.m. Thursday, the National Weather Service's Boston office tweeted.
Residents along the state's North Shore may be without power until 11 p.m. Saturday, East Coast power utility National Grid estimates.
"While the worst of the storm is over, restoration efforts were hampered Thursday by high wind speeds throughout the region," the service said on its Massachusetts homepage. "Our first priority is responding to emergencies, opening roads and restoring critical locations, and we will be working on restoration overnight as safe to do so."
In Maine, Bangor Daily News reported that electricity providers Emera Maine and Central Maine Power took note of more than 190,000 outages within their service areas as of 3 p.m. Thursday. Most occurred within the southern part of the state. The companies are still working to bring back power in the affected areas.
"With more than 27,000 customers restored, crews will continue to work throughout the day on Friday to make repairs to bring the largest number of customers back online first, working toward smaller outages and more remote locations," Emera Maine announced on its website. "Our team will continue working into the weekend to restore service to all customers."
While the bomb cyclone is expected to clear out of New England on Friday, the National Oceanic and Atmospheric Administration (NOAA) satellites are continuing to pick up traces of the storm.
"A nor'easter continues to swirl over New England, after leaving more than half a million people without power yesterday," NOAA tweeted early on Friday.
This type of storm is one that suddenly increases in atmospheric pressure—dropping at least 24 millibars within a 24 hour period, NOAA says. Sometimes occurring when warm and cold air collide, the effect is a is rapidly strengthening weather pattern known as a "bomb cyclone."
Thursday's bomb cyclone is on record as the strongest October storm to hit the Boston area.