The Power of Persuasion: Using Art to Promote Vaccines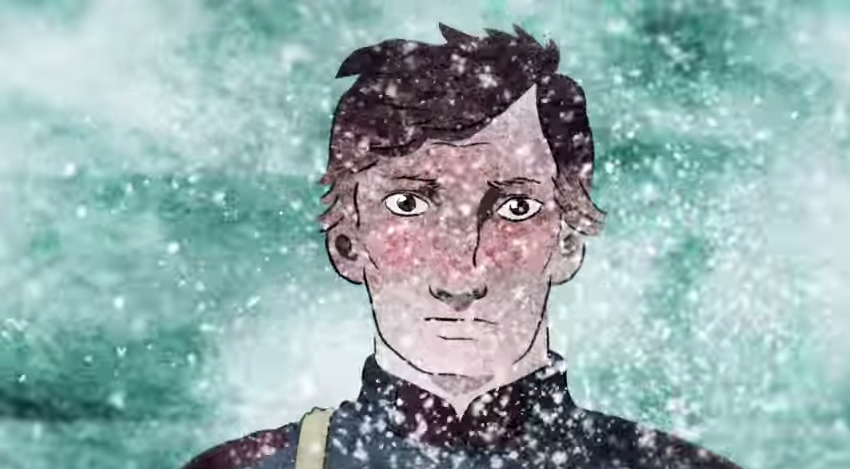 Sophie Blackall was out of her comfort zone. The illustrator had been asked to speak to epidemiologists and fund-raisers at the Centers for Disease Control and Prevention in Atlanta in April 2013, and she found the place intimidating.
"What can I tell these people who know so much more about infectious diseases than I can imagine?" Blackall remembers thinking. So, she told them a story.
As part of her involvement with the Measles and Rubella Initiative, Blackall traveled to the Democratic Republic of Congo and India to see vaccination campaigns in action and to create posters to try to help raise awareness about measles.
When she arrived to visit one village in Congo, after days of trekking through jungle, she was greeted by the chief. He and his village in mourning: The chief's 2-year-old daughter had recently fallen ill with measles and died as he carried her in his arms on the three-day walk to the nearest clinic.
As Blackall presented the drawings she'd made of this village to her audience at the CDC, "half of them were kind of misty eyed," she says. Although they knew a great deal more about the science of infectious diseases than Blackall did, "this is not what they usually see," she says, and it reminded them, as someone later told her, why they do what they do and the impact of their work. "Sometimes you just need to be turned 90 degrees and see something in a different way," Blackall says.
About a year after her presentation, Blackall heard from the Bill and Melinda Gates Foundation, which enlisted dozens of artists—painters, filmmakers, writers, musicians and more—to tell the stories of vaccines that have fundamentally changed the history of health and the world. The resulting project, The Art of Saving a Life, runs with the idea that art can have an impact beyond what is seen in statistics.
The artists tell "stories of risk and bravery, the passion and dedication of scientists, the love of parents, and the determination of health workers," the foundation says. The Art of Saving a Life "offers an opportunity to hear, see and feel the tremendous impact of immunization, and to energize us in the global effort to protect every child from life-threatening disease."
The roster of contributors includes the likes of Chimamanda Ngozi Adichie, whose books Americanah and Half of a Yellow Sun are widely read and lauded; renowned photographer Annie Leibovitz, who was named a Living Legend by the Library of Congress; and Luc Jacquet, a biologist turned director who founded Wild-Touch, a nonprofit organization that uses film to address environmental issues. His film March of the Penguins won an Oscar for best documentary feature in 2006.
Blackall—a Brooklyn-based illustrator best known for her work on the Ivy & Bean books for children and in New York City for her 2011 subway poster—was inspired by "the goal that in 2020 every child should deserve to receive immunization no matter where they live, where they're born, who they are," she says. But achieving such a goal, she explains, involves challenges that differ depending on the setting. In some areas, hurdles include war zones, rebel road blocks or crowded refugee camps. Closer to home, some parents are choosing not to vaccinate their children despite having easy access.
She created four watercolors that illustrate the diversity of people and places she hopes vaccines will soon reach, beginning with the Congo village she visited as it mourned the loss of its chief's daughter. Next is a slum in Mumbai, followed by a desert in Afghanistan and a nomadic herding family in Mongolia, where vaccines are carried on reindeer.
"The idea that so many people are involved and go to such lengths to reach every child is a really heartwarming and fantastic part of the story," Blackall says.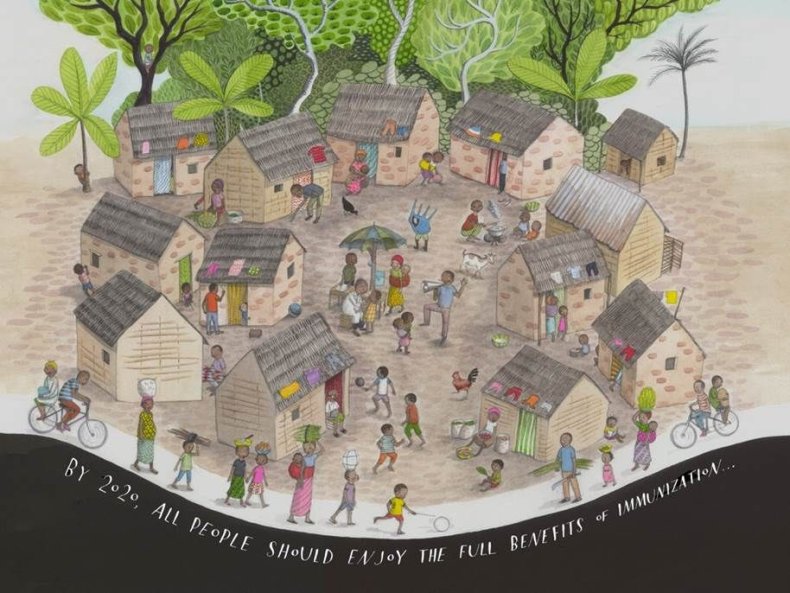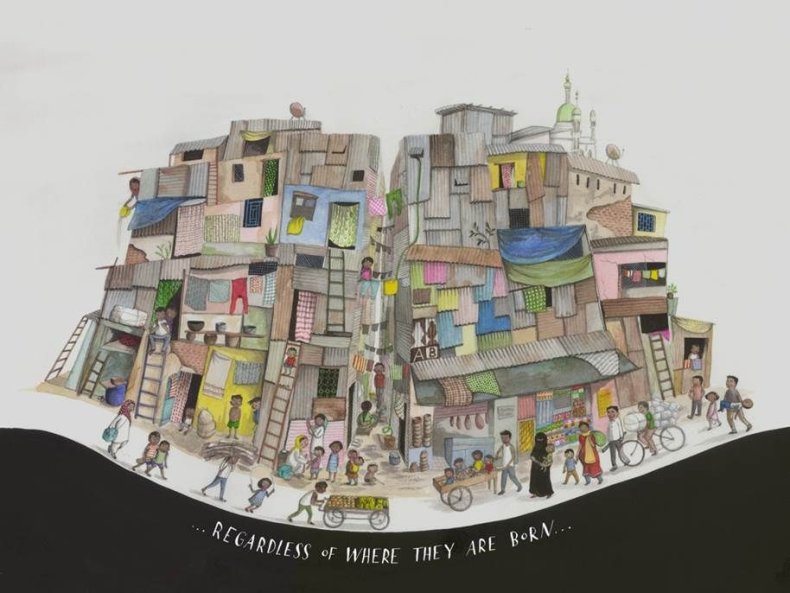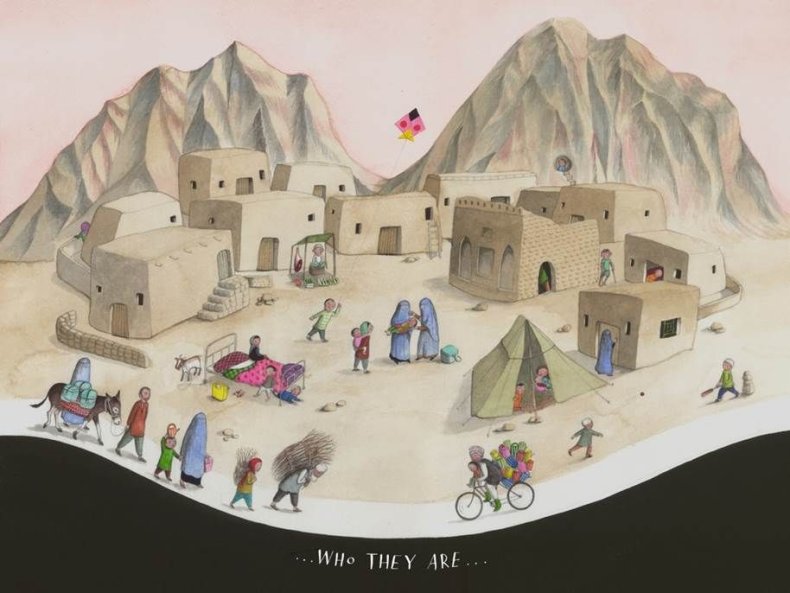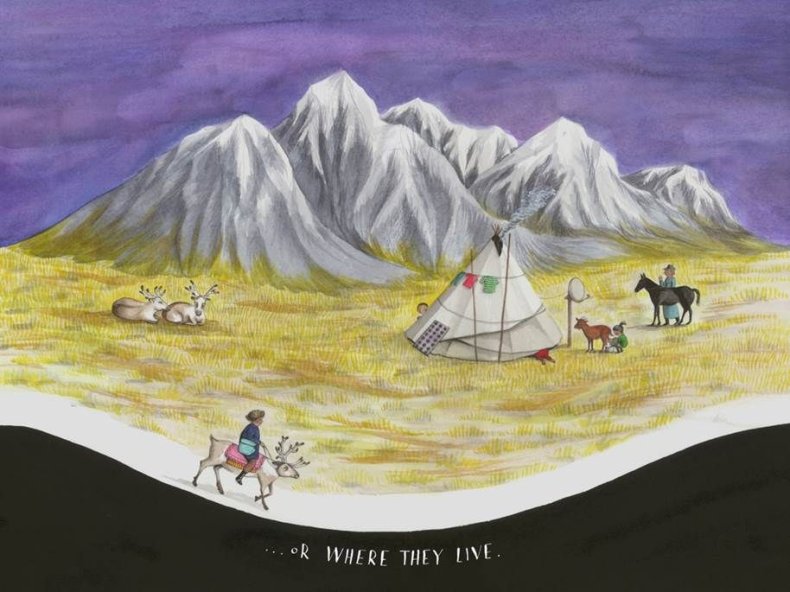 Dr. Orin Levine, director of the foundation's vaccine delivery program, calls the project "a break from the typical way that we go about talking about what's important to us. We typically start with statistics and kind of staggering numbers," he explains. "What art does, it starts by making people feel something."
The Art of Saving a Life first went public via The New York Times on January 6, and the project website went live that day. It's being promoted online by the artists, foundation and partners like One, Unicef, the World Health Organization. It also had an in-person kickoff in conjunction with a replenishment conference hosted by Gavi, a global vaccine alliance, at the end of January. The conference generated $7.5 billion in pledges from governments and private foundations, including $1.55 billion of additional funding from the Gates Foundation, to go toward immunizing 300 million children between 2016 and 2020.
That gathering in Berlin also included a curated exhibit of about 15 works from The Art of Saving a Life, including Blackall's illustrations and a portrait titled "The Unknown Health Worker" by Frankfurt-based artist Thomas Ganter.
The portrait is based on a photograph Ganter received from Christine McNab, the woman who first recruited Blackall to work with the Measles and Rubella Initiative and who proposed the arts-based vaccine project to the Gates Foundation.
In preparation, Ganter says he read about people who go to great lengths to deliver the products of scientists' work, such as the woman in the photo from McNab. His portrait omits the photo's background—the mountains of Nepal—forcing the viewer to focus on the unknown health worker and the vaccine box she carries.
"It is stunning to see in person," Levine says of the canvas, which measures more than five feet tall and three feet wide. "It's like the woman walks out of the painting at you."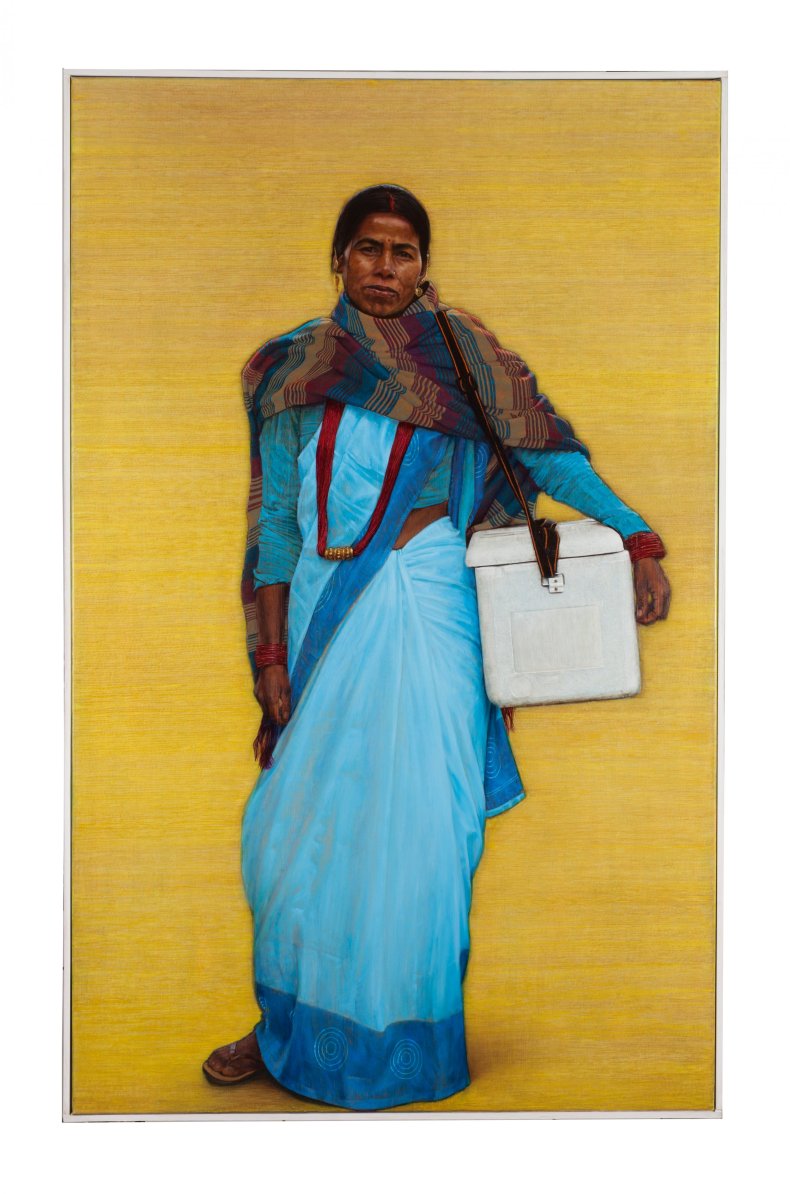 The foundation began reaching out to artists last spring, not knowing the project's release would coincide with a domestic measles outbreak that began at Disneyland in Southern California, and saw more than 100 cases reported throughout the U.S. by the end of January.
The recent outbreak "is tragic and unfortunate, because it's so preventable," Levine says. "The measles vaccine is really one of the most stunning examples of global health successes. Through that vaccine's use, we have prevented literally millions of deaths and hundreds of millions of serious illnesses and worried parents."
Geraldine Brooks is an artist who also identifies as an activist, and when she received an invitation to contribute to the project, she says it was as though the foundation was "knocking on an open door." Brooks, whose novel March won the Pulitzer Prize in fiction in 2006, was formerly a foreign correspondent who while in Africa "saw the work necessary to be done to vaccinate, particularly in times of crisis."
And "close to home, I live in a community where some pretty highly educated people have taken, to me, the inexplicable decision not to vaccinate their children," says Brooks, who resides on Martha's Vineyard in Massachusetts. With the current measles outbreak, she adds, we've seen how easily and how quickly a situation can develop that puts at risk babies and others who haven't been immunized.
The Australian-born author looked close to home, too, for the short story she contributed to this project. Told in a series of flashbacks, Spaghetti and Peas follows the late Dr. David Smith, whose family owns a summer house on Martha's Vineyard, as he makes the transition from pediatrician to medical researcher to entrepreneur in order to develop a vaccine for Hib, which causes meningitis, for infants as young as two months. Brooks interviewed Smith's wife and daughter, who agreed to let the writer fictionalize his story.
As with Brooks's piece, many of the artists' contributions were inspired by real events, whether by recent travels or by the annals of history. Katerina Athanasopoulou, animation director and lecturer at London College of Communication, examined the spread of smallpox during and after the Franco-Prussian War of 1870-71 in creating a four-minute video titled Rupture.
The war lasted less than a year, but it triggered a pandemic that cost half a million lives in the five years that followed. The Prussian army required its soldiers to get vaccinated and only saw 459 smallpox casualties among its ranks, while the French army did not have a mandatory program and lost 23,470 soldiers to the disease.
When trains transporting French prisoners of war wound their way through Prussia, the disease spread to the unvaccinated civilian population. "As well as Prussia was prepared," in terms of protecting its soldiers, it "almost injected itself with smallpox," Athanasopoulou says.
The animation director was "moved by looking at pictures of survivors with very serene faces that looked like a battleground," she says. "They went to war healthy and survived, only to be marked forever, possibly blinded or killed by smallpox."
The short film floats between the story of a healthy young soldier who then gets infected and slowly succumbs to a preventable disease—his face increasingly ravaged by pockmarks—and the larger picture of the train route, the war and the epidemic. Using a combination of computer-generated imagery (CGI) and hand-drawn digital animation, along with a textured score of sound and music, Athanasopoulou's team conjures a piece of little-known history.
The Art of Saving a Life is about "evoking an emotional connection," Levine says. The project was started to address "the inequities we at the Gates Foundation try to remedy every day" in a way that might reach people unmoved by facts and figures, and to spur conversation.
The foundation does not have any plans at the moment to reach out to additional artists, Levine says, but he would be excited to see others reacting and generating their own works. "If Phil Collins wants to write a song about this, we're happy to have it," he says with a laugh, and quickly adds that perhaps Pharrell Williams or Taylor Swift would have been more hip names to cite.
"I think that sometimes, because we live in a time and countries that already benefit from vaccines, we forget what happens when you don't vaccinate properly," Athanasopoulou says.
The ultimate goal of the project is to convey, as many of the artists who tapped into their creativity here have tried to do, that "life is far too precious to not protect ourselves from completely avoidable diseases," Athanasopoulou says, and that "vaccines are a gift."