'Power' Prequel Leak: Alleged Leak Might Give First Look at Spin-Off With Young Ghost, Tommy and Angela
Starz's Power has been hit with a number of leaks over the past few weeks, including two different endings that reveal different people who shot Ghost (Omari Hardwick). The latest potential leak, however, purports to be a scene from a possible Power prequel, set in the 1990s at a Queens high school attended by Ghost (or as he would have been then, James St. Patrick), Tommy (played in Power by Joseph Sikora) and Angela (Lela Loren).
In a video entitled "Power Prequel Alleged Leak !," watched over 40,000 times at time of writing, a title card reveals that we are in 1996. A young black man and a white boy in cornrows come out of a school saying "Kanan is going to be looking for us⁠—" a reference to the character played by 50 Cent in Power.
We learn who these characters are a few seconds later, when a teenage girl comes to talk to the first man. "Hold up, Tommy," he says to his cornrowed friend before saying to the girl, "yo, Angie," to which she replies "what's up, Jamie?"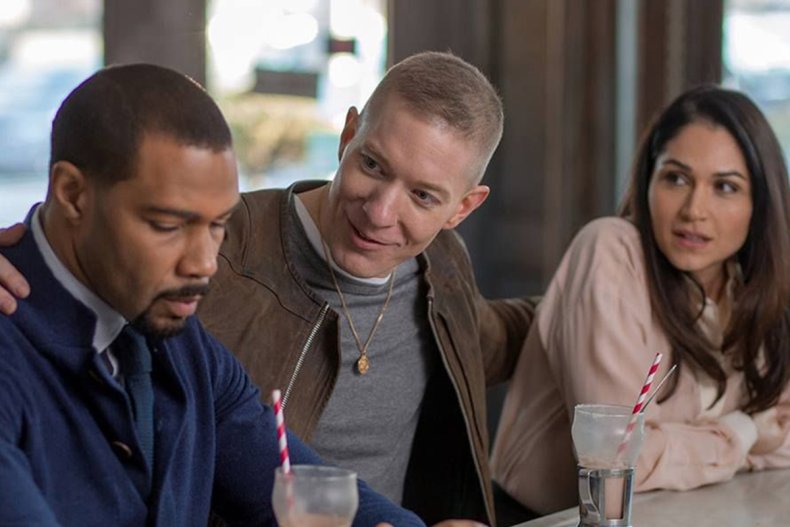 This scene then seems to call back to the first episode of Power, with Angela telling Jamie that she is looking at heading to an elite boarding school in Connecticut⁠—presumably putting her on the path that leads to her becoming a government attorney in the Starz series.
The legitimacy of this "leak," however, has not been confirmed by Starz. If it is real, we also do not know if it is actually from a Power prequel series or is a flashback from the final episode of Power itself. Notably, the leak features a time code of around one hour, 20 minutes, which TVGuide has confirmed is also the length of the Power finale, suggesting this could be a scene from the Starz finale.
The reference to Kanan, however, does also suggest that if the leak is real it could be part of a potential Starz prequel. 50 Cent has confirmed that a series, tentatively titled TGE (The Golden Era), is in development. That show would see a young Kanan on the rise in New York in the late 1980s, but this show could conceivably also feature a second timeline that sees Kanan working with a young Tommy and Ghost.
Newsweek has reached out to Starz for comment on the alleged leak and will update this article when we receive a response.
Power concludes on Sunday, February 9 at 8 p.m. ET on Starz.