'Power' Premiere: 'Shocking, Intense, Visceral' Season 5 Is 'More Tragic,' Says Showrunner Courtney Kemp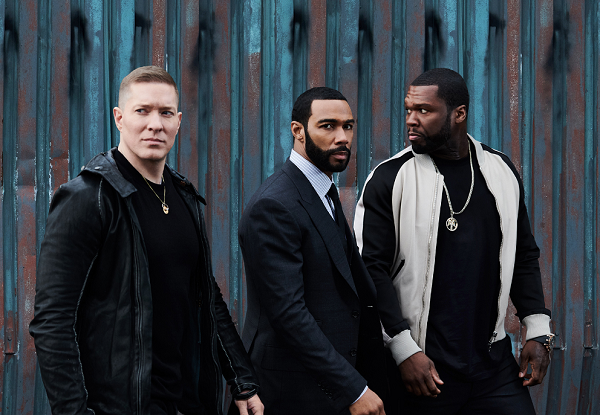 If it wasn't crystal clear that anyone and everyone could get killed on Starz's hit series Power, especially after the murder of Ghost's daughter Rania, then the upcoming new season will make it even more evident.
On the heels of Sunday's premiere, showrunner Courtney Kemp told Newsweek that fans should expect Season 5 of the series to be just as shocking as the last—if not more—and full of twists, turns and unexpected events. "It's more intense. It's more visceral. And I think it's more tragic," Kemp said during Power's Season 5 red carpet premiere on Thursday.
Season 4 certainly didn't lack any tragedies. Along with losing Ghost—otherwise known as James St. Patrick—(Omari Hardwick) and Tasha's (Naturi Naughton) daughter Rania (Donshea Hopkins), fans also had to say goodbye to yet another beloved character, Tommy's (Joseph Sikora) beloved drug distributor Julio (J.R. Ramirez) and a slew of Kanan's (Curtis "50 Cent" Jackson) thugs.
While Kemp wouldn't spill about the many characters whose lives are at stake in Season 5, she did say just about any and everyone is susceptible to dying when the show returns.
Newsweek subscription offers >
"No one is safe," she said. "It's Power."
Hell-bent on vengeance for his daughter's death, Season 5 will likely see Ghost resorting back to the murder some ways of his past as he realigns himself with his old drug partner and brother-in-crime Tommy and his former archnemesis Kanan. From the looks of the Season 5 trailer, the trio of men will be taking up arms and working together to get to the bottom of Rania's murder while simultaneously resulting to gun-fire to deal with their own personal battles.
Ghost, Tommy and Kanan's re-formed bond isn't the only alliance set to unravel on Season 5, though. The St. Patrick patriarch's mistress Angela Valdez (Lela Loren) and his wife Tasha also appear to be teaming up in the wake of Rania's death.
In a recent interview with TV Guide, Loren dished on the women's newfound partnership and said the issues of their past and Angela and Ghost's old flame are officially irrelevant. "What's going on with the love triangle doesn't matter. Raina's death levels everybody. It's the crack in the foundation," she said.
Newsweek subscription offers >
Loren added: "I think Tasha starts to see Angela in a different way because she needs her and Angela starts to see Tasha in another way because that conflict isn't really front and center. A new sort of respect can grow."
Don't miss the Season 5 premiere of Power on Sunday at 9 p.m. ET on Starz.
'Power' Premiere: 'Shocking, Intense, Visceral' Season 5 Is 'More Tragic,' Says Showrunner Courtney Kemp | Culture