'Power' Season 6, Episode 11 Spoilers: Why Dre Had to Die in 'Still Dre'
Power Season 6 has had no hesitations in killing off its main characters, with Angela (played by Lela Loren), LaKeisha (La La Anthony) and even lead protagonist Ghost (Omari Hardwicke) meeting their ends in previous episodes. Episode 11, however, saw Dre (Rotimi Akinosho) die in prison at the hands of 2-Bit (Michael J. Ferguson) and Spanky (Omar Scroggins) after the Starz series eliminated him as a suspect in the murder of Ghost.
This death, which saw Dre burn to death after the pair filled his cell with towels soaked in flammable material, came after years of fans wondering exactly how Dre was still alive after making many enemies across his time on the show.
In an interview with Entertainment Weekly, Power showrunner Courtney Kemp teased that fans would see "some surprising" deaths over the final episodes of the Starz show, but it was when speaking to TVLine that she revealed why she thought Dre had to be the first of these. Referring to the fan reaction around the character, she said: "I wanted to give a nice big treat at the front, and the big treat of course is his death. Congratulations, everyone. He's dead."
She went into more detail with Entertainment Weekly: "Obviously, we knew he was going to have to die. I'm not sure there's a way to tell this story where he's still running around."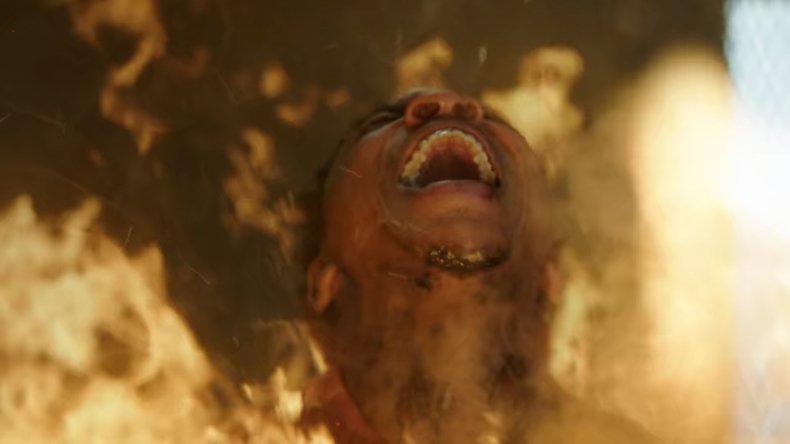 She also joked that she would not survive the fan backlash if she had not killed Dre off, saying, "If we had ended Power and Dre was still alive, I don't think I would have been able to live in New York or Los Angeles or any urban area. I would have had to move somewhere rural and changed my name."
She compared his return to New York in Season 6, Episode 11 after his girlfriend Tina (Melissa Mensah) pleaded with him to leave with her to Las Vegas, to the scene in the Michael Mann film Heat when Robert De Niro's character returns for one last kill despite having the chance to escape. She said: "It's his own hubris and his own desire...it's the same thing here [as in Heat], where they're in the car, the baby's in the car, they're good, but instead he turns around and decides to go get Ghost. And so then he dies."
Speaking to Entertainment Weekly, Dre actor Rotimi revealed why he thought his character could not leave New York: "As long as Ghost was alive, Dre always knew that he would have to look over his shoulder. He didn't want to live that way, for his daughter's safety."
Asked if he had any final words about his time on the show, he said, "Thank you, Starz, Power, the fans, my castmates, 50 [Cent, Power executive producer], CK [Courtney Kemp], and all the amazing writers for changing my life. It's only just the beginning!"
Power Season 6 continues Sundays at 8 p.m. ET on Starz.