'Power' Season 6, Episode 14 Recap: What Happened in 'Reversal of Fortune' and What It Means for the Finale
Power's penultimate episode, titled "Reversal of Fortune," set up next week's finale of the Starz show while eliminating another suspect in the case of who killed Ghost (played by Omari Hardwick). Rashad Tate (Laurenz Tate) got closer than anyone so far in killing St. Patrick, but the country music-loving assassins he hired did not get the job done in Power Season 6, Episode 14.
The episode again took us back to the day of Ghost's death, when Rashad learned that Ghost was joining the ticket of Lorette Walsh (Donna Murphy). Furious at how Ghost has betrayed him, he orders a hit from Croop (Cedric the Entertainer) and son Carter (Brandon Micheal Hall), who we meet slicing the flesh off their latest victim.
However, after a visit from Blanca (Monique Gabriela Curnen) and Saxe (Shane Johnson) in which they asked him to help them get Ghost arrested, he tried to call off the hit. Not happy at having come all the way to New York without getting paid, however, Croop and Carter said they will either kill Ghost or kill Tate. Tate tried to warn Ghost, but Ghost could not stop gloating over his victory and, as we know, gloating in Power is the quickest way to get yourself killed.
As such, the father and son hitman team tried to kill Ghost in a warehouse, leading to the shootout we have seen bits and pieces of in earlier episodes of Power that left Croop dead. This leaves Carter on the hunt for revenge on Tate, but luckily Tate's cop brother Kamaal (Lahmard J. Tate) was on hand to kill the young killer.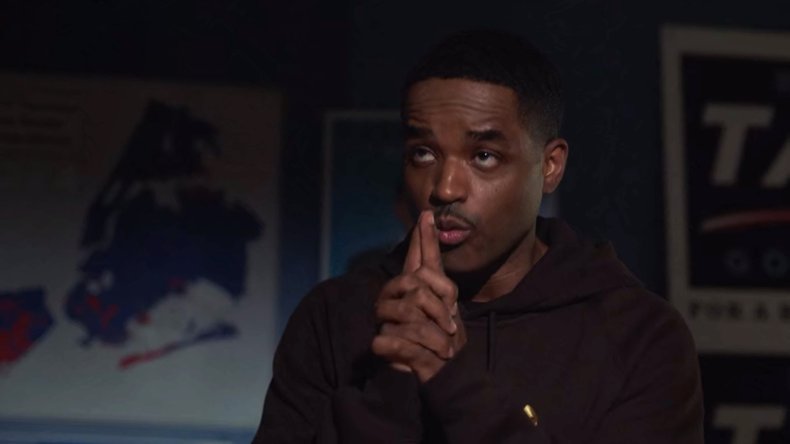 While Rashad and Kamaal went to the police station to give a statement about the shooting, they found out that there has been a shooting at Truth. As Tate also hired Dre (Rotimi Akinosho) to kill Ghost (as we saw in Episode 11), he assumes that either St. Patrick or Dre is dead. Kamaal told his brother that whoever is dead, it is likely to be to the benefit of Tate, who he calls the "luckiest n**** alive."
Kamaal turns out to be completely right on this count. After Tate gave an impromptu rousing speech to a journalist outside of Truth nightclub which grabs the city's attention, Lorette Walsh visited him and asked him to be her running mate. However, he refused, telling her he will be the governor or nothing. Cut to Tate announcing that he is the official Democratic nominee for the governor of New York City.
In a new position of Power, he also gets revenge on his former campaign manager Ramona Garrity (Cynthia Addai-Robinson), who betrayed him for Ghost, by telling a journalist she was having an affair with the now dead St. Patrick. Speaking of this murder, the end of Power Season 6, Episode 14 puts us agonizingly close to finding out who murdered him after Tate turns on the TV and we find out that whoever killed Ghost has been arrested. Tate sees who it is on the TV, but we will have to wait until the finale to find out who it is, with Saxe, Tasha (Naturi Naughton) and Tariq (Michael Rainey Jr.) the only suspects left.
As for Tate? His story is over for now, but with the spin-off Power Book II: Ghost due to pick up two weeks after the events of the current show, Tate's run for governor seems likely to continue in the new spin-off show, either in the background or as a major plot point. It remains to be seen whether that also means a return for Kamaal, (who the episode hinted could become his running mate) Ramona, whose career is currently in tatters, or Cassandra, Candace Maxwell, the former campaign staff member of Tate's turned senator that he unceremoniously kicks out of his room after having sex with her.
Power Season 6 concludes on Sunday, February 2 on Starz.