'Power' Season 6: La La Anthony on Shock LaKeisha Twist
Power Season 6, Episode 8 featured the latest shock death as LeKeisha Grant (played by La La Anthony) was killed in a struggle with Tasha St. Patrick (Naturi Naughton). La La Anthony has revealed in a number of interviews how she felt about her character's death and when she heard about Keisha's fate on the Starz show.
Speaking to Entertainment Weekly, La La Anthony said: "Courtney [Kemp, Power showrunner] just talked me through the whole thing and explained why and told me how it would happen. She was extremely gracious in making me feel comfortable and making me understand from a writer's perspective, like why it had to happen.
"My thing is, I could have just died off the show in a lackluster way and no one even cares or talks about it, but I think this will be a moment that will be talked about for a long time. So if you're going to go out, that's how you want to go out."
Previously, Kemp has talked about how she breaks the news to an actor that their character is about to die. Speaking to Deadline after Angela Valdes' (Lela Loren) death on Power, she said: "I tell everyone... in my office in New York, before anyone else got the script. When you tell people their character is going to die, you always have to keep in mind that they are losing a job, too. So you need to treat people with respect."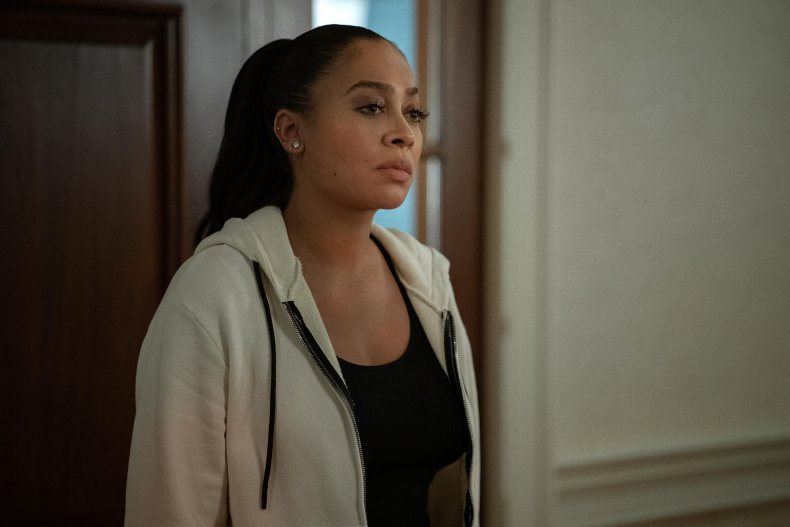 When asked by EW if she was shocked at the way LaKeisha died, Anthony said she "wasn't as surprised as you would think. I knew the way the story was playing out that Tommy actually loved LaKeisha in a different way, and there were such strong feelings and he finally felt like he found the one, that it never occurred to me that it would be him...The only other logical person outside of maybe Ghost would be Tasha."
In a previous interview with TVLine, Anthony had teased a tragic end for Keisha. She said: "All she wants to do is prove to Tommy that she's ride-or-die, and she's in it until the end, but I don't think she really understands what that means until she's so far in that you've just got to stay at that point."
In Power Season 6, Episode 8, titled "Deal with the Devil," Tasha came to visit Keisha in her new home in the suburbs after the latter had been approached by the feds again. The two got into a struggle which led to Keisha being shot in the stomach by her former best friend.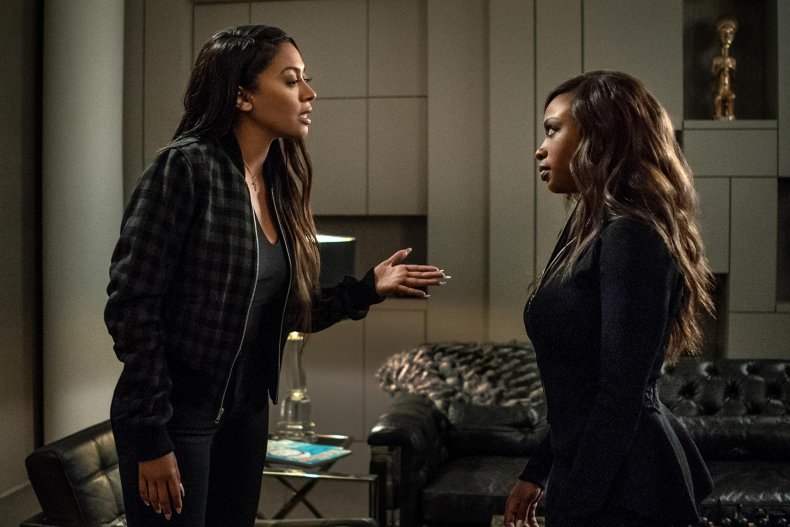 On Instagram, Naughton payed tribute to her former co-star. She captioned a picture of the two of them together: "Tonight's episode was hard to watch! @lala you have been so amazing to work with and I'll never forget our journey as #BFFs on this show! [heart emoji] Lakeisha's role may have ended on #PowerTV, but you and I will Always Be Friends! I'm so proud of you girl! Watching you grow and seeing you shine has been a true joy! Love u [heart emoji] #LakeishaAndTasha4life #icried #DayOnes [praise hands emoji] #RIPLakeisha"
Power Season 6 has seven episodes left, meaning there is still plenty of time for other characters to die. This was hinted at by Kemp in an August interview, where she teased, "The body count will be very, very high."
Power Season 6 airs Sundays at 8 p.m. ET on Starz