'Power' Season 6: Why Was 'Power' Not On This Week? When Will It Return?
Starz viewers who tuned in on Sunday, October 20, were left disappointed as the latest episode of hit show Power did not air. Netflix will also not air Power Season 6, Episode 9 this week, meaning viewers have another week to wait until they see how the show deals with the death of LaKeisha (played by LaLa Anthony).
Starz first announced that Power would not air a new episode this week on the show's official Twitter page, in a post on October 17 reading: "Get in on all the Season 6 hype. Catch up on Season 6 before an all-new #PowerTV returns October 27 on the @STARZ App."
This came the day after news broke that cable provider Comcast Xfinity would be dropping all Starz channels from their service.
Power executive producer Curtis "50 Cent" Jackson seemed to link these two things together when he tweeted: "I cant even sleep POWER is not airing Comcast is dropping STARZ, call 888-90-STARZ Tell them to keep STARZ"
50 Cent followed this with a post reading: "I'm sick right now so I lose millions of viewers today because of Comcast, They are dropping STARZ no more POWER, I'm Dead."
As Starz mentioned in their tweet, Power will be back next Sunday (October 27) at 8 p.m. ET. In territories where the series airs on Netflix, the episode will be released on Monday, October 29, at one minute past midnight Pacific time.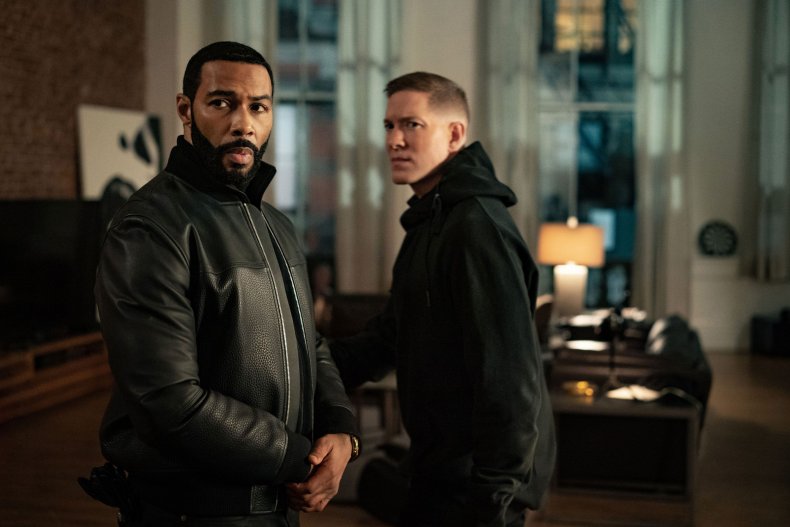 The next episode, titled "Scorched Earth," will see Tommy (Joseph Sikora) coming to terms with the death of his partner LaKeisha. According to the synopsis, Keisha will not be the last main character to die on the show. The summary reads: "Ghost (Omari Hardwick) and Tommy move forward with their plan to kill Jason Micic (Mike Dopud)."
When a fan asked about the next episode on Twitter, the Power social media team promised that "it will be worth the wait" and that it will be a "[fire emoji] episode."
In a statement, Starz said of their battle with Comcast: "Starz has been working diligently to reach a fair market distribution agreement with Comcast Xfinity in order to continue providing our shared customers with access to our acclaimed line-up of premium television content. However, months before our contract deadline and in spite of our best efforts to engage in meaningful discussions, Comcast has publicly stated their intention to drop our networks from all packages and bundles, ignoring industry precedent and demonstrating a total disregard for its customers, communities, suppliers and other stakeholders."
In its own statement, Comcast said: "We are continuing to negotiate to reach a deal with Starz that makes sense for us and our customers before our current deal expires, but we have been unable to do so at this time. Over the last decade, the video marketplace has evolved dramatically, with more and more streaming and direct-to-consumer offerings marketing themselves as an alternative to traditional cable. We have seen the streaming marketplace grow from essentially two services to dozens of significant OTT platforms, with more launching all the time. Starz has chosen to change its business model in response to these trends by making its content available a-la-carte on Amazon Prime and Roku and selling its service direct to the consumer through the Starz app. All we are asking for is the same treatment for our customers."
Power Season 6 airs Sundays at 8 p.m. ET on Starz.
'Power' Season 6: Why Was 'Power' Not On This Week? When Will It Return? | Culture