Powerball Results, Numbers for 11/2/19: Did Anyone Win the $150 Million Jackpot on Saturday (Last) Night?
The jackpot for the Powerball last night was a hefty $150 million, with a cash option of $103.3 million, but did anyone take home the top prize?
The winning numbers for November 2 were 03-23-32-37-58. The Powerball was 22 with a Power Play of 2x.
And somebody did manage to purchase a winning ticket and successfully scoop the $150 million prize by correctly matching all five white balls along with the red Powerball. Another person also managed to correctly match all five numbers, but not the Powerball, to take home a prize of $1 million
13 people won $50,000 after matching four white balls and the red Powerball, with four of those people having their prize doubled to $100,000 because they had purchased the additional 2x Power Play.
Newsweek subscription offers >
The winning ticket for the $150 million jackpot was purchased in California, while the $1 million prize ticket for matching all five white balls came from Virginia, according to the official Powerball site.
With someone successfully winning $150 million top prize, it means the Powerball jackpot has been reset back down to $40 million, with a cash option of $28 million, for the next draw on Wednesday, November 6.
The last time the Powerball jackpot was won was back on September 21, with a total $80 million prize. The winning numbers were white balls 01-09-22-36-68, plus Powerball 22, and Power Play multiplier 2x.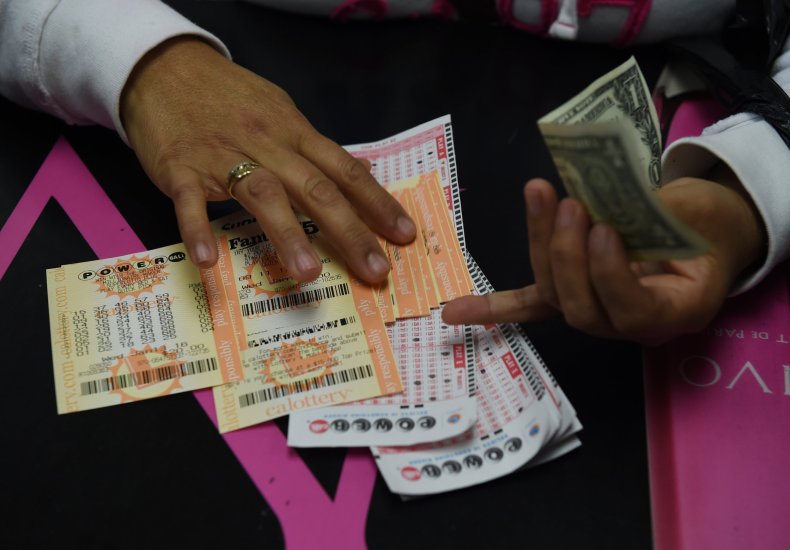 Newsweek subscription offers >
The winning ticket was purchased by 54-year-old Phillip Chipewa from Suttons Bay, Michigan. "After I bought the tickets, I had put them away in my truck," Chippewa told the Powerball site. "I ran out to take a look at them and I didn't have to look past the first line to see I was the winner. Of course, my wife and son thought I was playing a trick, so my son pulled the numbers up on his phone and read them out loud while Dawn [his wife] and I looked at the ticket together. By the time he was done, we both had tears in our eyes.
"We called a family meeting and told all seven of our kids the good news. There were a lot of emotions in that room because we've always put our family first and it hasn't always been easy, but all of them were so happy for us.
"With seven children and 21 grandchildren, I've always said that I might not have the most money, but I am rich with family. Now, I have all the money I'll ever need and can help my family for generations. That means everything to me."
How do you play Powerball?
The Powerball is held twice a week, with draws taking place on a Wednesday and Saturday night, at 10:59 p.m. ED. Each draw is broadcast live from the lottery studio in Tallahassee, Florida.
The lottery game is available to play in 44 states, the District of Columbia, Puerto Rico and the U.S. Virgin Islands. Each ticket costs $2 per play, with payers selecting five numbers from 1 to 69, in addition to one red Powerball number from 1 to 26. In certain circumstances, players can also multiply non-jackpot prizes by using the Power Play option for an additional $1.
Powerball's official website claims that players have a 1 in 24.9 chance of winning any prize regardless of the number of participants. But the chances of winning the grand prize jackpot are astronomically higher at 1 in 292,201,338, according to the official website.
The November 2 Powerball draw can be watched below:
Powerball Results, Numbers for 11/2/19: Did Anyone Win the $150 Million Jackpot on Saturday (Last) Night? | U.S.