Powerful Images: Florida Shooting Anger Inspires Students to Tackle Gun Violence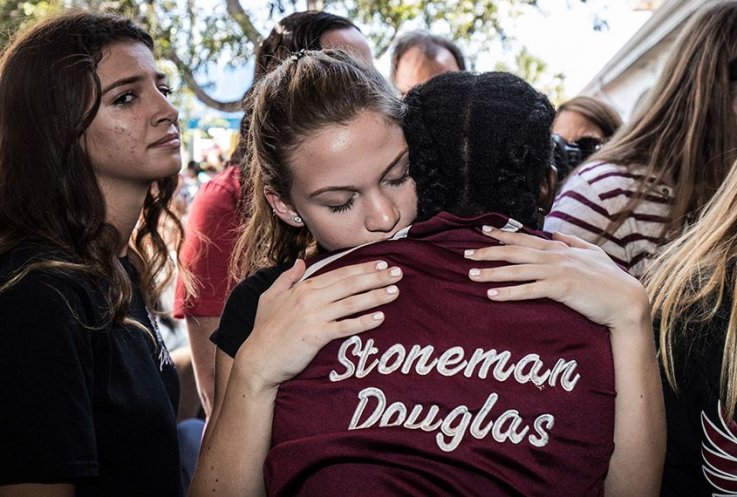 On February 14, a school shooting that killed 17 students and faculty plunged Florida into mourning. Over the past week, students have learned to channel their sadness into anger and action. In the slideshow above, we look at Florida students' growing sense of purpose.
The shooting at Marjory Stoneman Douglas High School has led to widespread calls for stricter gun control legislation. The country has been here many times before, most notably in 2012 when 20 first-graders and six educators were killed at Sandy Hook Elementary School in Connecticut. However, efforts to change the legislation stalled in Congress.
This time, it could be different, because the issue is being taken up by the people most affected by high school shootings: high school students.
Young people in Florida are planning acts of civil disobedience including walkouts and sit-ins to call attention to school safety and ask lawmakers to enact gun control. Some have called for a boycott of schools until gun laws are changed. The centerpiece of their campaign is a March for Our Lives in Washington on March 24.
The protest plans circulated widely on social media across the country, suggesting that the protests may spread around the nations. It also suggests the outcry for new gun legislation may not fade away as it has after other mass shootings.
Read more: 50 percent of Americans now want nationwide ban on assault weapons
The demand for change by many still too young to vote has inflamed the country's long-simmering debate between advocates for gun control and gun owners. Students from the Florida school have lashed out at political leaders, singling out President Donald Trump for his support of the National Rifle Association.
The White House said Trump planned to host "a listening session" with high school students and teachers on Wednesday, February 21, but did not specify which students or school would be involved.
The suspect in the Parkland, Florida, shooting, Nikolas Cruz, 19, faces multiple murder charges in the deaths of 14 students and three staff members. He wounded more than a dozen others in a rampage that eclipsed Columbine as the country's worst mass shooting at a high school.