Powerful Nor'easter Winds Lift Grounded Plane and Throw It Into Fence
As this week's October nor'easter storm continues to pummel the northeast, residents of several states have seen heavy—and even record-breaking—levels of rainfall along with harsh winds.
Although the threat of flash flooding had waned by Wednesday morning, officials have issued warnings for intense and potentially-dangerous winds in the region. Massachusetts in particular has been inundated with these heavy gusts, as winds on Tuesday surpassed 90 mph in some areas. By Wednesday morning, social media had been flooded with reports of fallen trees and downed power lines.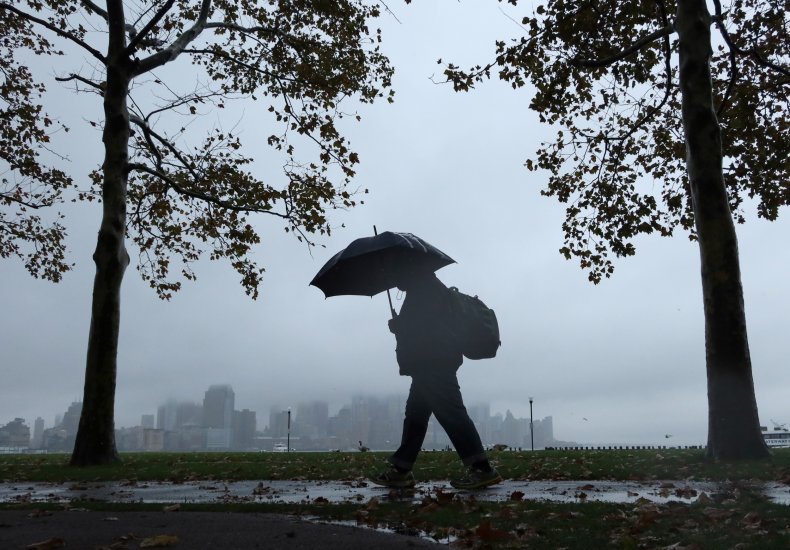 New Bedford Regional Airport in Bristol County, Massachusetts is one such affected location. According to a 6:58 a.m. Wednesday National Weather Service report, winds brought by the nor'easter managed to physically lift and move a small airplane that was grounded at the site.
According to the airport's assistant manager Michael Crane, per WPRI, the airplane had been securely fastened to the ground. The ties, however, were no match for the wind: somewhere between 5:30 and 6:30 a.m., the plane was lifted and flipped over a fence before being plopped back down to earth.
Following the incident, airport personnel secured the plane to the fence as a precautionary measure, to prevent the aircraft from causing any further damage.
Luckily, no injuries were reported.
After the plane landed, spectators and local news outlets took to social media to share footage of the odd sight. A video, shared on Twitter by CBS Boston, showed the plane's nose smashed against the fence. Among other issues, the plane's wings appear severely damaged. The clip also showed the lightweight aircraft teetering amid the ongoing winds.
Although the images are certainly striking, Scot Servis, manager of New Bedford Regional Airport, told Newsweek that the situation "wasn't as exciting as it first appeared."
He explained that the aircraft was in the midst of being repaired and that, as a result, "the engine was removed, which made it very light."
Once the plane's tie-down ropes were broken by the wind, it was able to "fly over the fence into the roadway." He admitted, however, that the scene "[did] make for a good photo."
According to WPRI, Crane estimated the engineless-aircraft's weight to be somewhere between 500 and 700 pounds. The plane is registered as belonging to Bridgewater State University, added the news outlet.
Massachusetts continues to brave the storm's harsh conditions. So far, over 600,000 power outages have been reported in New England. Massachusetts has seen the vast majority of these cases, with nearly 500,000 outages reported as of Wednesday morning.