Gut-Wrenching Production 'The Shadow of a Gunman' Debuts at Irish Rep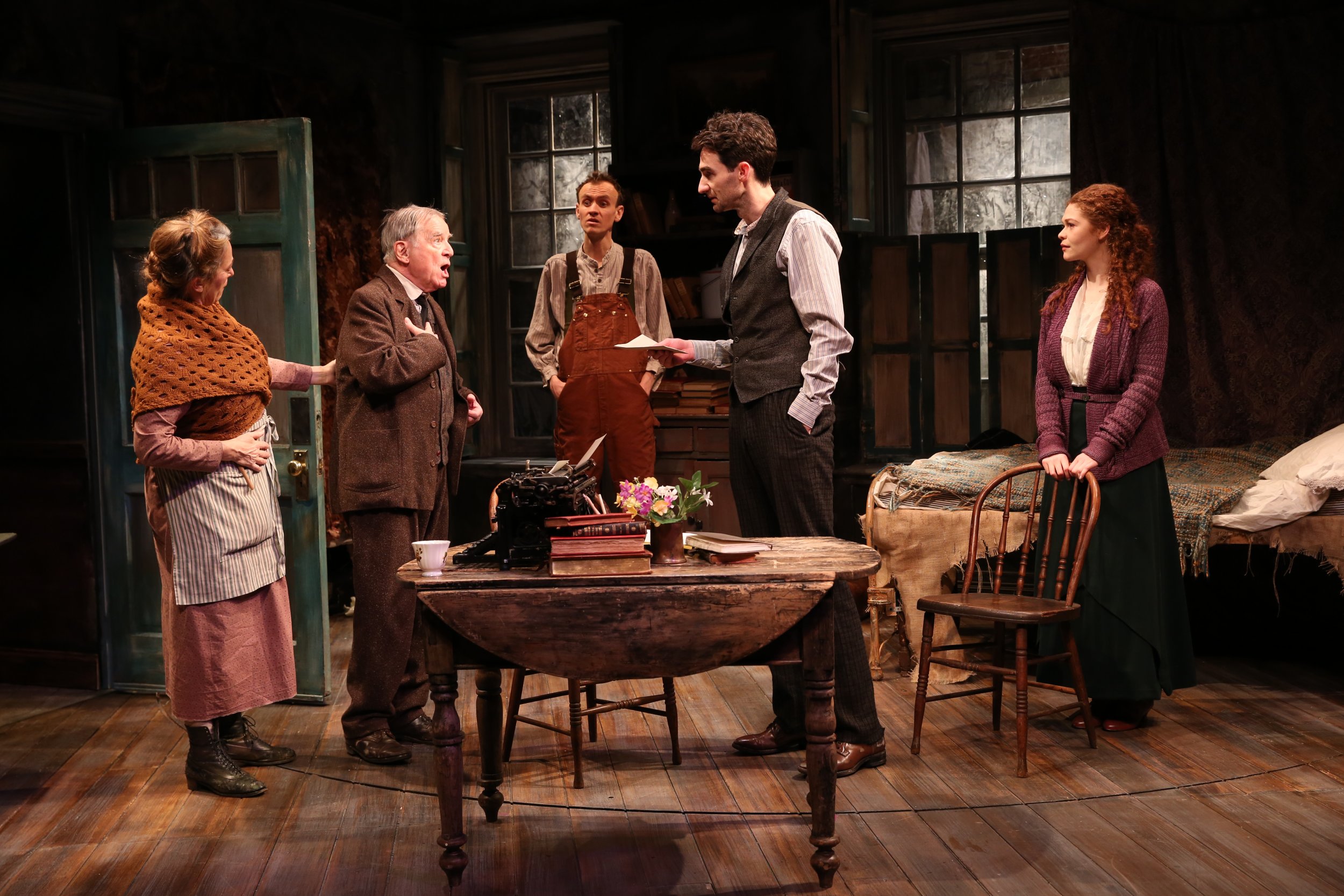 New York's Irish Repertory Theater has kicked off probably its most ambitious season ever—showcasing all the works of master playwright Sean O'Casey—with a powerful production of The Shadow of a Gunman, a tragedy about the Irish War of Independence from Britain, which is expertly directed by Ciarán O'Reilly.
Shadow of a Gunman, which was first performed at Dublin's Abbey Theatre in 1923, was O'Casey's first successful play. Donal Davoren, the protagonist—the gunman, or shadow, as it were—is a poet who has no time for politics. Unfortunately for him, everyone else seems to have no time for anything else.
He shares a tenement room with Seamus Shields, an Irish nationalist, who is forever invoking the name of the mythical Kathleen Ni Houlihan, think of a combination of Miss Liberty or Uncle Sam. Shields has more than a few friends who are militantly involved in the cause of Irish independence. And guilt by association being what it is, Donal is rumored to be an assassin of the Irish Republican Army.
At first, Donal dismisses the idea. But things get complicated when the apple of his eye, Minnie Powell, who also is deeply supportive of the cause, lets him know she fancies him to be that assassin. His fancy's fancy becomes his own, and he pretends to be that gunman. But that proves to be merely a flight of fancy.
Unfortunately, reality has a way of insisting itself onto the lives of young poets in love. And when the Black and Tans, glorified vigilantes in the service of the British cause, get too close, the play takes a dark and violent turn and Donal is forced join the real, very prosaic world.
O'Casey is one of Ireland and the world's great playwrights, and his talent is on full display in this taut, swiftly paced production. There isn't a character who is not memorable, well-drawn or larger than life. And though the play is a tragedy—it has a gut-wrenching climax—it has more genuine laughs than many comedies.
The cast, many of whom are regulars at Irish Rep, is stellar. James Russell, as Donal, takes a character who is at first a cipher and makes you care enough so that when tragedy befalls him, we feel it deeply. Meg Hennessy is an engaging Minnie, sweet and passionate enough to make even the silliest of poets rise up and take arms.
Ed Malone is wonderfully nutty as Tommy Owens, the most zealous zealot any revolution ever saw. Michael Mellamphy as Shields is all bluff and bluster. When the chips are down, he shows what he is really made of—and it's not much. John Keating as Mr. Grigson, a proud Orangeman, makes the most of a relatively small amount of stage time. I have seen him in about a dozen plays at Irish Rep, and it seems while he is on stage that the play has been written around him.
One needn't worry about knowing much about Irish history before seeing Shadow of a Gunman—which any serious theatergoer should do and fast. This is a play, not a test. The program contains sufficient notes to get you through this most rewarding evening.
Finally, Irish Rep is devoting a whole season to the works of Sean O'Casey. Three full productions and 16 readings of his plays, as well as films, lectures and other exhibitions. It is the most ambitious endeavor for a theater to undertake a playwright not named Shakespeare or Shaw. But more on that later: The season of Sean is still young.
The Shadow of a Gunman is playing at The Irish Repertory Theater, 132 West 22nd Street. For more information about this or the rest of the O'Casey plays go to IrishRep.org/OCasey.