An elite powerlifter has shared the horrifying moment she snapped her arm while squatting 369 pounds, along with an X-ray of the break.
Robyn Machado has been lifting weights for over 20 years, and never broke anything until she snapped her radius bone last year.
The 35-year-old shared a clip of the shocking moment to her TikTok account, @powerlifting_portagee, earlier this month, as she also documented her recovery journey.
Machado, from Raleigh, North Carolina, explained the injury happened last March, just before the COVID lockdown.
She recounted the moment to Newsweek, saying: "When I felt the pressure and heard the loud breaking sound, my first thought was, "OMG the bar broke", until I glanced at my arm and saw a bone trying to poke through skin, I was so stunned that I screamed.
"I didn't feel any pain (probably because of the adrenaline), and I remember thinking this HAS to be a dream. I was driven to the hospital where I got x-rays and an ibuprofen. Turns out I had broken my radius bone (forearm.)"
The video, on which she wrote "warning, injury coming," has been seen nearly 20 million times, as there's an audible crack before Machado starts screaming.
She continued: "I decided to share the video to raise awareness, low bar can be done safely but some people (like myself) try to push limits by setting it as low as possible in effort to move as much weight as possible and it's dangerous.
"Since posting the video, I've found 10 people who have done the same exact thing. Our stories and x-rays are identical. They just don't post their videos because it's embarrassing. I personally don't care.
"Many people assume it was a bone density issue, but my surgeon said my bone density is above average, it was just a lot of weight/pressure on a small bone."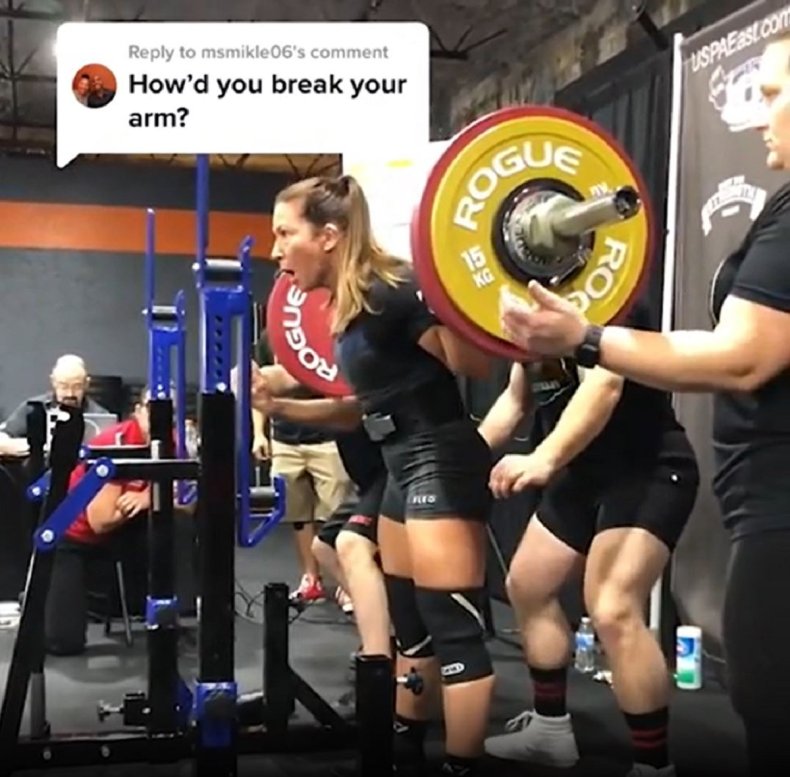 She explained more about the type of exercise she was doing, a low bar squat, confirming she'd previously lifted heavier weights before while training for a competition.
"I wasn't going for a PB when I broke my arm, it was 369lbs and I had done 380-395 consistently in preparation for the competition. On meet day, the rack was set a little too high for me but I was too excited with adrenaline and felt pressured to hurry up and do the lift (you get a minute total when it's your turn on the platform).
"I attempted to unrack the weight anyway which caused some instability, and to make it worse the barbell hit the rack hooks which made it even worse. Since it wasn't a crazy amount of weight for me I thought I'd be fine.
"I got the squat command, and as I went to squat I felt the bar slide even further down my back. I felt the pressure on my arm and I wanted to bail the lift but in competition, you're now allowed to bail because you can really hurt your spotters so I stuck with it," she said.
She got a plate and 8 screws in her arm, and despite breaking the bone, she wasn't put in a cast.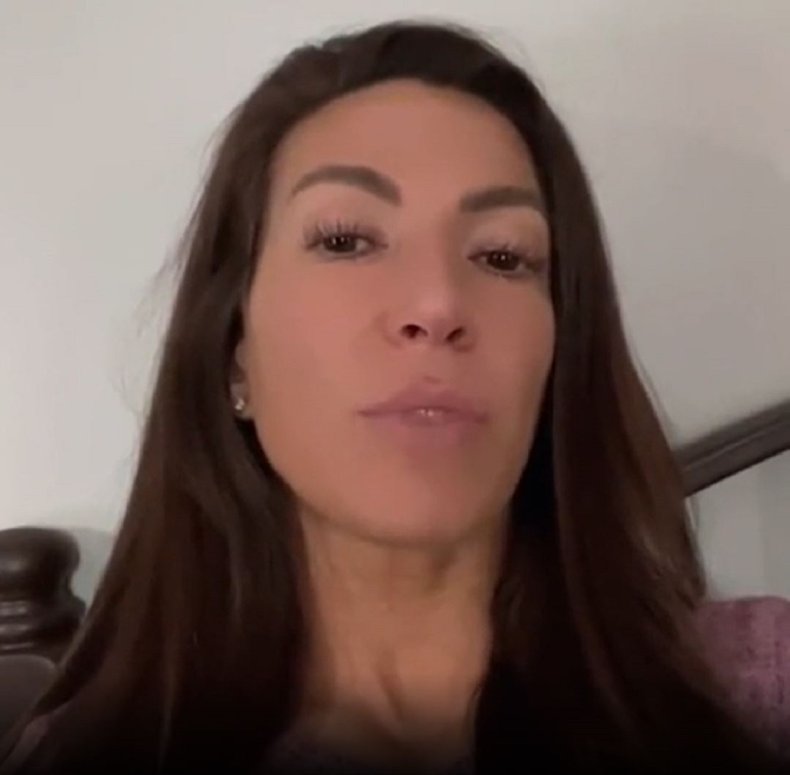 The recovery was tough, as she said: "The worst part was due to severing my radial nerve, I had nerve damage. I could hardly move my thumb, index and middle finger.
"The skin felt like it was on fire and I would feel "zaps" all day and it would keep me awake at night. It's not totally better but the zapping pain is gone."
The bone healed in around eight weeks, but it didn't stop Machado working out, as she hit her old "personal records" four months post-op, and set new records just six months later.
Despite the setback, Machado was back to competing by the end of the year, officially surpassing the weight that broke her arm.
She said: "I have 7 NC state records in 2 different weight classes (60kg and 67.5kg), I competed for the first time since my injury September 11th, 2021 and I ended with a 380lb squat, 242lb bench and 446lb deadlift which put me in the 19th spot for the 148 weight class (worldwide).
"I competed in powerlifting for the first time almost exactly 5 years ago. I got into the sport because I love feeling strong and want to see how strong I can get!"
Still in the Back of Her Mind
But she confirmed the break is in the back of her mind, adding: "This was my first time breaking anything while lifting. I hit the weight that broke my arm about 5 months post op and I was scared, but I had changed from low bar squatting to high bar so I felt safer.
"I'm always a little paranoid now, but I've been lifting for over 20 years and I couldn't picture not lifting weights."
And she had words of encouragement for anyone inspired to take up the sport, saying: "What I love about powerlifting is the way you will prove yourself wrong over and over.
"You'll do things you never thought were possible and it will bring a whole new level of confidence that will carry over to every other aspect of your life.
"On top of that, you'll never find anything more supportive than the powerlifting community. It doesn't matter if you're lifting 50lbs or 500lbs, they'll be cheering you on."