The PowerPic Mod Is a Wireless Charger and Photo Frame Combined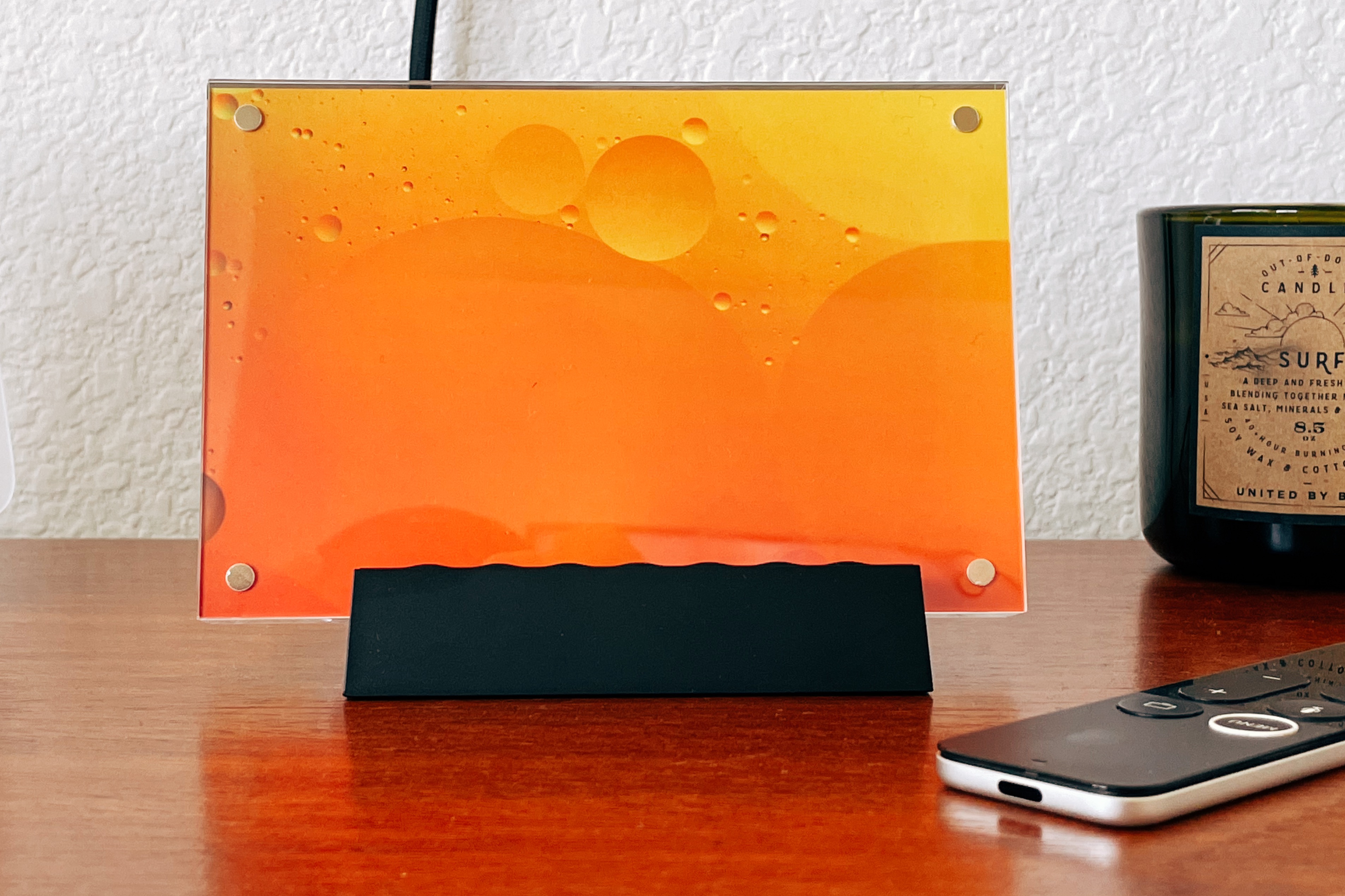 The PowerPic mod hides a wireless charger behind any 4-inch by 6-inch photograph in order to help hide bland, techy gadgets cluttering up living spaces around your home. The clever charger will power any Qi-compatible devices, including phones and wireless earbud cases, but, most importantly, it will add a personal touch to your home when it's not in use.
The PowerPic mod is a new product from Twelve South and complements its previous PowerPic frame which, most notably, has a larger 5-inch by 7-inch picture size. PowerPic mod, like the previous model, can accommodate portrait or landscape photos, but changing the picture out for a new one in this new product is even simpler—as easy as aligning a few magnets.
TL;DR
Pros:
Horizontal and vertical charging
Easy to switch photos
Cons:
Phone resting angle is a bit steep
Buy at Twelve South.
PowerPic Mod Setup
There are three parts to the PowerPic mod in the box: the charger, base and power cable. Noticeably missing is the wall charger the USB-C cable plugs into. It's a little unfortunate there isn't one in the box, especially if you're giving the frame as a gift.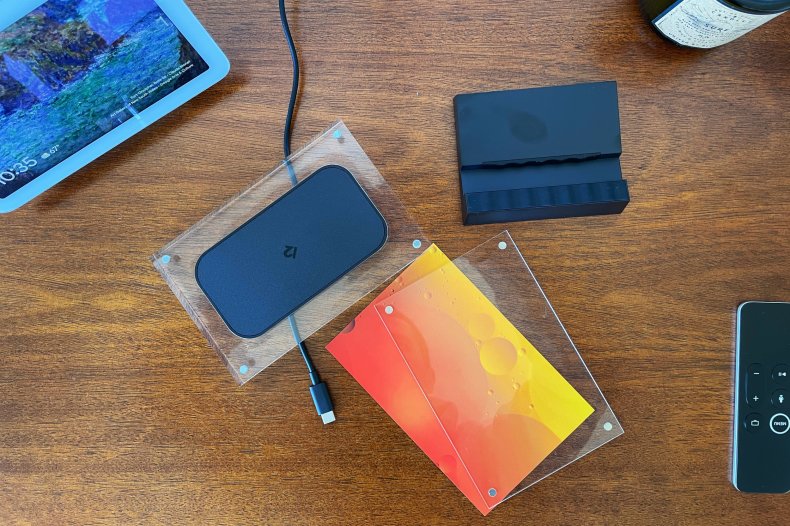 The setup isn't technical. The hardest part will be pushing the acrylic charging frame into its black base stand. The fit is tight in both orientations, but that snug fit makes it feel locked in and secure. After you plug the cable into the back of the charger and then into a wall charger, it's ready to go. There's even a 4-inch by 6-inch multicolored paper included to hold you over until you have a photo ready to insert into the frame.
The front plastic piece is held on by four small magnets in the corners. Pulling off that cover and aligning the pieces together again is as easy as it would seem.
Charging on a Photo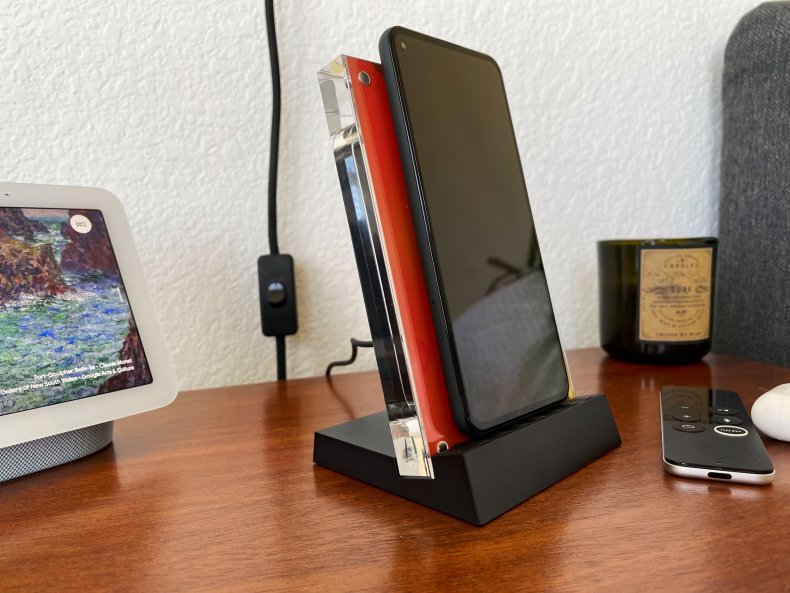 This is the kind of product that makes a perfect gift. It combines the personal touch that only a printed photo can while also providing plenty of utility. I had gifted my wife the original PowerPic charging frame in the past. It went over much better than a plain, wireless charging pad would have because the picture of our kids that it displays gives it a usefulness all the time and not just for the few minutes or hours the PowerPic is being used each day.
The new PowerPic mod is able to charge an iPhone at its full 7.5 watts (wireless charging speed) and up to 10 watts for devices that support that higher speed. Of course, even 10 watts is much slower than plugging a phone in with a cord.
This charger can be positioned vertically or horizontally to display photos in either orientation. If you position the frame-charger horizontally, in landscape mode, your phone will need to lay horizontally, too, to align with the charging coils.
The charging frame should fit most phones. It will also work with other devices, such as AirPods Pro, which come with a wireless charging case. All kinds of wireless devices may work, too, but you'll need to try those on an individual basis. (You can see the device charging element through the clear frame, and that might also determine placement.)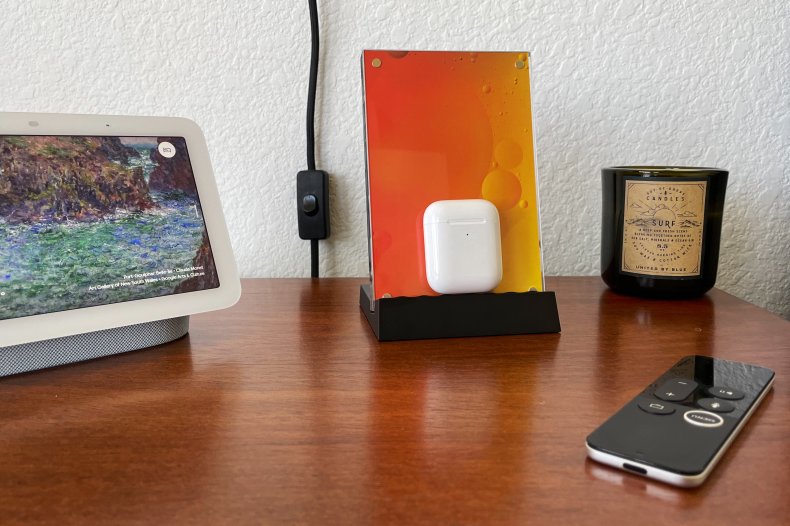 PowerPic mod works as advertised and looks good, but it isn't perfect. The phone rests on a steep angle. Its ledge is rubber to help resist slipping. It still seems like a phone could fall off it if an end table were bumped, for example. There are no sides or edges to the frame to keep a charging device secure. The point of this frame is all about its aesthetic and ease of use, but that frameless compromise makes it potentially more susceptible to the phone's falling off. To be clear, I never had any device fall off the PowerPic mod, only that it is more likely to do so than with the original PowerPic, which has a protruding border and a slightly shallower angle.
Should You Buy the PowerPic Mod?
The PowerPic mod is a fun product. It's not the best wireless charger on the market, but it's not trying to be. It is one of the most clever ways to introduce wireless charging into your home or office, in places where you typically wouldn't have (or want) a charger.
Best of all, the wireless charger is a delightful way to upgrade a tech-resistant friend or family member with a meaningful gift.
Buy at Twelve South for $59.99.
Newsweek may earn a commission from links on this page, but we only recommend products we back. We participate in various affiliate marketing programs, which means we may get paid commissions on editorially chosen products purchased through our links to retailer sites.