POW/MIA Org: Replacing Military Flag With Transgender Equality Flag Was 'Oblivious' to Concerns of Veterans, Families
For Trans Visibility Week, several transgender equality flags appeared outside offices in the Capitol, and the decision of some legislators to replace the POW/MIA flag outside their office drew criticism.
On Tuesday, the National Center for Transgender Equality announced it had delivered transgender equality flags to every member of Congress and asked them to fly it outside their offices. The organization also called for an end to the community's rights being ignored.
Throughout the week, the organization retweeted a number of photos of legislators with the flag outside their office doors. Representative Kim Schrier was one who replaced the POW/MIA flag with the transgender equality flag.
"The trans equality flag is hanging outside of our office on our third flag pole this week for Trans Visibility Week, along with the state of Washington and U.S. flags," Schrier's office told Newsweek. "We moved the POW/MIA flag into our office for the week. But it will be back outside of our office this afternoon as Trans Visibility week comes to an end."
The decision to swap out the POW/MIA flag drew criticism from some on social media, who said it was offensive and wondered why they couldn't be displayed alongside each other.
Ann Mills-Griffiths, chairman of the board and CEO of the National League of POW/MIA Families, told Newsweek that the POW/MIA flag represents "all Americans who served our country, regardless of race, religion, sexual preference or any other factor—a symbol of our nation's commitment to account for them all as fully as possible." She added that the flag wasn't prejudicial or restrictive.
"I don't mind if any elected official wants to post a flag signaling their support for the transgender community, but why would that message replace the recognized symbol of national commitment to stand with [and] behind those who serve our country?" Mills-Griffiths said.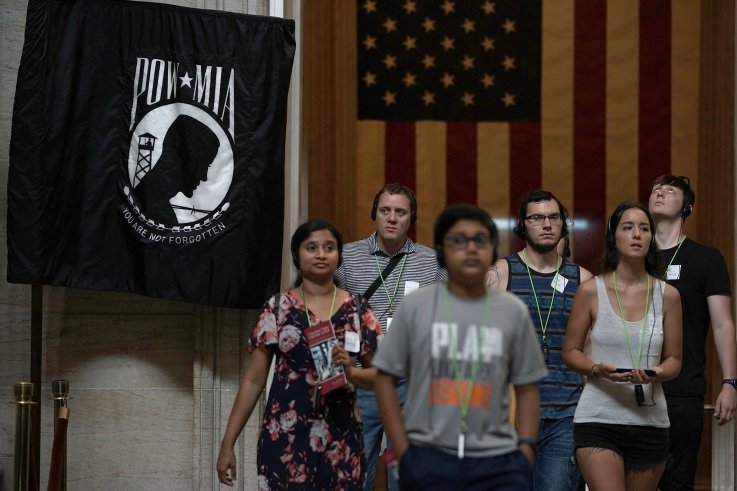 She noted that the timing was particularly bad because Friday is National Vietnam War Veterans Day, and there are still more than 1,500 Vietnam veterans missing and unaccounted for.
"It seems not only oblivious to the concerns of all American veterans and their families, but especially to the POW/MIA families the league represents," Mills-Griffiths said.
Other legislators also displayed the flag but placed it alongside the American flag, their respective state flag and the POW/MIA flag. Some legislators opted to hang the transgender equality flag on their office door.
On March 28, the House of Representatives passed a resolution opposing President Donald Trump's ban of openly transgender individuals from serving in the armed forces. Of the 238 congressional members voting favor of the resolution, only five were Republicans, and no Democrats voted in opposition to it.
Along with opposing the ban, the resolution rejected the "flawed scientific and medical claims upon which it is based" and urged the Department of Defense to not reinstate it.
POW/MIA Org: Replacing Military Flag With Transgender Equality Flag Was 'Oblivious' to Concerns of Veterans, Families | U.S.