Prada, Miu Miu, Church's and Car Shoe Are Going to Stop Selling Fur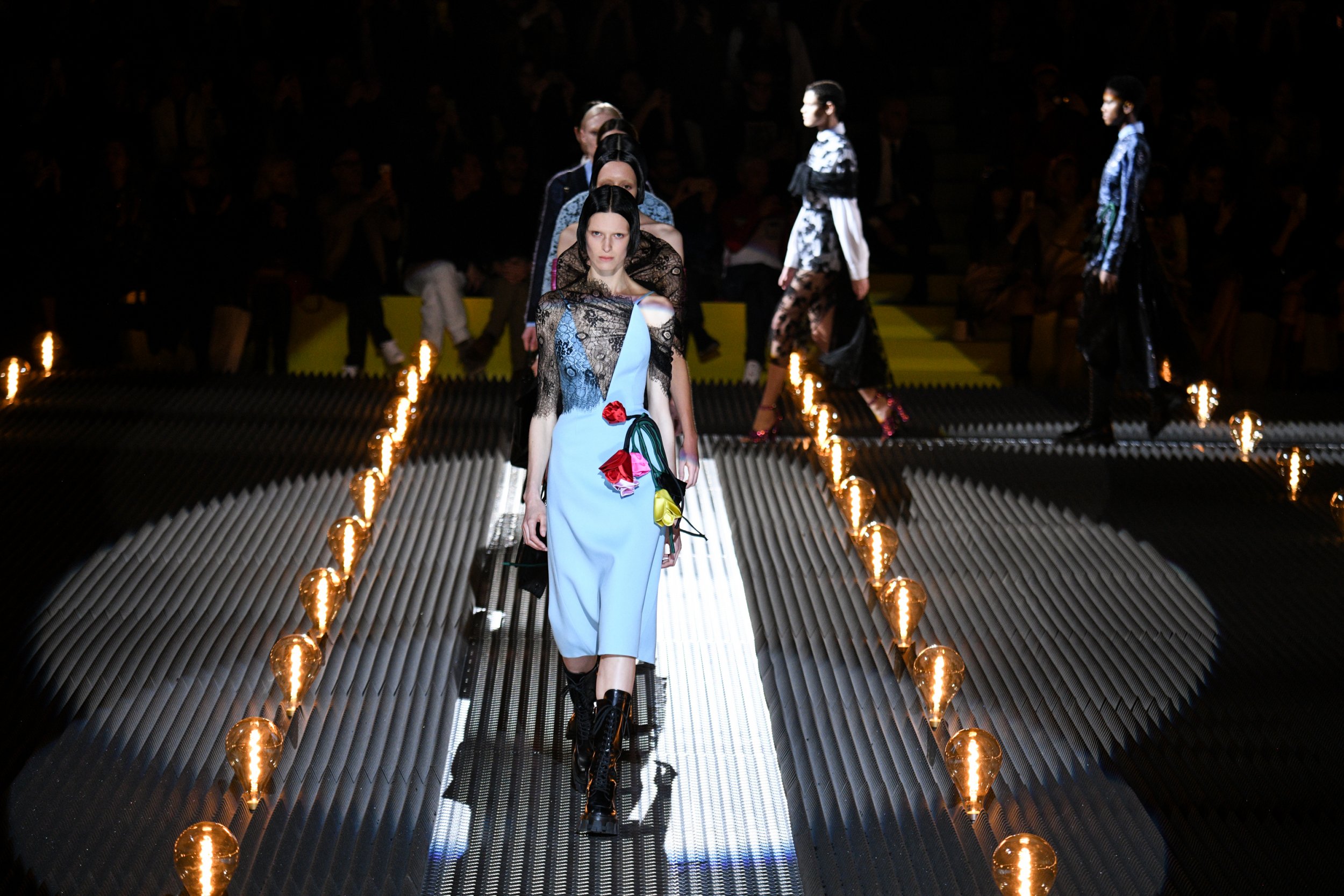 Italian fashion giant Prada Group will ditch fur across all its brands from February 2020. Animal charity Humane Society International announced the move, nine months after its U.S. counterpart launched a campaign targeting the company.
In collaboration with Italian pressure group LAV, the Humane Society of the United States published videos of animals locked in small cages last September. They named and shamed Prada in the clips, and listed other fashion companies that had already dropped fur from their lines. The activist group included a phone number for viewers to contact Prada directly.
The U.S. charity has been working with LAV and Prada since launching the campaign, according to a press release issued Wednesday.
Brands including Prada, Miu Miu, Church's and Car Shoe will stop using fur in their designs or products after their 2020 Spring/Summer women's collections, the release stated. The Humane Society International called the move "one of the most significant fur-free fashion statements yet."
Head Prada designer Miuccia Prada said in the release: "The Prada Group is committed to innovation and social responsibility, and our fur-free policy…is an extension of that engagement. Focusing on innovative materials will allow the company to explore new boundaries of creative design while meeting the demand for ethical products."
The Prada Group, Miu Miu, Church's and Car Shoe did not immediately respond to Newsweek's request for comment.
Praising the announcement, PJ Smith, director of fashion policy at the Humane Society of the United States said: "One of the biggest names in fashion just became a leader in animal welfare and innovation for generations to come."
More than a dozen major fashion brands have stopped using fur since 2017, Human Society International reported. Big name brands such as Gucci, Versace and Burberry have all made similar moves in recent years.
Banning fur is a popular move among activists and many animal lovers, who see its use in fashion as unnecessary. Campaigners argue many animals are subjected to cruel and inhumane conditions before they are killed for their pelts.
Smith told Newsweek that consumers "simply don't want the products they buy to be associated with cruelty," and were rewarding those companies that "took a strong stand" against fur.
The fur industry itself, he said, is moving from fur coats towards subtler fur trims in a "desperate attempt to continue peddling its product." Consumers, however, are catching on and avoiding companies that use even small amounts of fur in their products, Smith added.
But the fur of animals like foxes, rabbits and mink is still prized among some designers and their customers. Groups like the International Fur Federation (IFF), a trade body, have previously questioned the motives of companies who've stopped using the animal product in their designs.
After Gucci announced it was dropping fur from 2018 for reasons of "sustainability," IFF boss Mark Oaten told the BBC: "I'm disappointed by what Gucci have done. It makes no sense… They said they're doing it for environmental reasons but… [fur] comes from a natural animal, it's biodegradable, it doesn't end up in landfills and like fake fur it doesn't use a ton of chemicals to produce it."
Oaten criticized disturbing videos of fur industry animals apparently reared in small cages, for example, but cautioned there was a lot of "misinformation" available on animals' living conditions.
On Wednesday, he told Newsweek he was "surprised" by Prada's decision to ban "a natural product like fur." "Now Prada customers will only have plastic fur as an option, which is bad for the planet," he added. "I urge Prada to think again and trust its own consumers to decide if they want to buy real or fake fur. "
But animal activists are celebrating Wednesday's news as a major win. "Victory for animals! We're delighted the Prada Group is going fur-free," the Humane Society of the United States tweeted. "Prada joins many other industry leaders who understand that fur belongs on animals and not people."
Suggesting Prada's decision is part of a larger trend, Smith told Newsweek: "With so many of the world's largest fashion houses ditching fur, any company that continues using this cruel, outdated product is painting a huge target on its brand. We encourage any company still stuck in the past on this issue to embrace the fur-free future."
This article has been updated with additional comment from Mark Oaten.