Fashion Stalwart Prada Offering More Bags for Your Buck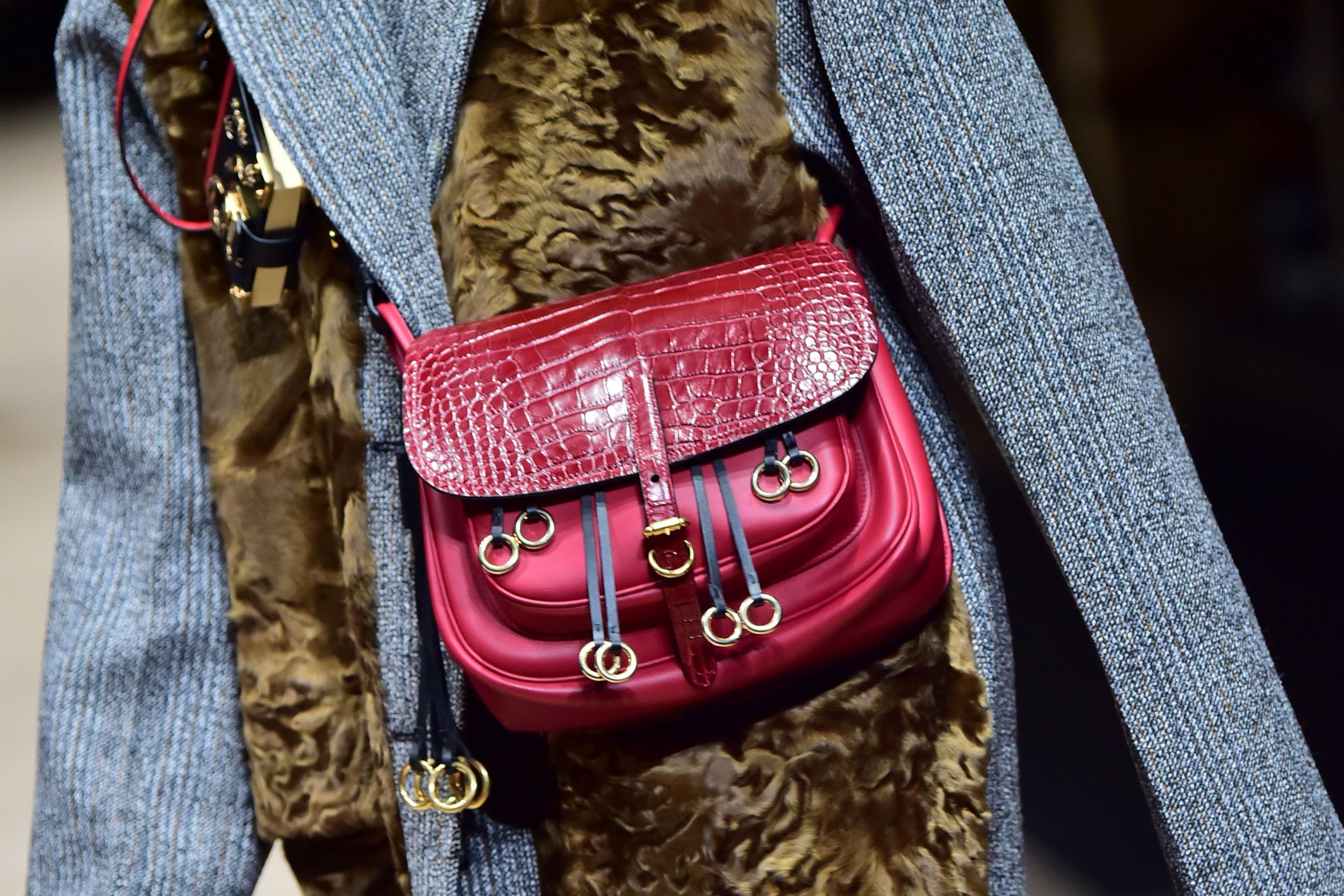 Prada has always been about bags—before it was a megabrand, before it did ready-to-wear, even before its way with plain black nylon made a Prada bag the defining accessory of the mid-1980s—before all of that, it was a leather goods and luggage company. Bags are the natural bellwether for the brand, so fashion editors and industry analysts watch their development closely.
Back in February, when models showed the fall-winter 2016 collection in Milan, they were layered in jacquard dresses, nautical jackets, cotton corsets and lots of leather accessories. Harnesses, strung with miniature leather-bound books, wrapped around their waists; embellished versions of the book charms hung from their necks; they held traditional, boxy Prada bags in their hands, had smaller, wallet-sized bags hanging on thin straps from their shoulders, and crossbody saddlebags rested high on their hips. Many of these could be customized—for an extra 650 euros ($737) or so—with pick-your-own embellished straps. While in the past Prada emphasized clean, modern functionality, this layering of clothes and accessories was a full-pelt run at more-is-more eclecticism.
And as usual, in design terms at least, Miuccia Prada was on the money. Across the industry, according to Lily Russo, the former fashion editor of British Grazia , the emphasis is now firmly on "uniqueness and individuality." But is Miuccia also following the money?
In April, Prada announced its lowest profits in five years, coming on top of two years of poor financial results. On the surface, its problems stem from the slump in the previously buoyant luxury market in Asia and continued low spending by Western consumers, factors that have dented many of Prada's peers. But others have coped more effectively; Versace saw a 20 percent surge in profits last year. According to Luca Solca, managing director for luxury goods at industry analysts Exane BNP Paribas, this is at least partly because brands like Chanel and Gucci—which Alessandro Michele has transformed since becoming creative director in early 2015—benefited from offering a wide range of accessories at various price points, a strategy that hooks more buyers. As Russo puts it, " Those shoes or bags you want in every color, you can have, as they aren't completely unaffordable."
Lately, Prada's accessories offering has been going the same way. Analysis by Exane BNP Paribas shows that by summer 2016, Prada bags in its online store had become less expensive, boosting its amount of entry-level accessories (those priced between $564 and $1,126) to 18 percent of the collection. It has pushed hard to innovate—half of the bag styles on sale didn't exist two years ago. What's more, it now offers a greater choice of color and material for those styles than either Burberry, Vuitton or Gucci: On average, a Prada handbag will come in 29 versions. At Vuitton's online store, you'll find about 80 bag styles, but each will likely have only 11 iterations. And Gucci and Burberry's online stores each offer about 14 options per bag.
In other words, for the best chance of being that (eclectic, unique) person whose bag is different from the one carried by the woman next to you on the train—or in the front row at fashion week—Prada is where to get your purse. Whether or not you hang it on a customized, embellished strap.
Fashion Stalwart Prada Offering More Bags for Your Buck | Culture