Prankster Joey Salads Permanently Suspended from Twitter
Joseph Saladino, better known as Joey Salads online, has been permanently suspended from Twitter. A Twitter spokesperson told the Daily Dot that "the account was permanently suspended for repeated violations of our platform manipulation and spam policy." Over the past few years, Saladino has transitioned from prank YouTube channel to a more political voice, responding to tweets from President Trump and other Republican influencers. These replies often came with links to his podcast and a phone number, replying multiple times an hour on his profile.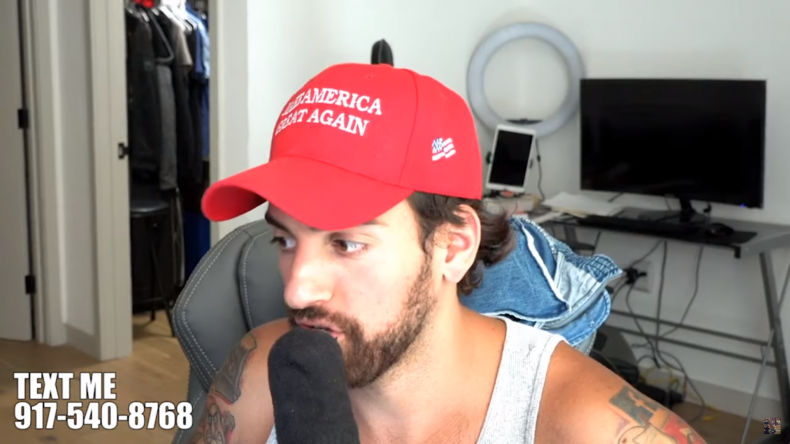 In a clip from Saladino's YouTube podcast, the controversial content creator said that he was receiving "200 million impressions" and "50,000 to 60,000 new followers" a month. He claims that his plan was to grow his other social media accounts and his podcast using his Twitter, which won't work when it is banned. He also claims that if the suspension isn't lifted he "will have to go through with a lawsuit."
"Guess what, I'm screwed because I'm not going to be able to grow anymore because I was relying on Twitter for my growth," Saladino said in the video.
Saladino started his online career in 2012, posting pranks on Vine before eventually transitioning to YouTube. Rebranding these pranks as "social experiments," Saladino started pulling more outlandish stunts in the quest for online views. In 2016 Saladino released a series of videos showcasing faked pranks including getting attacked and robbed by fake "Bernie supporters."
One of his most scandalous videos happened in 2016, when Saladino asked a group of young black men to come beat up a car covered in Trump stickers. He claimed in the video that this was unprovoked and that "the black community is very violent towards Trump and his supporters." Saladino later admitted that the whole thing was a hoax and that he "thought (he) could get away with it," according to the BBC.
Later "social experiments" stoked Saladino's controversy, creating videos salacious enough that they went viral on platforms like Facebook and YouTube, netting him ad revenue. He wore a Nazi swastika arm band to a Trump rally, drank his own urine and was pepper sprayed in the face by Rick and Morty co-creator Justin Roiland on a charity live stream.
In May 2019, Saladino announced that he would be running for New York's 11th congressional district and raised $66,000 for his campaign using his Twitter audience. In December of that year, he dropped out of the race to endorse Republican candidate Joe Caldarera.
Joey Saladino did not respond to a request for comment by publication time.