Evangelist leader Franklin Graham called the impeachment inquiry of Donald Trump an "unjust inquisition," and claimed the Christian Bible directs Americans to pray for the president.
Graham, the president of Samaritan's Purse and his late father's Billy Graham Evangelistic Association, quoted the Bible Friday in a plea for Americans to purchase a "Pray for 45" T-shirt being sold through his organization's website. Earlier this week, Graham urged Christians to pray for God to give Trump "wisdom and protection" just hours after the House voted in favor of impeachment procedures.
The pro-Trump evangelical and his daughter, Cissie Graham Lynch, both promoted the $15.99 "Pray for 45" T-shirts on social media alongside Bible verses.
"The Bible instructs us to pray for our leaders &@realDonaldTrump needs our prayers. We have t-shirts that are a reminder to "PRAY for 45"—my daughter@CissieGLynch is wearing one. People have asked where they can get one. You can order them at this link," the elder Graham tweeted Friday, showing a picture of his daughter wearing the T-shirt.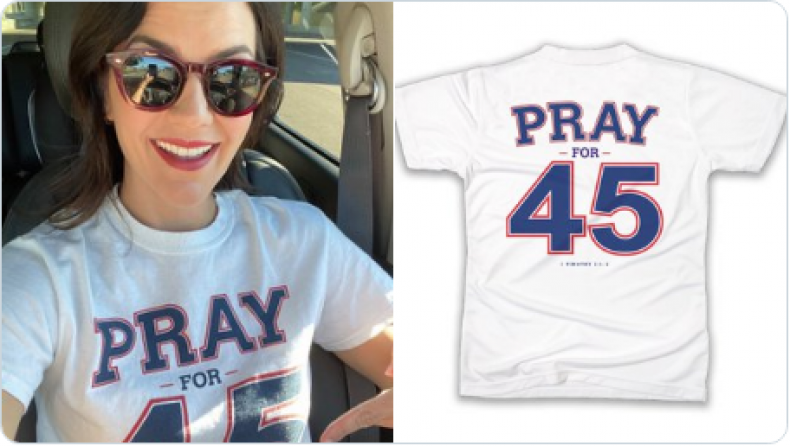 The "pray for the president" T-shirts and advertisement both quote 1 Timothy 2:2 from the New King James Version of the Bible: "The Bible instructs us to pray for those in authority, 'that we may lead a quiet and peaceable life in all godliness and reverence.'"
"For all those who have asked where to get a #prayfor45 shirt," Lynch remarked on Twitter, continuing to promote the $15.99 T-shirts. Both Grahams used religious reverence to rebuke Democrats and any other lawmakers helping to push the impeachment inquiry.
"No matter what side of the aisle you are on, we are to pray for ALL of our leaders in Washington. Today, pray for@SpeakerPelosi and others on Capitol Hill. Only God can change the hearts of men and heal this nation!!! #impeachmentinquiry #pray #america," she tweeted Thursday.
"This is a sad day for America. Our politics in this country has hit a new low. Nancy Pelosi and her followers in Congress have weaponized the impeachment process," Franklin Graham wrote in an October 31 Facebook post, comparing the constitutionally-protected process to an "inquisition."
"Pray for President Trump today, for God to give him wisdom, protection, and guide each and every step he takes. I pray that he and Melania will sense the presence of the Lord through this unjust inquisition," he continued.
Graham has been a staunch supporter of Trump's presidency and has publicly defended him after his innumerable controversies since taking office. Graham told MSNBC in 2018 that Trump's repeated denials about having an alleged extramarital affair with Stormy Daniels should be believed for the good of the country. "He said he didn't do it. So okay, let's say he didn't do it. I found the president to be truthful with me, we just have to give the man the benefit of the doubt."
And despite Graham's ardent opposition to the impeachment inquiry into Trump, he was one of the most vocal proponents of impeaching former President Bill Clinton in the late 1990s. In an August 1998 piece in The Wall Street Journal entitled, "Clinton's Sins Aren't Private," Graham ridiculed the Democratic president over his extramarital affair with Monica Lewinsky.
Making his pro-Trump political stance very clear ahead of 2020, Graham earlier this week applauded South Carolina priest Father Robert E. Morey for denying Democratic presidential candidate Joe Biden communion last weekend. Graham said he wishes "more churches, pastors and priests would take a strong stand against abortion."
And on Saturday morning, Graham again praised the president over his abortion stance, remarking on Facebook, "Do Christian Adoption Agencies have to conform with the LGBTQ agenda? The Trump Administration says no! Thank you President for proposing these changes that protect our religious freedoms."